Week 33: Selling ads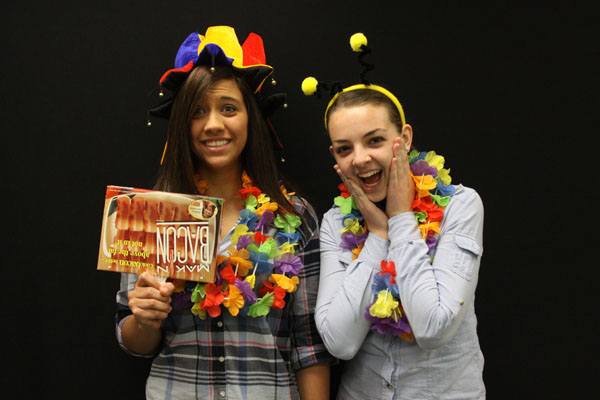 Jill Applegate and Sarah Darby, editors-in-chief
May 6, 2012
Hang on for a minute...we're trying to find some more stories you might like.
In the fall, the newspaper staff spends a day selling ads to businesses and continues to try and sell ads throughout the year. The district pays for some of the newspaper publication costs, but the staff has to raise the rest of the funds. This year, the staff sold enough ads every issue to print a 20-page paper every month and this year's senior issue will be 24 pages long.
Sarah speaking:
While on staff, I have quickly learned to dread the words, "We're going to have to cut this issue." In the event that the staff couldn't sell three pages of ads, editors would have to pick pages of the paper to "cut" or leave out of the issue. Now that we have the website, content that has been cut can still be published online. However, in the past, if your page was cut, it meant all of your hard work would go to waste. For the first time I can remember, our staff has sold enough ads to print a 20-page paper every month. Even more exciting, this month, we sold an additional full-page ad that will allow our staff to print a 24-page senior issue. I don't want to reveal too much, but our staff is working to create a very unique issue. I am so excited that we have the opportunity to try new things with the paper this late in the year.
Jill speaking:
I am very excited that we have been able to have a 20-page issue every single time this year. Normally, at least the first issue can only be 17 pages long. Even then, there used to be times throughout the year that we would have to cut three pages because that issue didn't happen to get enough advertisements. I think it is a testament to our staff that we worked hard to get 20 pages every issue this year, and I also think it helps our paper with its consistency, which I really enjoy. Cutting pages would have been very difficult this year since we have so many pages that stay the same every issue, like the map page or the flip side. Like Sarah, I am also super excited for our senior issue, because we have those extra pages to do something cool with. I think everyone will like what we came up with, and will be excited to see an all-new type of senior issue coming out. I am looking forward to seeing it all complete!
Lesson of the week:
1. Sometimes, the bigger the better as far as issues of the newspaper are concerned.
Lesson 33 of being an editor-in-chief: Check.
(Visited 2 times, 1 visits today)