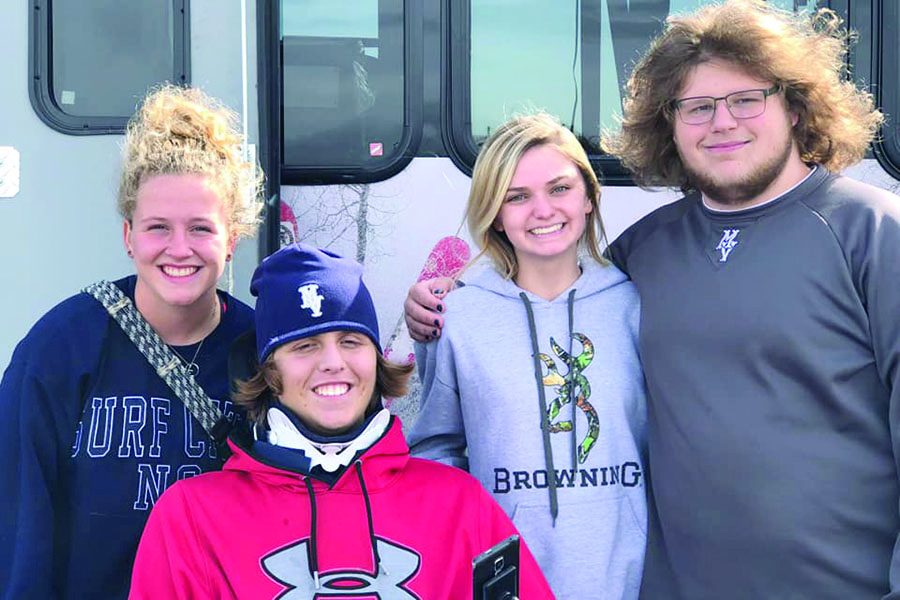 Senior Nolan Sprague recovering from diving accident, met with support from the community
Senior Nolan Sprague's recovery has mostly taken place at Craig Hospital in Englewood, Colorado and will continue in Shawnee in late November
HERE'S WHAT HAPPENED
After senior Nolan Sprague suffered an injury to his C5 and C6 vertebrae near the top of his spinal cord in a diving accident on the night of Thursday, Aug. 9, he was paralyzed from the neck down. The accident has changed the lives of the Sprague family forever and now the road to recovery begins.
THE MOVE
Immediately after the accident, Nolan was treated at Overland Park Regional Hospital, where he was met with the support of dozens of his family members and friends while he underwent surgery. Then, he was transferred to Shawnee Mission Medical Center where he stayed while his family decided where to pursue treatment next.
As of Monday, Oct. 8, Nolan has been receiving treatment at Craig Hospital in Englewood, Colorado, a renowned rehabilitation center specializing in spinal cord and brain injuries. Since beginning therapy at the facility, Nolan has regained feeling in both of his arms and in various spots down both of his legs, ankles and feet, and shows signs of increasing progress, according to his father Kevin Sprague.
The move from Shawnee to Englewood has been a tough experience due to the 600 miles between their home and the facility, according to Nolan's sister Ali Sprague. Ali lives full time in Shawnee to get the family's personal affairs in order, while Kevin and Nolan's grandfather travel back to Shawnee on the weekends. Nolan's mother Carmen Sprague and his grandmother stay near Nolan at the facility along with his two younger siblings, who attend school in Colorado.
The distance has impacted the way the Spragues interact, according to Ali.
"The [8 hour drive] is just long enough to where it is very hard to get down there and back." Ali said. "It's not like driving down to Manhattan, and that's the furthest that any of us had ever been, so it's been a big change."
According to Ali, the division of their family has also caused communication issues as they're mainly kept on separate schedules.
"The weekends are the only time that you can really see and visit them while you are down there," Ali said. "I'm generally lucky if I talk to my parents even twice a week."
To further complicate the separation, the Spragues have decided to sell their house in Shawnee to prepare for Nolan's return as their current house is not handicap accessible. Ali and Kevin are overseeing the move, and when Nolan returns from Colorado, the family will move in with his grandparents. According to Carmen, selling the house was the most practical solution.
"We're definitely selling our house because there's stairs everywhere and there's just not any good scenario for him anywhere, so we'll be staying with [his grandparents] until we buy or build a house," Carmen said. "I don't want to live in a house where he's limited in where he can go."
Moving into Nolan's grandparents' ranch-style home also came as a result of the flexible time frame that comes with the move, according to Kevin.
"We don't know the kind of level Nolan will be at when he leaves the facility, so we won't know for sure what we need to do," Kevin said. "We aren't really rushing the process. We are just going to see where he is at and find out what works."
THE ROAD TO RECOVERY
Craig Hospital, whose goal is to have patients "return home as independent and productive as possible," individualized Nolan's treatment program by having upwards of 11 medical professionals work with him and his family. From Monday through Friday, he does a variety of exercises to redevelop motor skills in his packed 8 a.m. to 4 p.m. schedule.
Craig treats upwards of 2,500 patients each year and, according to their website, the average cost to treat spinal disorders and injuries is $311,000. Nolan is currently considered an inpatient, staying inside one of Craig's two, three-story buildings on the main campus. According to Nolan, the rehab center has benefitted his healing process.
"Everyone here is super helpful and they have a ton of different equipment for me to use that helps me improve faster," Nolan said. "They have special [equipment] I can use to be more self-dependent too."
The amount of resources available to Nolan is the biggest shock to Kevin, and he believes the combination of equipment and staff that's unique to Craig is beneficial to Nolan's recovery.
"The facility has more rehab equipment for quadriplegic injuries than we even knew existed. Their knowledge of what he is capable of doing and going to be capable of doing is just phenomenal," Kevin said. "T
he staff and really everybody there is great and upbeat. [They're] very positive and encouraging; they push him hard."
In addition to the motor skills Nolan is building, Kevin says Nolan has also regained feeling down his body.
"He can feel down his chest into his stomach more than he could before," Kevin said. "No real new movement yet, but they always say before you ever get any new movement, you get feeling first, so that's a positive sign."
Despite the "giant push for independence" present at the facility, Carmen assists him in most of his classes, and believes she's learned valuable information on how to help Nolan adjust.
"They keep him really busy; his schedule goes from one class to the next. There isn't even really a passing period," Carmen said. "People sometimes assume that he does all the work and as parents we're just kept aside, but we're actively involved in all of his therapies. One of the things they really stress here is getting parents involved and teaching us how to help him."
His classes change from day to day except for physical therapy and occupational therapy, which are daily. The activities he does within those classes also varies, from using specialized equipment like the standing chair for improving balance to practicing life skills like making his own meals.
"The pool [workouts] are my favorite. It's nice to get in there because it's a heated pool and I like to swim," Nolan said. "It's just nice to get back in to the water."
On the weekends there are no classes, but Nolan still has plenty to do. In addition to his own personal commitments, such as competing with his friends in a Fantasy Football League, Nolan has the option to participate in outings put on by Teen Recreation at Craig, or TRAC. These outings allow teenage patients to go into the Englewood community and do activities such as fishing at a nearby lake. These trips restrict adults from attending, however, friends from home are encouraged to join.
"Some friends came to visit last week and [the staff] encouraged them to go with him [into the the community]. It shows them that he doesn't just have to sit around all day and do nothing," Carmen said. "They also don't allow parents to go out, which is nice because I know Nolan's tired of us."
Craig also offers another program called Therapeutic Recreation, or TREC, that does allow for the participation of parents and other adults. Most recently, on Monday, Oct. 1 Nolan was seen sporting a Travis Kelce jersey on the sidelines of the Chiefs versus Broncos game he attended with his father and brother.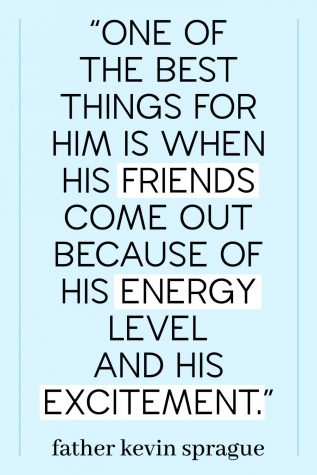 Besides what the facility has to offer, Nolan has been kept busy with visits from his friends and family, according to Kevin.
"Just about every weekend somebody has been down. I generally find out around Thursday who's coming in," Kevin said. "That is one of the best things for him is when his friends come out because of his energy level and his excitement. Like any teenage boy, it is a lot cooler to see his friends than to see his mom and dad all of the time."
Looking to the future, Carmen hopes to see a continuation of visits to Nolan, as they're "always welcome."
"At Overland Park Regional all the people were like 'that's too much, there are too many people,'" Carmen said. "But when all his friends were up there, that's when Nolan showed the most life and happiness."
However, there are many difficulties to traveling to Colorado, so Nolan's friends and family keep in touch via technology, whether it be Snapchatting him or checking Carmen's daily Facebook updates on his day and condition on the Team Nolan group.
"I keep the Facebook active because there's no way that I can update our family and friends every day," Carmen said. "I take a lot of videos because I think from day one to now, I think it'll be really nice for Nolan to look back on and see the journey that he took and the progress that he made, both in the short term and the long term."
THE SUPPORT
Members of the community not directly connected to Nolan may not be able to physically visit him, but regardless there's no shortage of support from the community. The community has showed its support in a number of ways, from organizing meal drop-offs to hosting different fundraising events in Nolan's honor.
Multiple fundraisers and events raised money. There were community fundraisers like the GoFundMe set up by family friend Jennifer Smith, which has raised $140,000 as of Wednesday, Oct. 10. Additionally, there were school-sponsored events such as the kickball tournament organized by seniors Max Immenschuh and Kate Backes that raised $1,756. Other events included Salon Hello Beautiful's haircut benefit, which raised over $2000, and the Bigger than Baseball clinic and slow-pitch softball tournament, which took place on Saturday, Oct. 13.
One of the first events in Nolan's honor, however, wasn't a fundraiser. It was a prayer vigil held the day after Nolan's accident, organized by a Sprague family friend, Lacey Rios.
"We thought there'd be a lot of people there, but it was just overwhelming, the support from the community. Baseball is family, and it showed that day," Rios said. "Nolan's going to need us forever. Our friendship is what's going to help him through this difficult time. We should just be there for him."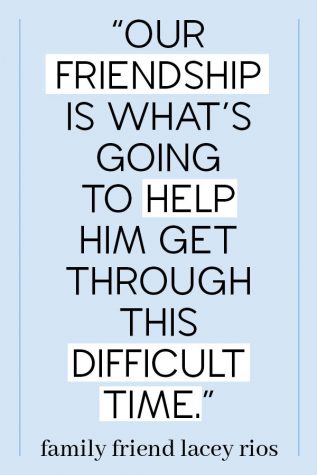 One of Nolan's closest friends, senior Quinton Hall, who was also with Nolan the night of the accident and helped secure an ambulance at the scene, believes the distance doesn't change the nature of their relationship.
"It's hard knowing that my best friend [is in this condition,] but it doesn't change that we're best friends," Hall said. "I still FaceTime him every night to talk to him and I'm going to [visit him.]"
Hall and Nolan originally bonded over baseball, leading to their seven-year friendship. In addition to being a focal point of their friendship, baseball also plays a huge role in Nolan's life. He was a pitcher for the varsity baseball team that made the 5A state tournament last spring, and he helped his dad with their family business, Strike Zone Baseball, a sports performance training facility located off of Martindale Road.
Nolan's perceived absence, as no one is sure if he'll return to the field this season, will leave a lasting impact on each individual player, according to head baseball coach Jeff Strickland.
"As far as his character, before the accident and from a baseball standpoint, he's a good kid. He worked extremely hard and was very passionate about baseball," Strickland said. "I think [the baseball players] are realizing how lucky they are because the game can be taken away at any second. Nolan has become a sort of rallying point for them."
Following Nolan's accident and as a show of continued support, Hall and senior Cole Moore tattooed the Team Nolan symbol, his number 34 on a baseball and two bats crossed in the background, in a cross with the Bible verse Joshua 1:9 on their left and right arms respectively.  
"[My tattoo] means everything to me, even down to it being on my left arm since he was a left-handed pitcher," Hall said. "It's something I'm grateful I have with me and I'll have it for the rest of my life."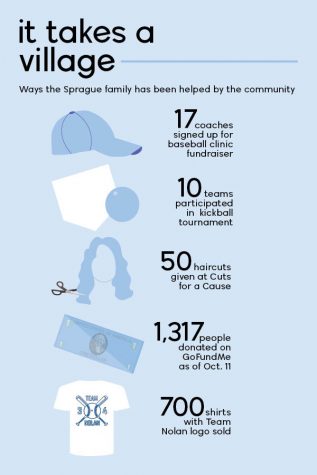 By Anika Roy and Annie Myers
The overarching support from the community is "phenomenal," according to Kevin.
"There've been so many people that have reached out to help, whether it's just through sending encouraging [thoughts] to him or coming over to the house and getting things done. It's been different, but the coolest thing is the amount of people who generally want to help in any way," Kevin said. "It sucks that something like this has to happen for you to really see the hearts of people. It is really amazing to see what these people have done to help out."
Likewise, Carmen is thankful for support not just from the community, but all over the region.
"[The support] has been a little overwhelming at times because everybody has been so helpful and supportive," Carmen said. "I know that we knew a lot of people, but there have even been people we don't know from all over the country just reaching out."
According to Nolan, the logistics of his return remain up in the air, but he's looking forward to returning home.
"I stay in-patient, so I stay inside the facility until the end of October. Then I stay in the apartments they have here and I'll be considered an outpatient for about a month," Nolan said. "Then, I'll come back to Shawnee in November."
Although the Spragues are uncertain about the exact details of Nolan's return, they are hoping to get him home for Thanksgiving and enrolled back at school in the second semester. According to Kevin, despite the "extensive knowledge" of the Craig staff, the Spragues are unsure what the future holds.
"We don't know what it will ultimately lead to, but there are a lot of prayers going on," Kevin said. "It's in God's hands now."
(Visited 618 times, 1 visits today)