Junior Travis Collins swims while dealing with muscular dystrophy
Collins participates in freestyle events to help build up the muscles in his legs
October 17, 2015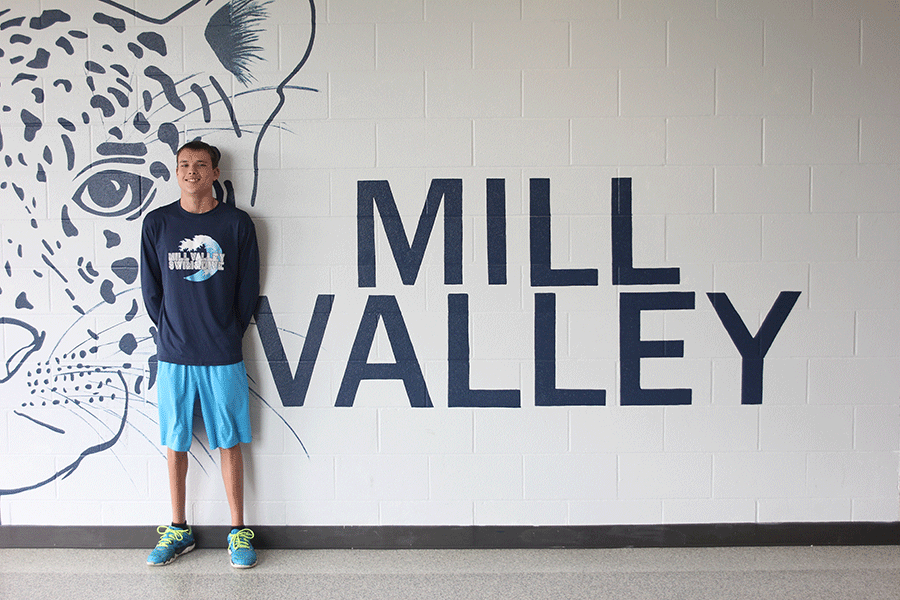 Taking off in the Blue Valley Southwest pool during the invitational swim meet, junior Travis Collins tried not to focus on his legs. This was only the second time he had swam the 500-meter freestyle in a meet, and he wanted to prove that he could do it.
Collins was born 12 weeks premature and had minor medical issues, along with having muscular dystrophy. When he was around the age of three, doctors had to place a ventriculoperitoneal shunt in his head to help prevent the buildup of fluids in the skull. Then, when Collins was four, he could only walk with casts on or he was in a wheelchair. In sixth grade, Collins had surgery on his Gastric tendons that enabled him to walk flat-footed.
"Having these issues with my leg and stuff honestly kind of hinders what I can do and what sports I want to do," Collins said. "I could do cross country, I just wouldn't be very fit for it because my legs aren't as strong. I need to be careful with what contact I can take with my head, because, if I get knocked too hard, it could be really bad and I could die."
Since both contact sports and activities that can be strenuous on legs are a challenge for Collins, swimming seemed like the best option for him.
"
He has natural reactions to the obstacles he faces, but he makes the best of it and pushes forward"
— head boys swimming coach Alissa Ruffin
"I got interested in [swimming] when I was probably about seven years old," Collins said. "My mom was like, 'Let's try it,' and I tried it and I hated it at first."
Collins decide to stick with swimming since he wanted to participate in sports.
"I just kept at it and I kept improving, and I thought it was fun," Collins said. "Once I heard that the high school had a swim team, I lunged at the opportunity."
While swimming is not a contact sport, it is still hard for Collins because it relies on using all parts of the body, according to head boys swimming coach Alissa Ruffin.
"Swimming is a full body sport, so, when part of your body is weaker than others, that sets you up for having to work harder," Ruffin said. "He is a very strong swimmer, but kicking is something that is difficult for him."
To help make swimming easier for Collins, Ruffin offers alternate workouts.
"We modify his workouts so he uses his arms more than his legs," Collins said. "If we do a kick set, he will do a pull set instead. He's still conditioning, but we are modifying it to better fit his needs."
Even with alternate workouts, Collins can still become discouraged with his lack of ability to participate in certain workouts.
"The coaches have helped to work with me because sometimes I get frustrated. I'll try to do kick sets and my legs aren't very strong and I can't kick fast," Collins said. "They help me realize how far I've come. They help me and push me to where I can finish those kick sets and get my legs stronger, and also just become stronger overall."
Through all of the struggles, Collins still maintains a positive outlook toward swimming.
"He has natural reactions to the obstacles he faces, but he makes the best of it and pushes forward," Ruffin said. "I think everyone can learn from him. He perseveres and pushes past that frustration to better himself as an athlete and as an individual."
(Visited 6 times, 1 visits today)