Freshman Kaylee West dances despite having Type 1 diabetes
After being diagnosed with Type 1 diabetes at age nine, Kaylee refuses to give up dance although the disease makes it more challenging
October 14, 2015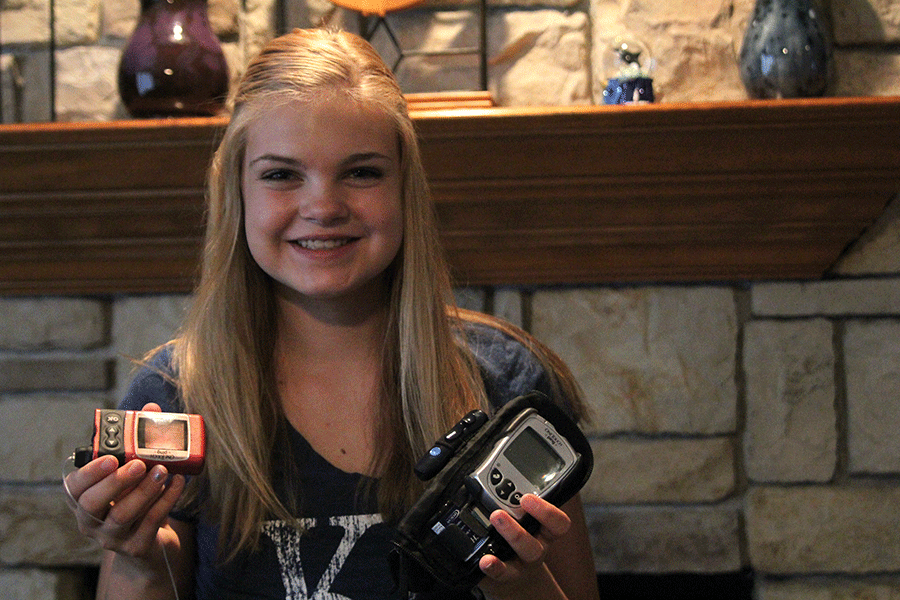 Pulling her insulin pump out from her waistband, freshman Kaylee West checks her blood sugar range between classes, one of the many things she must do as a result of having Type 1 diabetes.
Type 1 diabetes, also referred to as insulin-dependent diabetes, is an incurable disease which results from the pancreas failing to producing insulin. Kaylee was diagnosed when she was nine.
Experts believe that Type 1 diabetes has three causes: genetics, self-allergy, otherwise known as autoimmunity and a virus or chemical. Kaylee was diagnosed a month after having hand, foot and mouth disease, a disease which causes rashes on one's hands and feet along with sores in the mouth.
Kaylee's mom, Lori West, said doctors believed hand, foot and mouth disease caused Kaylee to contract Type 1 diabetes.
"Type 1 diabetes is an autoimmune disease, so your body has attacked your pancreas and killed what's called the islet cells," Lori said. "When they look at what kids have gotten diabetes, they have had some kind of virus right before it. So, she had the hand, foot [and] mouth disease. Your body's building up all these antibiotics to fight off that virus. Well, [when] the virus is gone, it attacks some other part of your body. For Type 1 diabetics, it attacked the pancreas and it just stops producing insulin; your own body's killed it."
"
At competitions, I have to take my pump off, and that makes your blood sugars go high."
— freshman Kaylee West
As a result of having Type 1 diabetes, Kaylee is supposed to check her blood sugar seven times a day using her pump to ensure that it is in range, along with bolusing, or typing in the number of carbohydrates you plan to eat into your pump so that it may calculate how many units of insulin to give you.
"Checking my blood is harder to do during classes, and [so is] bolusing before lunch," Kaylee said. "Every time you eat, you have to give yourself the insulin for how many carbohydrates you're going to eat."
When checking her blood, Kaylee's personal range is between 70 units and 140 units. However, attempting to keep her blood sugar in range is one of the many obstacles that comes with having Type 1 diabetes, as going above range can result in sickness and going below range has disadvantages as well.
"When you go too low, like, below 70, you start feeling really weak and you feel like you're just going to pass out. My whole body starts to shake, and it's almost like having a mini seizure, and that's just because you don't have enough sugar," Kaylee said. "You either have to eat a lot of carbs without dosing, or, if you get really low, you have to give yourself a shot in the leg and it's full of sugar."
Although dealing with Type 1 diabetes can be demanding, it does not stop Kaylee from dancing outside of school, although doing so provides challenges of its own.
"Exercise makes your blood sugars drop," Kaylee said. "At competitions, I have to take my pump off, and that makes your blood sugars go high. Sometimes, I don't feel good at dance for awhile or at competitions 'cause you have your pump off for so long. So, then you have to put your pump back on, check your blood and do multiple corrections to get it back down."
Along with current challenges which affect Kaylee dancing, Lori said more obstacles could come in the future due to the high amounts of sugar in Kaylee's body. This excess sugar could result in the blood vessels in her eyes popping, resulting in Kaylee going blind. In order to prevent this, the doctors perform a test called the A1C test. This test checks the individuals blood to tell what their average blood sugar has been over a period of time.
"Well [her A1C is] supposed to be [at a] 7. [She was at] 15.6; she was [more than] double. They said she's going to lose her eyesight. Your kidneys can start shutting down," Lori said. "They've been surprised with how high her blood sugars have been that she doesn't have eyesight problems yet."
While having Type 1 diabetes makes athletics harder and could provide challenges in the future, this has never stopped Kaylee from participating in sports.
"I've done like every other sport, but I've always went back to dance," Kaylee said. "I gave up soccer and track, but, then, before that I used to do basketball [and] volleyball and I liked it, but dance was my first priority. I won't ever give up dance. I plan on going to college for dance, too."
Even though having Type 1 diabetes is hard, Kaylee said she is just like everyone else.
"In the past a lot of people have pitied me for it," Kaylee said. "[But] I don't want anyone to think that I can't do something."
(Visited 18 times, 1 visits today)