Freshman Matthew Santaularia fulfills childhood dream despite having Down syndome
Ever since he first attended a school football game in elementary school, Matthew wanted to be a part of the marching band
October 16, 2015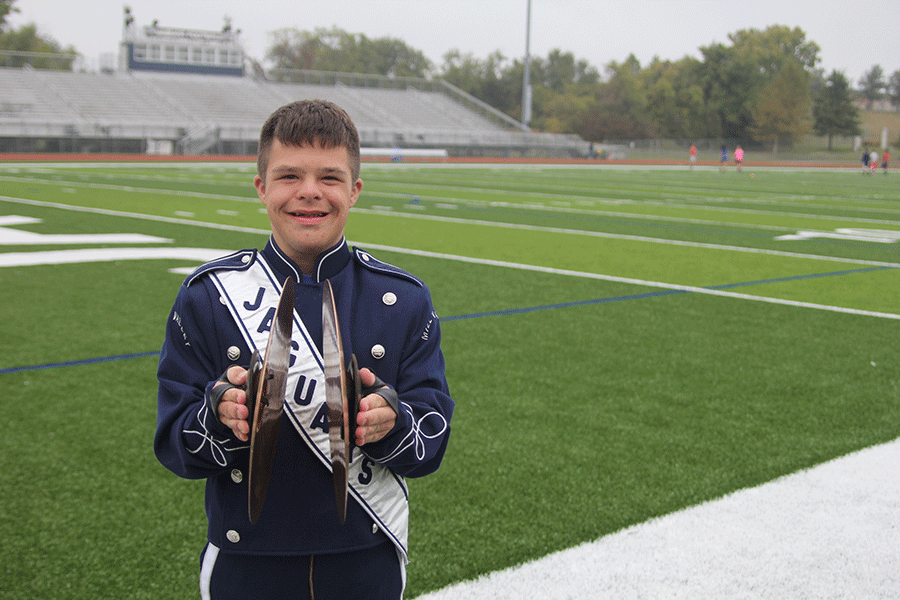 The school fight song, "On Mill Valley," rings proudly throughout the football stadium as the marching band strides orderly along the track to their designated seats in the bleachers. Among the sea of midnight blue band hats is freshman percussionist Matthew Santaularia.
Ever since he was a child, Matthew has been fascinated with the marching band, and it was a dream of his to someday be a part of it. His childhood dream hasn't been swayed by the fact that he has Down syndrome, and this year he joined the Silver Band as a cymbalist.
"[Matthew] has always loved the band," Matthew's mother, Cara Santaularia, said. "All throughout elementary school we'd come to the football games and he'd always sit by the band and would follow them around."
"
The thing about Matt is that he's always really positive. You can tell he really loves [marching]."
— assistant band director Elliot Arpin
Being in the band not only serves as an enjoyable pastime and accomplishment for Matthew, but it has also helped him make friends and grow comfortable to life in high school.
"You're in a group [where] you already have some friends and a place to start off at, rather than just being out alone in this big sea of people you don't know," Cara said.
From the beginning of the band's season, Matthew began to work hard to keep up with the other students in band, according to paraprofessional Mike Pierce, who works with Matthew during band and his other classes.
"He loves being a part of a big group and he really likes to march," Pierce said. "He tries very, very hard to march right and turn the right direction and also stay in step with the rhythm."
Although Matthew has run into a couple of problems along the way, he has found ways around them and continues to perform well with his peers.
"[Matthew] overcomes his obstacles with time and practice," Pierce said. "A lot of these obstacles, he just takes with a grain of salt and just goes and works at it."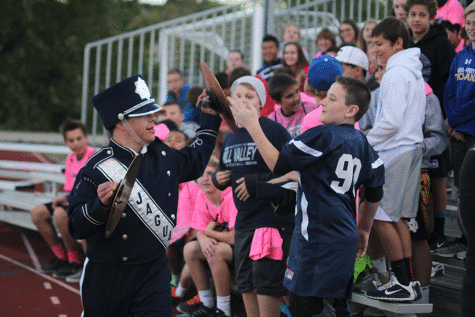 According to assistant band director Elliot Arpin, Matthew's optimism, along with his work ethic, are qualities that stands out about his performance in band so far.
"The thing about Matt is that he's always really positive. You can tell he really loves [marching]," Arpin said. "With some of the other kids — not all of them — you see how they act like they don't want to be there [on a] particular day, but, with Matt, he's always fired up to be there."
Matthew isn't just in band, though. He also participates in the Special Olympics, as well as taekwondo, soccer, flag football outside of school and wrestling in middle school. Matthew plans to wrestle with the wrestling team for the upcoming  season. According to Cara, all of Matthew's extracurricular activities, on top of a sleeping disorder, can be trying at times.
"He has sleep apnea, so, a lot of times he wakes up tired because he wakes up in the middle of the night," Cara said. "If he has a headache or something like that, I never know [because] he never complains."
Despite his sleeping disorder, Matthew sticks to his commitments and does them to the best of his ability. According to Cara, this is what she is most proud of him for.
"[Matthew] does a good job of pushing through and getting stuff done," Cara said. "He just works really hard."
(Visited 28 times, 1 visits today)