Junior Seohee Shin excels in school while learning a new language
After moving from South Korea, Shin overcomes the challenges of learning English and going to school in America
October 15, 2015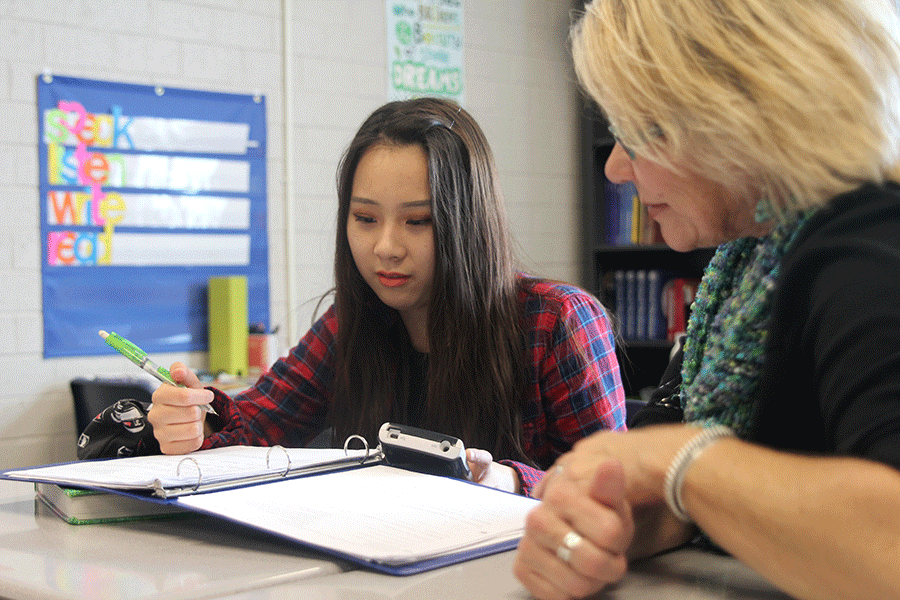 Junior Seohee Shin arrived in Kansas City in 2009, a place full of unfamiliar faces, new cultures, and a new language. Shin moved to Kansas from South Korea in fifth grade, not knowing anyone except for her family and unable to speak English fluently.
According to Shin, learning English was hard because of the large differences in phrasing and common expressions.
"I knew basic English words [when I moved], kind of like the stuff you would learn in Spanish or French 1, but I couldn't speak it that well," Shin said. "There's some strange wording in English, and the grammar is a lot different."
Shin started attending school immediately, and said there were both benefits and drawbacks to going to school in Kansas compared to South Korea.
"It was hard to get used to because it's so different from South Korea. But in America, you spend a lot less time at school, so that's nice," Shin said.
English for Speakers of Other Languages aide Melinda Lee works with Shin regularly and said one of the main challenges for people like Shin who are learning a new language is the fact that they are learning not only a language, but also multiple concepts at the same time.
"It's hard to sit in a classroom where everyone is speaking a language other than what you grew up with," Lee said. "Many teachers don't write things down or show any kind of visuals, which helps someone that is learning English. The pace of most classes is very fast."
"
It took a while to get used to everything. I'm still learning every day"
— junior Seohee Shin
Shin said the hardest thing about moving was going from having lots of people she knew around her to knowing hardly anyone.
"It just took so much time to get used to everything. The first year was very hard. I didn't know anyone besides my parents, and I didn't know English that well, so I didn't always talk to a lot of people," Shin said.
Lee can see some of the biggest improvements in Shin through their work on communicating with teachers, especially in some of her higher-level classes.
"She was a little hesitant to ask her teachers for help when she didn't understand something. She sets very high standards for herself, so she could get frustrated," Lee said. "But I can tell that she's overcome that."
Even though she can communicate and understand the language well, there will always be ways to develop her skills with English, according to Shin.
"It took about 2-3 years to really understand English and know how to say things," Shin said. "I'm still learning every day."
Lee said she can see visible changes in Shin's personality and self-confidence from just the three years they have worked together.
"Now, she has a lot more confidence, and she's not afraid to speak up. She has a good viewpoint on life and makes people think in a different manner," Lee said. "And she's just fun to work with. She laughs a lot, but is also very motivated and works hard."
(Visited 17 times, 1 visits today)