Sophomore Tyler Orbin continues to pursue art although he is colorblind
With the help of his family and art teachers, Orbin improves in creating art in color
October 14, 2015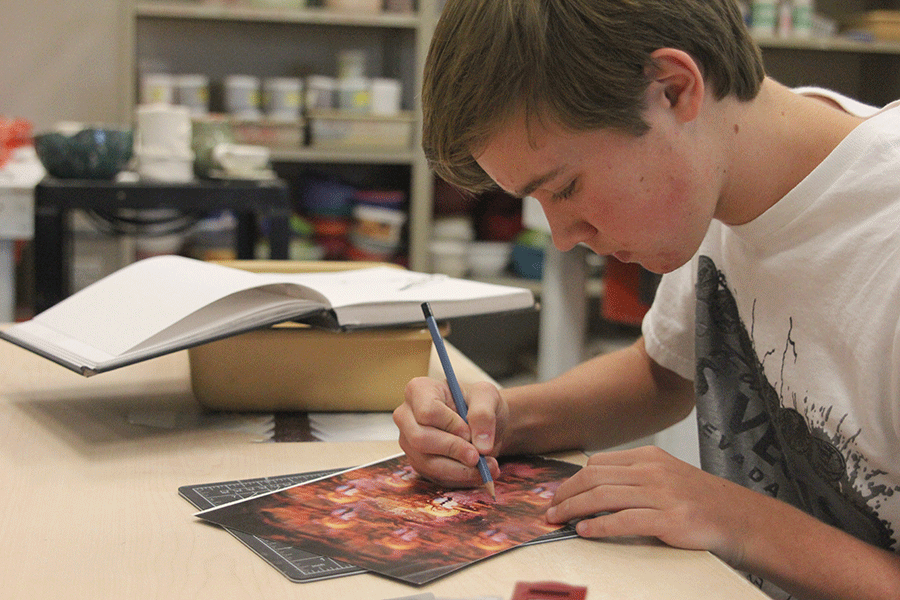 After the first couple months of their AP Studio Art class, art teacher Erica Crist looked at her student, sophomore Tyler Orbin, in shock at the information she just heard. She was unable to come up anything to say except for, "Wait, you're colorblind?"
Tyler was born with red-green colorblindness, a condition that, according to Tyler, is hereditary but usually skips a generation. With the condition, Tyler's love for art came to be a challenge.
"At first I thought certain colors were just naturally hard to differentiate," Tyler said.
Tyler loved art after seeing his brother become interested in it, and started with mainly graphite drawings. Eventually, he wanted to branch out and try something new. Tyler knew there was something wrong when he couldn't differentiate between colors and resorted to asking his family members for help.
"
I didn't think I would ever be able to do colored artwork unless I had their help, because I would mess it up."
— sophomore Tyler Orbin
"I think at first they were kind of like, 'What the heck is wrong with you?'" Tyler said. "I didn't think I would ever be able to do colored artwork unless I had their help, because I would mess it up."
When his family members questioned his general intelligence, Tyler asked if they could go to the eye doctor and figure out what was going on. When he was in the fifth grade, he was tested, and results came back saying that he was colorblind.
"I know what all of the colors are even though I can't see them all," Tyler said.
Tyler's mom, Kristi Orbin, didn't trust the test the first time around, and said they went back to have Tyler tested a second time just to be sure.
"We were shocked because he was already a great artist," Kristi said.
Tyler felt the reaction he received from his classmates after they found out he was colorblind wasn't unexpected; people are usually shocked and have a lot of questions. Growing up with the condition, Tyler had gotten used to it, not seeing it as a big deal.
"It proves to be a challenge in a lot of aspects," Tyler said. "I used to have a hard time even matching my clothes when I was in middle school, but it just becomes a part of you and you don't really think about it anymore."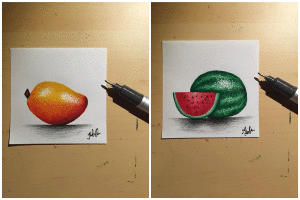 Crist, after processing the information, didn't plan to make too many changes to the way Tyler worked in class since he hadn't had problems in the class up to that point. However, when introducing projects with more attention to color, she wanted to see what he was capable of doing.
"I'll probably have him look at some different [tints and shades of colors] at the start of the project so we can see what he can differentiate and work best with," Crist said.
Tyler worked on extending his art for years, using more mediums and colors with the help from those around him. His family supported him, helping whenever he needed help identifying colors. They were more than willing to explain colors to him at any time.
"We help him a lot by simply knowing he needs our help when he asks what colors are," Kristi said. "And we also make sure he just knows that red is on the top of traffic lights and green is on the bottom."
(Visited 34 times, 1 visits today)