Sunrise Movement chapter begins work in Shawnee
Senior Claire Burke and junior Taylor Doyle talk about Sunrise Shawnee, a climate activist group for young adults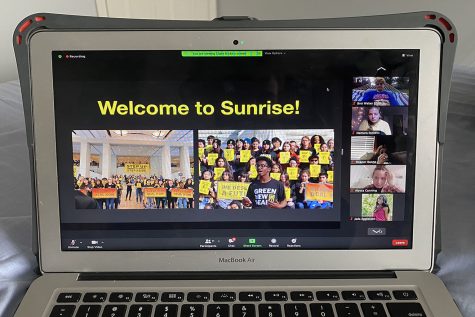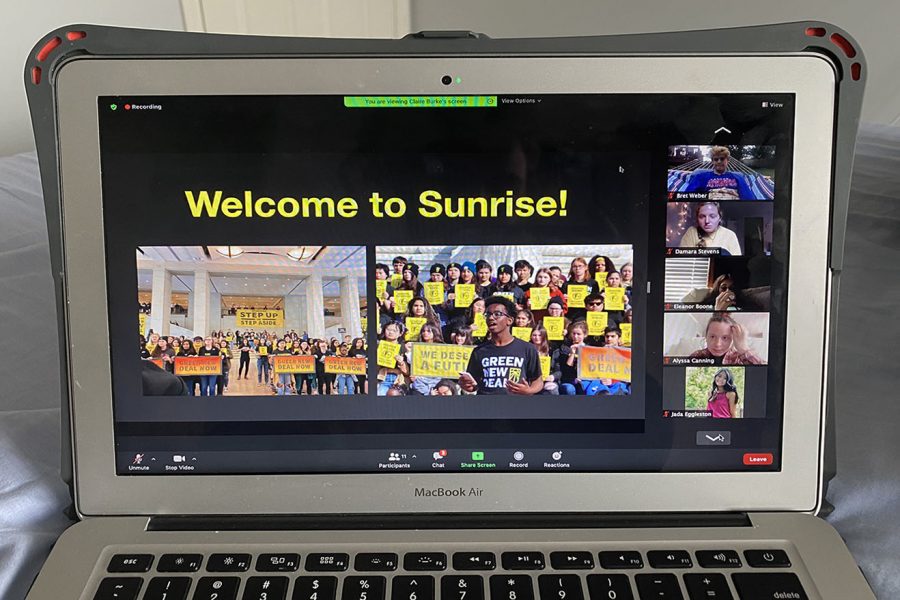 The Sunrise Movement is a national organization that unites teenagers and young adults to fight against the climate crisis. They have 400 hubs across the nation, and recently one was created right here in Shawnee. Hubs are chapters of the national organization where members of communities are able to coordinate local environmental efforts. Seniors Ben Wieland and Claire Burke, as well as junior Taylor Doyle are the creators and coordinators of the Shawnee hub.
Burke has been involved with Sunrise National for over a year and a half and just recently joined the Shawnee chapter about seven months ago.
"I got involved originally with National after Alexandria Ocasio-Cortez went to a demonstration Center hosted at Nancy Pelosi's office. I joined the texting volunteer team for Sunrise. But I really started doing it locally when Ben recruited me for the Sunrise Circle," Burke said.
The hub originally started out as a Mill Valley strike circle, but now is only affiliated with Sunrise. To become hub coordinators Burke and Doyle went through national training with other students wishing to have the same title.
"We are the hub coordinators. A hub is essentially like a Sunrise chapter and we're the people who lead the chapter, coordinate everything, coordinate all the members, all the events," Burke said.  "We got this by attending a wide awake leadership program through Sunrise, who gave us the training to be coordinators."
"There were like 300 kids who all applied, and then we'd have zoom meetings every week. They trained us on everything that we've trained everyone else on, like how to recruit how to do actions," Doyle said.
Junior Alyssa Canning is a member of the Shawnee chapter who was introduced to the club by Doyle and joined to try and do her part in helping the cause.
"I've always enjoyed advocating, and especially [about] climate change with our generation, it's really scary to me, and I wanted to learn more, and know what I could do to help it and help others improve on their advocacy skills," Canning said.
Since the chapter is newer Burke and Doyle are still taking a lot of direction from the National chapter, but hope to become more independent with their actions.
"Since it's really new and we went through that training we get direct directions from National but when we start becoming more independent it's more just what we decide," Doyle said. "We still get some direction from National but it's mostly just what the group actually decides to do."
One of Burke's goals for this organization is to raise awareness and educate people on climate change.
"We really want to raise awareness for both our group and also for climate justice in general, because Kansas, honestly, is one of the states that you care about the most as so much of our economy is based on agriculture, so much of it is based on things that are so susceptible to climate. It's a really impactful issue here that's been highly politicized," Burke said. "We want people to realize that climate justice is a lot more than just sustainable energy, but it's also creating systems where people are able to live to the best that they can… by making a change here we can help other people around the country."
Doyle hopes that her actions now through this organization can save people from worrying about the future of the planet.
"I really hope that this is not something that people are gonna have to worry about in the future, because we worry about so much as it is," Doyle said. "There's no need to have to worry about something as scary as climate change."
Canning believes other students should join this group because the climate crisis affects everyone.
"I think it's something everybody should care about because it's our world. We only have one world," Canning said. "It affects everybody's future, whether it's…their pet, their kids, their future successors. It just affects everybody in different ways."
At the moment there are roughly 60 members in Sunrise Shawnee. If you are interested in joining you can contact Claire Burke, Taylor Doyle, or Ben Wieland. Anyone under the age of 30 is able to join, even if you don't attend Mill Valley. Their Instagram is @SunriseMVMTShawnee.
(Visited 205 times, 1 visits today)