One to One pilot programs allows teachers and students to test possible devices for future adoption
Different devices are being used in classrooms across the district to determine which one the district will adopt for next year
A few classrooms at Mill Valley, and many across the district, recently received new technology devices, such as iPads and laptops, as a part of the One to One technology pilot program. The district is having teachers and students test different devices before they determine which ones will be given to students in the coming years.
According to district technology integration coordinater Cindy Swartz, the devices will be evaluated by using specific rubrics and then superintendent Frank Harwood will determine which ones the district will adopt for future deployment for all students.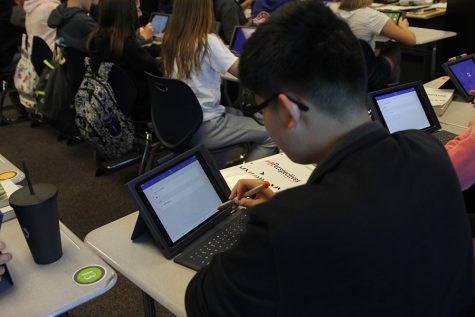 According to social studies teacher Chris McAfee, whose classes are a part of the program, the new technology will help expand learning experiences for students.
"[The new technology] allows you to have opportunities to do things that you just can't do with the textbook or with me standing in front of the class or handing out papers," McAfee said. "I think [the iPads] can be engaging while also giving us opportunities to try out new things."
Students in McAfee's World Geography class, such as freshman Alayna Janak, have been using the technology to explore the architecture around the world.
"We have been using the iPads to look up maps and study some of the famous structures and central buildings from around the world," Janak said. "Having the technology in this class has made it easier to access things that we wouldn't have access to in a textbook."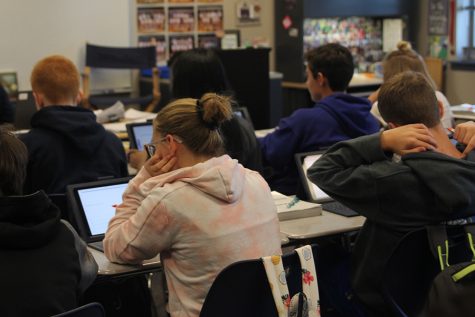 McAfee believes the advantages of the district-provided technology are different than those you would find through the Bring Your Own Devices policy.
"There is a tremendous amount of educational things that we can do [with the devices] that we just can't currently do with only the smartphones people carry around," McAfee said. "I feel like the kids use technology all the time outside of school and then they come to school and they don't get to interact with technology."
Janak thinks the technology is very useful and has helped improve her learning environment.
"This has helped improve my school experience by providing me with something to use in class that has everything we need to do our work with already on the device," Janak said. "[The technology] is very useful and is extra beneficial to those students who do not already have technology they can use in class."
After seeing the possibilities of this new technology making it into classrooms, McAfee is excited to use the devices in his classroom.
"I think it is super nice to have the possibilities to explore," McAfee said. "It will allow us to go beyond the walls of the classroom and have some experiences that we previously wouldn't have been able to have."
(Visited 173 times, 1 visits today)