Johnson County cities could raise tobacco product purchase age to 21
Olathe became the latest Kansas City-area locality to raise the tobacco purchase age on Tuesday, Feb. 2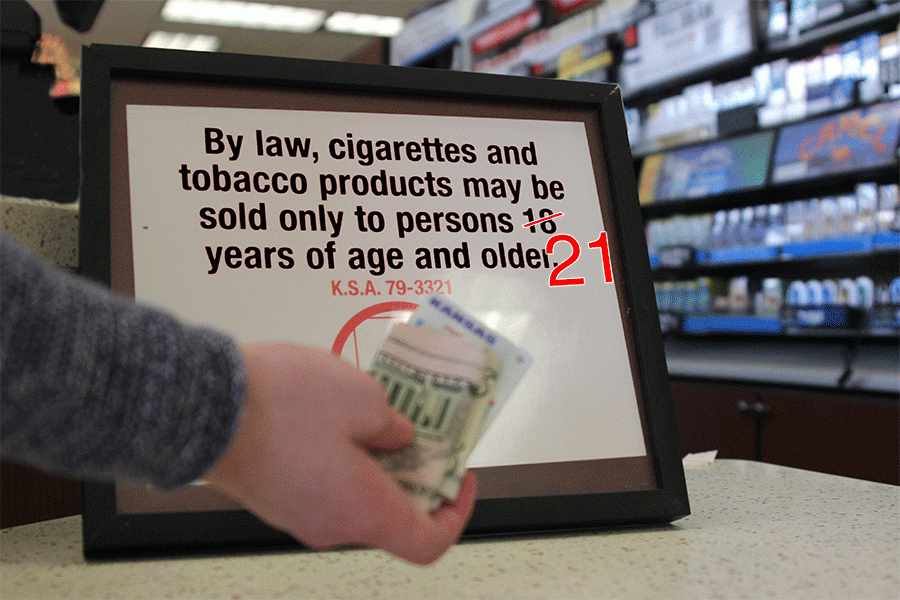 Kansas City, Missouri, and Wyandotte County both raised the legal age to purchase tobacco products from 18 to 21 last fall, and Olathe did the same on Tuesday, Feb. 2. A similar change may come to other parts of Johnson County, according to Steve Rose, who wrote in a December 2015 Kansas City Star column that Johnson County mayors were considering raising the age.
Senior Grant Roach chews tobacco regularly, and believes it's unfair for a change in age to affect those who were legally allowed to use tobacco products previously.
"If someone's been chewing tobacco or smoking cigarettes since they've been 18 and then they're 20 and all of sudden they just can't buy them, that just doesn't make a lot of sense to me," Roach said.

By Justin Curto
The ordinances in each of the three areas affect the sale of e-cigarettes and vapor products as well as tobacco. In Olathe, people under the age of 21 who purchase these products will get a $25 fine. In Wyandotte County, the punishment for businesses that violate the ordinance is a minimum $200 fine.
Despite the raise in the minimum age, a senior boy who wished to remain anonymous because he vapes illegally said he won't see much of a change in his ability to get e-cigarettes.
"I guess my friends aren't gonna go buy [e-cigarettes] or fluids from [the areas with a higher minimum age] anymore," the anonymous senior boy said. "If they can't get it there, then they'll stick to here. It's better not go through that hassle, because obviously it's not [everywhere]."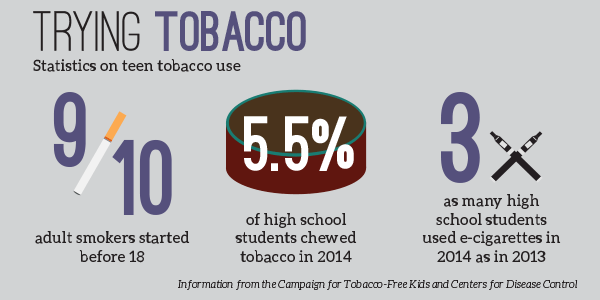 By Justin Curto
According a 2012 Surgeon General's report, 83 percent smokers first began smoking when they were under the age of 18. A raise in the minimum legal age for purchase of tobacco products may stop teenagers from starting to smoke early in life. A report from the Institute of Medicine released in March 2015 predicted that raising the smoking age to 21 nationally would reduce the amount of new smokers aged 15-17 by 25 percent.
Senior Annie Dillon is the president of the Johnson County Teen Task Force, a group made up of students campaigning to prevent substance abuse. Dillon spoke at the Olathe City Council meeting in support of raising the minimum age, before the vote that ultimately passed the ordinance.
"I think it's a good idea just because so many people struggle with addiction throughout their life, and if you can prevent people from getting addicted, then it'll become a lot easier just to prevent all the negative consequences," Dillon said.

According to Dillon, the Teen Task Force is trying to get the age raised in as many other cities in Johnson County as possible, including Shawnee.
Other parts of the United States have made the decision to raise the age, with Hawaii recently becoming the first state to legally raise the age, for both e-cigarettes and other tobacco products. According to the Campaign for Tobacco-Free Kids, 117 local areas within the United States have already raised the smoking age to 21.
Rose believes that raising the minimum age in Johnson County would help curb teen smoking and set an example for other areas.
"The research is clear. If you can nip smoking early, there is far less likelihood young people will take up smoking as adults," Rose said in his column. "This is a big step forward, with appropriate accolades to the Greater Kansas City Chamber of Commerce, which led the way. This entire metropolitan area could lead the way for the United States if all of the communities in our region would adopt similar laws."
The anonymous senior boy, however, doesn't believe a change in the minimum age will reduce tobacco use among teenagers.
"The thing is, then you'd just have to buy in bulk," the anonymous senior boy said. "When I ask my friends for liquor, I don't ask my friends for just one drink, because it's harder to get since the age is 21. I ask for a bulk of it at one time, to last me a while. So the same thing would happen. It won't do much of anything. If a kid wants something, he's going to be able to get it."
Although he acknowledges that there are dangers, Roach believes smoking and other tobacco use should be a personal choice.
"Tobacco can kill you, and I think everyone who chews or smokes knows that when they're doing it," Roach said. "But I feel like if you're 18 and you're legally an adult, then it should be your decision to smoke or chew, if you're of age."
(Visited 69 times, 1 visits today)
About the Contributors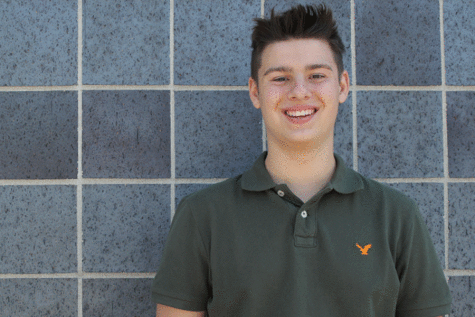 Nick Booth, JagWire copy editor
This is senior Nick Booth's third year on the JagWire staff. He is very excited to be copy editor and to continue his work with Mill Valley News, which includes his gaming blog Extra Lives. Outside of journalism, Nick is involved in band, debate, forensics, Science Olympiad, Quiz Bowl and drama and is co-captain of the robotics team. In his free time, Nick loves to read, watch a nice movie, play video games or listen to some music.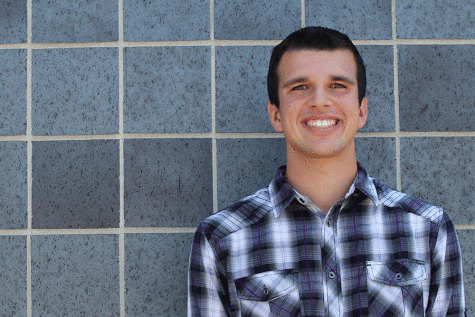 Justin Curto, Mill Valley News editor-in-chief
This is senior Justin Curto's third year working on the JagWire and Mill Valley News, this year as one of the editors-in-chief of Mill Valley News. Outside of journalism, Curto is the president of Club 121 and co-vice president of NHS, and also plans to be in the spring play for the second year. Curto enjoys going to alternative rock concerts, spending time with friends, eating pizza, reading contemporary young adult fiction, watching coming-of-age...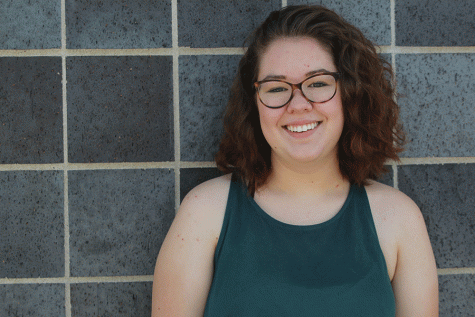 Margaret Mellott, JagWire editor-in-chief
This is senior Margaret Mellott's third year on the JagWire staff. This year she is co-editor-in-chief of the JagWire. Outside of newspaper, Margaret is involved in girls basketball as a manager. In her free time, Margaret enjoys designing, history and reading. It is Margaret's hope to put out great web content as well as a phenomenal paper.