Forensics team starts season, competing at weekend tournaments in multiple events
In forensics, students participate in a selection of competitions and are judged on their speaking skills
Emma Clement, JagWire editor-in-chief, Mill Valley News editor-in-chief
March 6, 2022
The arrival of the second semester brings the start of the forensics season. With the competition season starting, the forensics team works on various events centered around speaking. 
Ran by the National Speech and Debate Association, some of the forensics events include Humorous Interpretation (HI), Program Oral Interpretation (POI), Dramatic Interpretation (DI), Impromptu Speaking, Informational Speaking and Declamation. Though some events are more focused on acting and others are more like debate, they all require speaking skills.
Sophomore Riley Martin currently competes in POI and Impromptu. In impromptu, competitors draw a topic and are given a limited amount of time to make a speech about the topic. Martin placed fifth for her POI performance at the Shawnee Mission NorthEast tournament on Feb. 12.
In POI, competitors "splice together poems, scripts, and other forms of media to create a story or convey an emotion," Martin said.
Similarly, sophomore Grace Cormany also competes in POI and, in the future, plans to compete in more events with a similar topic to her POI.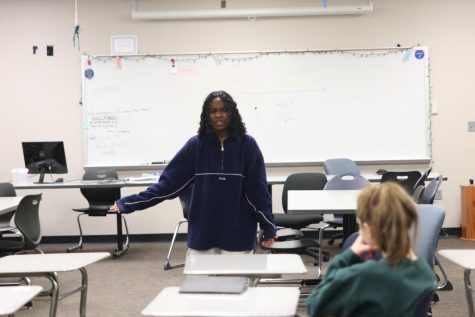 "My theme for my POI focuses on how reflecting on the past is the only way to move forward as a nation," Cormany said. "I have used many pieces talking about 9/11, as well as Amanda Gorman's The Hills We Climb."
Senior Megan Habib has already qualified for state in her events: HI and DI.
"In these events I find a script, and, in this script, there are multiple different characters and I have to act all of them out while acting out the whole script," Habib said.
For Cormany, though the competitor's success at tournaments is what qualifies them for state, their teamwork makes the class fun.
"The atmosphere is so warm and inviting," Cormany said. "It feels like a family, and that's what is most important at the end of the day."
Habib agreed that they have a great team dynamic, making tournaments fun as well.
"I absolutely love the people and getting to go out to tournaments with such fun people and just getting to come to class and see them every day," Habib said.
(Visited 107 times, 1 visits today)