After switching from volleyball to running, junior Britton Nelson finds success on both the track and the trail
Nelson has made the quick transition due to support from both teammates and coaches
It's a great accomplishment for any athlete to win a state title, but it's even more remarkable for junior Britton Nelson. She started out playing volleyball her freshman year, but became a track state champion just over a year later.
Other than middle school track, running had never been a big part of Nelson's life. It wasn't until the track season of her freshman year that she fell in love with the sport. The following fall sports season, she switched to cross country because, according to Nelson, she "was a lot better at running than volleyball and … loved the people."
Her improvement throughout the seasons is displayed by multiple first place race finishes, setting two new school records and a state title in the 4×800.
Nelson believes that the tremendous amount of progress she's made is a combination of both skill and dedication.
"[I] kept working hard and there was some natural talent, I guess," Nelson said. "I'm pretty motivated, so I can push myself when I want to and need to."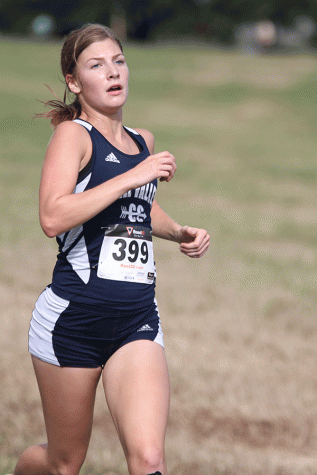 In addition to her own hard work, Nelson attributes her success to the bond with her current and former teammates.
"We are all really close, especially last year with the seniors. When you're running together, you kind of have to be close because they help you push yourself," Nelson said. "It's not always easy to be motivated, but they make it fun."
According to 2016 graduate Ellie Wilson, who was also a part of last year's 4×800 state champion team, it's been rewarding not only to have grown so close to Nelson through running, but also to watch her progress.
"Running is a difficult sport, but looking at Britton, you wouldn't guess that. I have so much respect for how positive and hard-working she is, both at meets and in practice," Wilson said via email. "It's been amazing to see that in combination with how much talent she has."
Head cross country coach Mark Chipman believes that there are multiple factors that contribute to Nelson's success in cross country.
"She's a hard worker, she's a leader and she shows the other kids the right way to do things," Chipman said. "I think she's gotten a lot more confident both athletically and overall. It's helped her become stronger."
Nelson realized how much her dedication had paid off when she won a state title last spring.
"I'd say I've come a long way. Freshman year, I didn't even go to state for track and so I definitely did not expect to go there and medal and everything," Nelson said. "After that happened, I kind of could see how far I had come and that I can keep pushing myself to get better."
(Visited 156 times, 1 visits today)