"We Love Disney" is better than it sounds
Released by Disney, this compilation album features popular artists covering classic Disney songs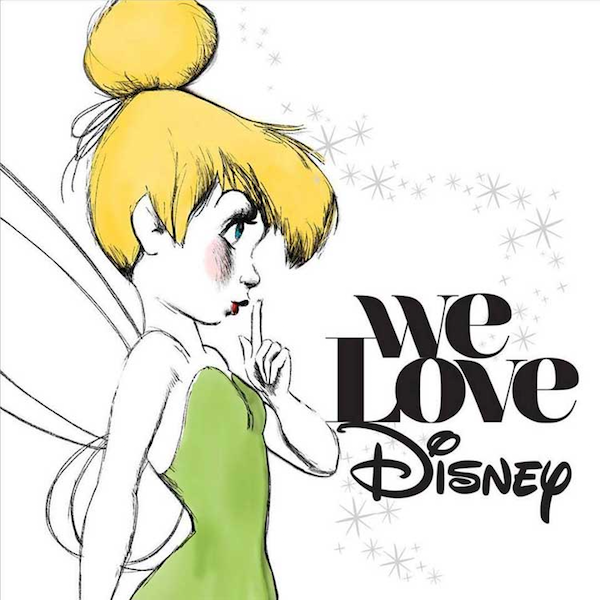 Tricia Drumm, Mill Valley News editor-in-chief
November 11, 2015
When I first heard of the album "We Love Disney," I did not have very high standards. It registered the same way as the new Poltergeist movie did: a boring remake and another way to get money.
Originally, I was only interested in it because Fall Out Boy was covering a song. After listening to it, I realized that it wasn't as bad I thought it was going to be. For the most part, I was pretty pleased.
Released on Friday Oct. 30, "We Love Disney" features popular artists like Ariana Grande, Fall Out Boy, Gwen Stefani and Tori Kelly taking classic Disney songs and covering them, but giving a new twist on the song. In the end, I was impressed by the quality of the songs.
"Friend Like Me" (from "Aladdin") by Ne-Yo
Ne-Yo does a good job giving this classic song a big band twist with plenty of finger-snapping and groovy trumpets in the background. Just like the original, it's a really catchy song.
"Part of Your World" (from "The Little Mermaid") by Jessie J
There are two things that Jessie J does exceptionally well in this song. First, during the chorus when she sings "What's that word again?" there are backing vocals that send chills down my spine. Then, her voice from around 2:11 to 2:17 is pure ear candy. Jessie J took this song to heart, truly capturing the original message that Ariel was originally trying to tell.
"Can You Feel the Love Tonight?/Nants' Ingonyama" (from "The Lion King") by Jason Derulo
As soon as I finished listening to the original version of the song, I was half-expecting Jason Derulo to start out with Timon and Pumba's conversation about how Nala and Simba are falling in love. Instead, the track started with the "Nants' Ingonyama" (otherwise known as the opening song to "The Lion King" that no one knows the words to), which was woven into the background of different parts throughout the track as a very nice surprise. Coming from the artist that recorded "Trumpets," I wasn't ready for simple and soothing vocals.
"The Rainbow Connection" (from "The Muppet Movie") by Gwen Stefani
As of now, I haven't seen "The Muppet Movie," and the last I heard of Gwen Stefani, she was singing "Settle Down" with No Doubt. After listening to the original version, it's the kind of song that makes you want to sway side to side. Stefani really does a nice job recreating the same feeling.  
"Zero to Hero" (from "Hercules") by Ariana Grande
If you have ever heard Ariana Grande sing, then you have a general idea of what this song will sound like. Her constant high voice and her repeating riffs makes this song sound like it should be a part of her "My Everything" album. While I don't listen to her very often, this isn't a bad song. Grande stays true to the original song with a groovy and fun Greek chorus in the background answering her line of the song.
"In My Own World/Very Good Advice" (from "Alice in Wonderland") by Jhene Aiko
I understand why Jhene Aiko chose these songs for We Love Disney; her dainty and sophisticated voice fits the tone of each song perfectly. I fell in love with her and her renditions of the songs immediately.
"I Wan'na Be Like You (The Monkey Song)" (from "The Jungle Book") by Fall Out Boy
This was easily my favorite track from We Love Disney, and not because Fall Out Boy had covered it. (OK, that's a big part of the reason.) Similar to the other songs Fall Out Boy produces, it managed to turn this smooth classic into an upbeat party song. I've lost track of how many times I've listened to this track since I was aware that it was released.
"Colors of the Wind" (from "Pocahontas") by Tori Kelley
When I thought of Tori Kelley, "Should've Been Us" came to mind immediately. However, she completely owns this song with her graceful vocals, making it more powerful than it already was before.
"A Spoonful of Sugar" (from "Mary Poppins") by Kacey Musgraves
Kacey Musgraves definitely gave this song more of a swing feel to it, and I'm not necessarily sure I like it. Kacey Musgraves has a very nice voice, but she is no match for Julie Andrews.
"Ev'rybody Wants To Be A Cat" (from "The Aristocats") by Charles Perry
Not every artist has that natural grip on jazz, but you bet Charles Perry does. From the piano intro to the fun chorus, the entire song makes you want to get up and start to dance.
"A Dream Is A Wish Your Heart Makes" (from "Cinderella") by Jessie Ware
To sum it all up, Jessie Ware has such a beautiful voice. I have no idea how I haven't heard of her before. She hits each note with such precision, and I didn't even have to hear her whole rendition to know I was in love.
"Let It Go" (from "Frozen") by Lucy Hale and Rascal Flatts
The one thing I have to say about this is that country can go pop, but pop cannot go country. Lucy Hale and Gary LeVox of Rascal Flatts may have nice voices, but the song choice was kind of odd. I don't dislike the artists, I only dislike what they did with the song. Let's just say that "Let It Go" has definitely tested my limits and broken through.
"It's A Small World" by various artists
As a combination of all of the various "We Love Disney" artists, this doesn't sound like the train  wreck that it could have potentially been. This version of the song is a little slower, but by the key change makes it feels more natural. Every female artist can easily be picked out, but I would have liked to see some specific male vocals emphasized in one of the verses. It was a nice way to finish the listening experience.
Overall, I was impressed with most of the songs on the album. While all of these artists worked hard on the album, it is known and has proven true that no remake is better than the original. I think that it's definitely worth checking out, and can even bring on nostalgia. My personal favorites were "I Wan'na Be Like You,"  "A Dream is a Wish Your Heart Makes," and "Ev'rybody Wants To Be A Cat." In essence, most of these Disney classics were successfully brought back to life and given yet another good name.
(Visited 41 times, 1 visits today)