Walking Tacos Relay For Life team introduces new way to fundraise
The event was spread through social media and word of mouth only to help raise money for the team
Jose Pepper's mexican restaurant hosted a fundraiser for the Relay For Life team, Walking Tacos, on Thursday, March 23.
For each meal bought by a Mill Valley family or student, 10 percent of the money spent on the meal went to the team. The purpose of the fundraiser was to raise money for this specific team, The Walking Tacos, but all of the money they make in turn goes to the Relay For Life event at Mill Valley.
This is the first time any Relay For Life team at Mill Valley has done this kind of fundraiser, and according to senior Savannah Chappell, the team spread the word through social media and word of mouth only.
"This was just for our team. We just thought it was  fun to fundraise [here] because no one else has done it before," Chappell said. "[Senior Maggie Bogart] made the advertisement on her laptop or phone just kind of explaining it, [and] we tweeted that out and retweeted it."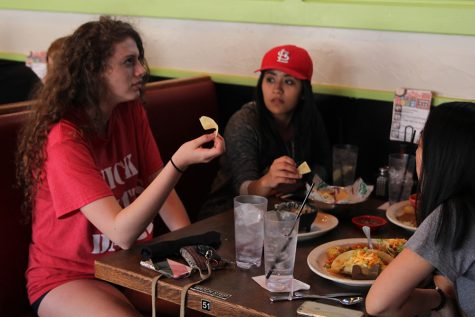 According to Bogart, there were multiple steps she had to go through to bring together the fundraiser.
"For preparation, I called the manager and we worked out a day that was conveniently before Relay For Life," Bogart said. "Then my team just had to spread the word about the event."
The appeal for doing a fundraising event like this, according to Chappell, was because it was easy and didn't take up a lot of time.
"We wanted to do it because it wasn't really something we had to dedicate a whole lot of time to or a lot of work and it wasn't something that was going to be really rigorous," Chappell said. "It was just something where we could call them and by publicising, we could bring in our own people and raise money for our team."
Seeing as this was the first time a Relay For Life team has involved a restaurant in one of their fundraisers, the team was unsure of how the event would go. They had hoped the event would be a success, but did not have a specific monetary goal in mind.
"I wasn't sure how successful [the fundraiser] would be," Bogart said. "I had never done a fundraiser with Jose Peppers before."
Since the Walking Tacos team is made up mostly of senior students, they will not be here to continue this fundraiser next year. However, Chappell still believes that if the fundraising event was a success, it will be continued by other teams in the future.
"I feel like our idea was a really good one, and just in ways of fundraising because all you have to do is go, say they are there for relay for life, enjoy their meal, and some of their money goes to us," Chappel said. "So it's pretty easy if you can advertise properly, and really get it out there, so I hope people can take advantage of that."
(Visited 43 times, 1 visits today)