Volleyball falls to Aquinas at home
The volleyball team was swept by St. Thomas Aquinas 13-25 and 21-25
Volleyball lost to St.Thomas Aquinas in two sets during their home duel on Tuesday, Sept. 20.
As the team anticipated this match-up, sophomore defensive specialist Sydney Pullen, along with the rest of the team, practiced to be able to perform their best.
"We worked on the things we needed to improve from last week," Pullen said. "We tried to put them into this week and I think we did it. We came in really fired up because last year we did not do so good against [Aquinas]," Pullen said.
The team ended their season last year after being defeated by Aquinas during the first game of sub-state. The game was tight until the referees found an error in the score, causing them to take several points away from the Jaguars.
As a returning player, junior middle hitter Abby Archibong saw this game as an opportunity to avenge their misfortune from sub-state.
"Mentally, that [game] brought us down last year, so this year we really wanted to beat St. Thomas Aquinas," Archibong said. "We were really motivated and pushing to beat them."
On Tuesday night, the team got off to a rough start in the first set, falling behind 4-11. They rallied, coming within one point of the Saints with a score of 11-12. Their momentum, however, did not last as the team went on to lose the first set 13-25.
After losing the first set, Archibong worked with the team to change their overall strategy.
"Our coach really emphasized putting [the ball] in their open spots," Archibong said. "Their deep corner was open so we were trying to chuck [the ball] to deep corners. We were really just trying to pick at their weaknesses."
During the game, Archibong helped her team work cohesively in order to play their best.
"We really gelled as a team," Archibong said. "We were really pushing and motivating each other to do the best that we could do."
Although the team competed well, Archibong believed the team struggled with their placement of hits and tips throughout the game.
"I think we struggled with court awareness," Archibong said. "We thought some places were open when they weren't."
The second set went back and forth between the two teams until the score reached 18-18. The Saints then took control over the game and defeated the Jaguars 25-21.
According to Pullen, Aquinas had a lot of a talented players that were difficult to defend.
"[Aquinas] had really big hitters," Pullen said. "Our block couldn't stop them so it was kind of hard to dig, but we tried our hardest.
Pullen knew Aquinas would be a tough match-up and thought the team competed well with them.
"I think we played really good from the beginning to the end," Pullen said. "They were a really good team."
Despite the losses, Archibong took pride in the team's overall performance and noticed how the team played differently than they had in previous games.
"We've never played this good," Archibong said. "We've never communicated like we did tonight and we were awake this game. We were talking and telling each other where to hit."
The volleyball team's next game will be on Tuesday, Sept. 27 at Gardner Edgerton High School.
(Visited 22 times, 1 visits today)
About the Contributors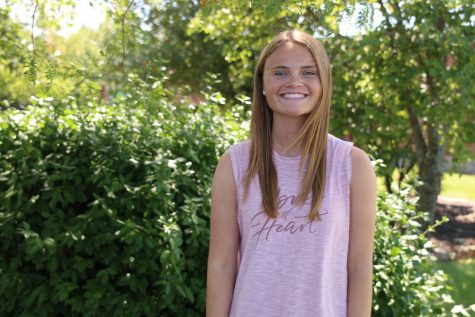 Sydney Parker, JAG copy/managing editor
This is senior Sydney Parker's third year on the JAG yearbook staff. This year she is both copy and managing editor. Sydney is also involved in ambassadors, NHS, Spanish NHS, band and softball. Her hobbies include watching old movies and spending time with her dog.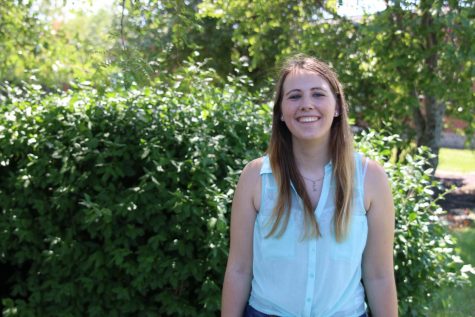 Kristen Garrett, JAG photo editor
This is senior Kristen Garrett's third year on the JAG yearbook staff. She is a photo editor this year, as well as a photographer. Kristen's only other activity is NHS. In her free time, she enjoys drawing, visiting local coffee shops and hanging out with her cat Minnie.