Video Productions puts on annual "spooky" film festival
Students viewed four different films during seminar Monday, Oct. 31
In honor of Halloween, Monday, Oct. 31, students could participate in the AV Productions classes' "Spooky Film Fest." By purchasing a ticket for $1 in advance or $2 at the door, students were allowed entry to the fest, where they watched four different short films created by students.
Senior Kate Hereth has attended the festival every year that it has been available, and enjoys seeing the high quality of the work produced by her peers.
"I've always attended the film festival in the past, as it's a big school tradition for me," Hereth said. "It's always super fun to watch all of the films that the students make because some of them are kind of scary, some of them are pretty funny and some of them are actually really good. It's always fun to go and watch."
Similarly, senior Cassie Frias appreciated the students' work and enjoyed spending her seminar watching the films, even picking a favorite.
"[People should go] because it was a lot of fun," Frias said. "I liked [senior Jameson Beran's film], "Sinner's Gambit," because it was the most entertaining."
Specifically, Frias enjoyed seeing how many students were featured in the films, saying that "it seemed like the whole school was involved."
Sophomore Rosie Yancey is currently enrolled in Video Productions which allowed her to play a minor role in sophomore Ellie Hayes' film, "Voices." Yancey also helped to edit the film and appreciated that she was able to take on a more behind-the-scenes role.
"I enjoyed being able to do things behind the scenes like filming and helping people out," Yancey said. "I had a little more experience with certain things and enjoyed editing. That's something I wanted to do, so that's why I joined [Video Productions]. So I enjoyed doing all those behind-the-scenes things. I like that there are more options than just being on camera."
Yancey is excited to continue to participate in film festivals with her peers.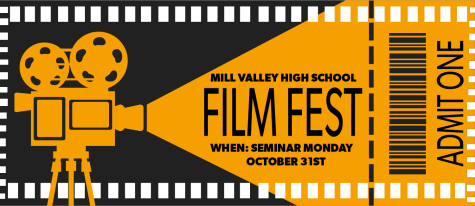 "I would definitely participate again. I'm excited for the Spring comedy film festivals," Yancey said. "I like my group and I get along with everybody. There's nobody I don't like. I like all of them and we have a lot of fun together."
In the future, Hereth would encourage other students to watch the film festival.
"It's super duper cheap to go watch these silly fun films to celebrate Halloween and it's a really good time," Hereth said."[I] absolutely got my money's worth. That was definitely 40 minutes worth of my time; it was really good."
(Visited 91 times, 1 visits today)