Underrated KC: Tropical Smoothie Cafe
This week we traveled to Tropical Smoothie Cafe
This week we traveled to Tropical Smoothie Cafe, located in Lenexa just off 87th St. It is a healthy yet delicious treat, and the smoothies taste very natural.
Tropical Smoothie has a cool, comfortable atmosphere. The design is rustic, yet modern. It is a place where a variety of people could be found because of its charm.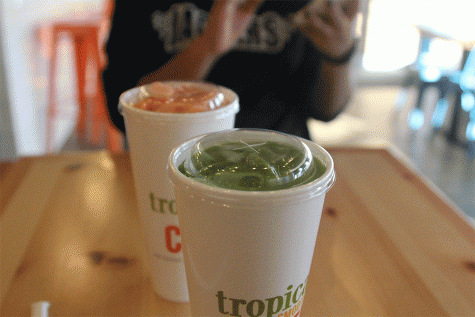 Katya got an Island Green smoothie. It has spinach, kale, mango, pineapple and banana. It had the perfect mix between healthy greens and delicious fruit. The greens were very subtle, so all you can taste is the banana and mango.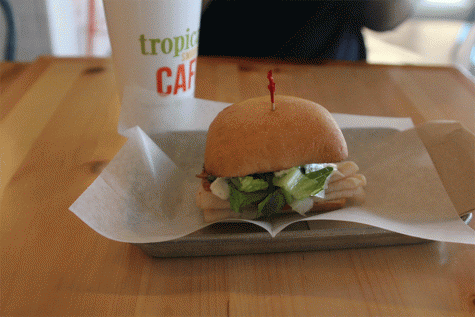 Ally got the Sunrise Sunset smoothie and half of a turkey bacon sandwich. The Sunrise Sunset has strawberries, pineapple, mango and orange juice. It was a bit too sour and that offset the sweet taste, but she could tell the ingredients were fresh. This drink tasted like a typical tropical smoothie from any place. The turkey bacon sandwich was delicious. It had a cool temperature and the perfect balance of lettuce, turkey, bacon, cheese and tomatoes.

The smoothies are large and only come in one size, unless you get a child's cup. The amount of smoothie you receive is quite the bargain for just $5. The restaurant itself is appealing because it's slogan is "Eat Better. Feel Better." They offer a variety of healthy foods, drinks, chips, cookies and, of course, smoothies.
Overall, we recommend you try out Tropical Smoothie. It is a perfect drink, with options ranging from sweet chocolate smoothies to smoothies with protein powder, there is the a drink for every person.
Photos by Katya Gillig
(Visited 55 times, 1 visits today)