Underrated KC: KC Pumpkin Patch
For this weeks blog, we traveled to KC Pumpkin Patch, one of our favorite fall activities
This week we went to the KC Pumpkin Patch, located west of Olathe. It has a cute farm atmosphere and offers many different activities. Activities include a hayrack ride, a goat feeding station, a bunny village, slide mountain, a big chair for photo ops and many more. There was also a variety of food options in the front next to the gift shop.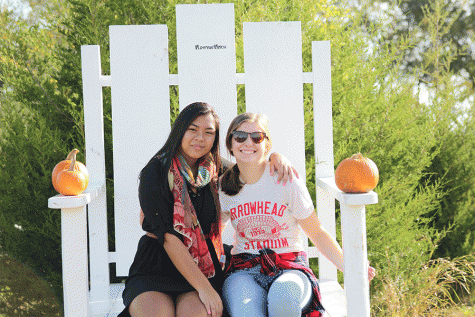 There were many opportunities for a great Instagram worthy photo. The pleasing scenery and the abundance of photo props helped create a social
media friendly
atmosphere. Our favorite props included the "How tall are you this fall?" measuring stick and a large white chair that could fit about three people.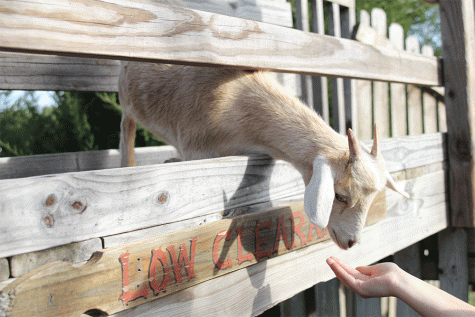 Activity-wise, one of our favorite things to do was the goat walk. There is a bridge that the goats can talk up so that you can feed it. Located at the side of the pumpkin patch, it was adorable and great for animal lovers. There was a bridge that they built for the goats to walk up. The goats will come right up to you and you can purchase a handful of food to feed them. The goats were adorable and extremely gentle; perfect for children. Around this area was also BunnyVille,a village that was built for the bunnies, and a chicken coop.
Another fun activity was the slide mountain. To go down, you had to use a burlap sack and put it under you to prevent burns. Katya went down it twice and absolutely loved it. This wasn't the only slide available there, but it was the tallest and definitely the best one. Some of the other slides were bumpy or just extremely busy.
Finally, there was of course, the pumpkin patch. Every pumpkin imaginable was available, from large white ones to extremely small green ones. This was Ally's favorite part of the whole thing. She enjoyed riding a tractor to get there and all of the workers were extremely kind the whole time. Also, they conveniently put out wagons so guests that are purchasing a lot of pumpkins don't have to carry them.
Overall, the KC Pumpkin Patch  definitely an experience that you don't want to miss out on.
Photos by Katya Gillig
(Visited 83 times, 1 visits today)