Transgender students react to the passage of anti-trans laws in Kansas
These laws threaten trans teens' rights, creating fear amongst LGBTQ+ youth
Emma Clement, JagWire editor-in-chief, Mill Valley News editor-in-chief
May 16, 2023
It's no secret that discussions of the rights of transgender youth have become a political battleground as of late, but for many students, these rights are not just political, they are personal.
There are three main bills that have been discussed in the Kansas legislature that would affect the lives of transgender people. Two of the passed bills are House Bill (HB) 2238, the Fairness in Women's Sports Act, and Senate Bill (SB) 180, the Women's Bill of Rights, both of which were initially vetoed by Governor Laura Kelly's but were ultimately overridden. The Fairness in Women's Sports Act requires female student athletic teams to only include members who are biologically female and The Women's Bill of Rights bans any identification of a gender other than the gender assigned at birth. SB 26, the Kansas Child Mutilation Prevention Act, would have allowed for civil suits against and revoked the licenses of physicians who provided gender-affirming care to minors, but the legislature failed to override Kelly's veto.
Laws like these directly affect students' lives. Junior Micah Boatwright explains that the Women's Bill of Rights might limit his ability to get legal documents changed when he is older.
"[The law] worries me because I am really excited to change my new legal documents [to reflect my gender] when I'm old enough to do it," Boatwright said.
Additionally, even though the Kansas Child Mutilation Prevention Act was not passed, a similar bill was passed in Missouri, which can affect teens living in Kansas even though it was not passed here. One of the affected teens is sophomore Skylar Smith.
"Actually, it's affected me personally because in Missouri they did pass that bill," Smith said. "The health care provider I used to go to for my gender affirming care just can't [provide HRT], so I had to switch to someone in Kansas."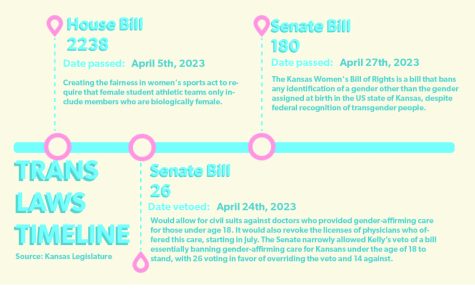 The effects of these laws are not always direct, though. Even just hearing about the bills and how they are affecting members of the trans community can be difficult. Senior Alexander Shields, who uses both he/him and they/them pronouns, describes how the situation in Missouri is affecting him, even as a Kansan.
"There's a lot of kids that now can't get their hormones," Shields said. "My therapist is also based in Missouri and she sees all these kids, so I hear their stories directly, and it affects me because it's just heartbreaking to hear these children, who were just like me when I was their age, just be denied at every turn for just trying to seek help."
Well-known to the trans community, these laws have garnered what can seem like vast support. According to the Pew Research Center, 58% of Americans favored policies that require trans athletes to compete on teams that match their sex assigned at birth.
This knowledge is frightening to many trans youth. Shields discusses how just hearing this rhetoric has affected them.
"I've heard a lot saying that my lifestyle should be eradicated from public life, that I shouldn't exist, and that I'm disgusting or a demon," Shields said. "I'm at a solid place. I don't have to worry about some of the legislation because I'm aging out of the group that they're targeting, but it still makes me feel bad because there's children that are hearing these things."
Boatwright agreed, referencing the statistic saying that 82% of trans individuals have considered suicide.
"It definitely will not be good." Boatwright said. "I definitely think the increase of you know, suicides will be worse, especially for trans kids because it's already bad as it is, and that's really worrying."
For freshman Oliver Feiring, part of the concern with these laws, specifically HB 2238, is that they are not addressing threatening issues. Feiring references the statistic that there were only three trans girls competing in sports in grades 7-12 this year.
"
We may be different, but we're not so different than everyone else. It's not like we want to hurt anyone. We just want to be ourselves.
— Sophomore Skylar Smith
"It doesn't feel like it's coming from a place of concern," Feiring said. "It's not even a place of fear. It feels like it's coming from a place of incompetence. Obviously Congress, and lawmakers in any state, should not be wasting their time with such a small trivial issue. There are much bigger issues that the Kansas legislature can be focusing on. I don't think that transgender athletes, three of them, should be that big of an issue."
The future ability to focus on different issues that Feiring referred to is not as far fetched as it may seem. A 2022 JagWire article addressing the issue of contemporary gender surveyed 204 students about their gender identity. The survey reported that 18.6% of students have questioned their gender identity. Comparatively, another Pew Research Center survey of adults that said 5.1% of adults younger than 30 and 1.6% of 30 to 49 year olds are trans. This shows that younger generations have higher populations of people who are gender non-conforming. 
There are also higher populations of non-cisgender people who know a trans person in younger groups. In the same 2022 JagWire survey, 63.7% of people said they personally know someone who identifies as a gender different than the sex they were assigned at birth compared to 44% of adults. For Boatwright, this shift creates hope for the future.
"I'm hopeful in later years, since there will be more younger people in office, that they'll have some more of an understanding and they will try to protect trans rights more," Boatwright said."
Similarly, Smith hopes that lawmakers will begin to see trans individuals as people, and that they will realize that trans people are not as much of a threat as they are made out to be.
"We may be different, but we're not so different than everyone else," Smith said. "It's not like we want to hurt anyone. We just want to be ourselves. That's really all there is to it."
(Visited 1,035 times, 1 visits today)