Three local restaurant owners discuss the impact of COVID-19
Local staples of Shawnee culture find ways to adapt and overcome new challenges
McLain's Market
Despite the challenges of COVID-19, McLain's Market, located in Shawnee, has risen to the challenge, continuing 75 years in the restaurant business with this new location.
Owner Molly Lothman saw the new location as an opportunity to continue the business's success. 
"We had three locations including our original location in Waldo. It's been there for 75 years, and we have our Overland Park location and our Lawrence location," Lothman said. "We knew we wanted to continue to expand, and we usually look for areas in the city in which we feel like could use another place like us: a coffee shop/bakery/restaurant."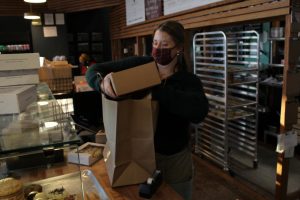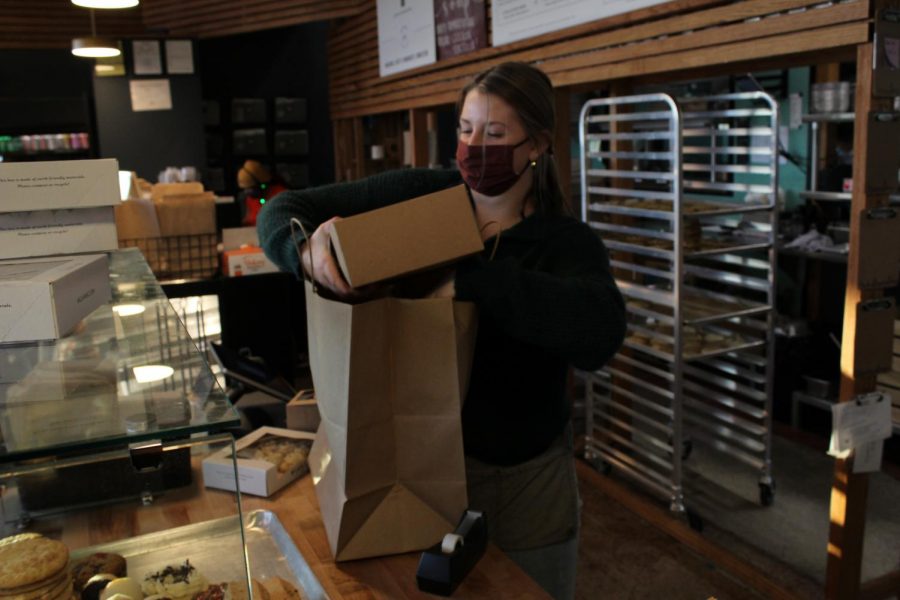 Lothman was very excited about the expansion into the Shawnee area after acquiring OK Garage, an auto repair service shop in the heart of downtown Shawnee.
"We just loved the opportunity to renovate an old building and make it into something new," Lothman said. "We feel like [downtown Shawnee] is really getting revitalized. There's a lot of really awesome concepts of businesses that have been happening for decades, that are still doing great. We just wanted to come in and join that and help continue to revitalize the area."
While Lothman has enjoyed the process, they have encountered several challenges over the course of the 
past several months. Since opening on June 15, right in the middle of the COVID-19 pandemic, Lothman identifies that the biggest challenge is "definitely COVID."
For Lothman, the answer to these challenges was a drive-thru.
"Thankfully, we had from the very beginning designed the building with a drive-thru in place. That has been imperative with COVID allowing us to have the ability to serve people outside the building," Lothman said. "[This] gives those who are more nervous about coming in or can't come in for medical reasons the ability to still access us through the drive thru."

Despite offsetting the costs with the drive-thru, Lothman has seen the economic impact of COVID-19 firsthand. 
"Within the first couple of weeks in March, our sales went down overnight about 70%. It seemed a little scary," Lothman said. "But they actually popped back up pretty quickly. After the initial scare as we became more comfortable as a company and learned what was necessary for safety precautions and what made us all feel safe. We thought it was really important for the community to continue to stay open as much as we could."
Lothman felt the business helped give people a return to normalcy during the uncertain times of the pandemic.
"I had people tell me that life had changed so much, but the ability to still be able to come and get coffee and get their kid a cookie, and have some routine to their day or their week really made a difference to them," Lothman said.
One thing that Lothman feels sets McLain's apart is the diversity of its customers.
"It's really fun that when you come into any of our stores you often see people in their 80s or 90s, who've literally gone for 75 years, down to high school kids studying to families having breakfast together,' Lothman said. "Literally every generation is represented and it is really fun for us to see and be able to participate."
For Lothman, the most popular items are the cupcookies, which are mini Pecan Sandie cookies with either chocolate or white chocolate frosting that "people order by the multi dozen."
Even if cupcookies aren't your style, Lothman feels that McLain's has something for everyone.
"We have such a variety of items that we really have something for everyone," Lothman said. "Whether you like coffee or you like breakfast food, you like sweets, you like savory items, we have something. We have great snacks … and they're at really good price points. We've got a great patio. We've got yard games like a massive life-sized Scrabble board, so lots of fun stuff."
---
Hayward's Pit Bar-B-Que
With the ever-changing nature of the COVID-19 pandemic, Hayward's Pit Bar-B-Que, located in Shawnee, has continued to provide residents with a staple of Kansas City food: barbecue.
According to General Manager Riley Sweeny, COVID-19 has been a great challenge for the restaurant. 
"It's crazy…to look at last year, and what we were doing last year, compared to this year, it's just a complete 180," Sweeny said. "We've had to limit capacity. In March, we were shut down for carryout only. Obviously we had to do that and that was tough."
Specifically the sanitation has been what Sweeny sees as the hardest part.
"The most difficult thing is following all of the provisions and all precautions necessary. I've definitely taken the extra step to make sure that everything is sanitary," Sweeny said.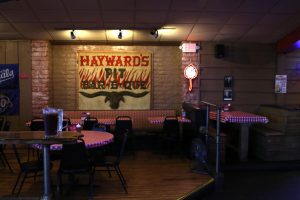 To combat the limited capacity, Sweeny felt it was important to join services like DoorDash and Uber Eats, even though those had their drawbacks.
"It's helped a little bit but obviously there's added cost in there," Sweeny said. "[Those services] take 8 to 20% out and that's where a lot of restaurants make their money, so we didn't do DoorDash or Ubereats, or anything initially."
In addition to the fees those services take, Sweeny felt that delivery brought a higher materials cost.
"A lot more people have switched to carryout delivery services, and so there's an added cost," Sweeny said. "When you do a carry out, there's a box, there's a lid, there's a cup that goes into that – the bun, everything, the sauce, the extra utensils. It all costs money."
To encourage more people to come in person, Sweeny has put dine-in only specials in place.
"For a while there, we were the only one of the only barbecue restaurants in the area that had full dine in hours throughout the entire week… and so we tried to let everybody know that 'hey, we're still open,'" Sweeny said. "For dine in, we created … a new menu a couple weeks ago that features daily specials. We push that a lot and a lot of these daily specials that are available for dine in only."
For anyone considering trying the restaurant, Sweeny recommends "The Royal," which includes burnt ends, brisket, cheese, and onion rings all put together into a sandwich.  
---
Old Shawnee Pizza
To combat the COVID-19 pandemic,Old Shawnee Pizza, located directly in the center of downtown Shawnee, has shifted from in-person dining to mainly takeout orders, all while starting to reopen in the safest way possible.
The biggest change for general manager Paul Andealiki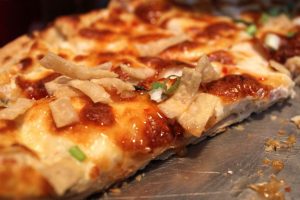 ewicz has been the influx of carryout orders. Although there has been a steady decrease in takeout order as people have started to return to in-person dining, the initial rapid switch during the start of the COVID-19 pandemic was a struggle for the restaurant.
"We used to be about 50/50 dine-in versus takeout, but now it's more like 80/20," Andealikiewicz said. "Most people haven't come back to the restaurants yet and if they do they usually just send one person who gets the food."
Outside of the change in the way members of the community ordered food, Andealikiewicz has implemented new cleaning procedures as well as mask mandates to help customers feel safer.

"[We've] implemented the mask mandate and we've also amped up cleaning," Andealikiewicz said. "We have extra people come in on the weekends to clean. They do a deep clean, using this spray machine, they go throughout the restaurant."
One of the biggest implications of the COVID-19 pandemic is the effect on staffing; Andealikiewicz was forced to reduce the number of employees when the restaurant switched to carryout orders only.
"For half of it, we had to go car-side to go only and didn't allow people in, which hurt our servers mostly," Andealikiewicz said. "We weren't able to keep everyone during the pandemic. We had to go to a limited staff and everything. But now we're back open. It did hurt business, but we made it through and now business is back to almost probably 90% of what it used to be."
For anyone trying the restaurant, Andealikiewicz feels the restaurant's most infamous and signature dish has become the Crab Rangoon Pizza, made crab rangoon filling, green onions, Italian cheese blend, sweet chili sauce, and topped with fried wontons.
"The last few years we've been known for our Crab Rangoon Pizza," Andealikiewicz said. "We're the only ones in town to do anything like it…so that's been our staple for the last two or three years now."
(Visited 463 times, 1 visits today)