The teacher to musician transformation I couldn't be happier about
Kansas City based band, Golden Groves shows an intriguing side of rock in first album, "Ideas"
Tori Aerni, JagWire editor-in-chief
February 1, 2016
I've had a wide array of teachers. It's always cool when you find out that your teachers have talents other than, well, teaching. When I was in sixth grade, I remember hearing a rumor about how my elementary school physical education teacher Isaac Hodges could sing. And that he could sing really well. Being the middle schooler I was, I was intrigued, but couldn't speculate why he never told us about this insanely cool talent.
Now, fast forward six years. After having younger siblings go through the same elementary school and a mom who was involved in the school, my family has kept in touch with Hodges. The other evening, my mom walked into my room and handed me a CD called "Ideas" by Golden Groves, which she had received from him. After saying that this was his band's unreleased album, I was excited to see how true this rumor from back in the day was.  So I took a listen, and, after being thoroughly impressed, here we are.
Golden Groves is a fairly new four-man rock band based in Kansas City. The band is composed of Hodges as lead vocalist-guitarist, lead guitarist Dylan Nelson, bassist Max Kmeck and drummer Andrew Lewis. If you're into local music, the album was also produced by Hembree drummer Jim Barnes.
"Ideas" is a laid-back yet fun and fresh take on rock music. It's the band's first EP and includes six songs: "Gold," "Ideas," "Forgiveness," "Play it Cool," "Got A Lot On My Mind" and "Stranger." Here's my take on my favorite three of the album.
"Ideas"
This upbeat title track is my personal favorite off the album. From the lead-in guitar riff at the start of the song, it proves to be a catchy tune that only gets better as it continues. The chorus of the song repeats enough for you to remember it after only a few listens so you can sing along, as the song will make you want to. The catchiness is subtly carried on with a foundation created by Lewis on the drums, which the guitar melody builds upon to create a song that you'll like having stuck in your head.
"Got A Lot On My Mind"
The band shows a more mellow side with this slowed down track. I took the song as 5 minutes and 27 seconds of serenity. Hodges' vocals are soothing and make for an easy listen. The song builds and falls at the perfect times to keep the listener wanting more. It has an acoustic feel at times, but then the drums and bass pick up to create an appealing contrast from beginning to end. 
"Stranger"
The first time I listened to this song, it reminded me of an artist I had previously listened to, but I couldn't quite put my finger on who it was. After listening to it a few more times, I decided that it gave off a slight Mumford & Sons vibe due to its lean towards folksy rock. The drum patterns throughout layered on top of the creative guitar playing with a relaxed-yet-captivating harmony sprinkled throughout is what ultimately puts this track in my top three.
Throughout the album, you can expect something a little different with each song, making for a well-rounded enjoyable listening experience. The album officially releases Monday, Feb. 1, but you can get a preview of all the songs and a free download of the title track on the band's website. As a supporter of local musicians, discovering another talented Kansas City band was indeed golden.
(Visited 21 times, 1 visits today)
About the Writer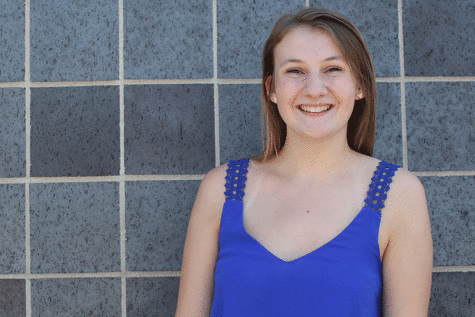 Tori Aerni, JagWire editor-in-chief
This is senior Tori Aerni's third year on the JagWire staff and her second year as an editor-in-chief. She looks forward to spending another year with the JagWire staff and putting out eight eye-catching issues of the paper. Aerni is also involved in NHS, SLT, Student Ambassadors and her church's youth group outside of the JagWire. She's a fan of concerts, the Kansas City Royals, chocolate milk and God. Her favorite artists include Taylor Swift,...