The Music Man: Radkey returns to Lawrence with local charm, but experienced professionalism
Justin Curto, Mill Valley News editor-in-chief
September 26, 2015
Radkey has been one of Kansas City's most notable local bands for a while now, and the band isn't even from Kansas City. The three brothers who comprise the punk rock band — lead vocalist/guitarist Dee Radke, bassist/vocalist Isaiah Radke and drummer Solomon Radke — are actually from St. Joseph, Missouri. That doesn't mean they escape local pride in Kansas City and the near abroad, having gotten their start performing in venues across Kansas City and Lawrence.
Since that proverbial start, though, Radkey has been nearly everywhere. The band's 2012 South by Southwest performance caught the eye of the New York Times, and Radkey came back in 2013 and 2015. Fresh off sets at Coachella, the Reading and Leeds Festivals and Kansas City's own "Buzz Under The Stars Night Two" this year, Radkey began its first international headlining tour, in support of its debut full-length, "Dark Black Makeup." When Radkey returned to The Bottleneck Friday night for a headlining set — its first time in Lawrence in over a year — the band's performance had an expectedly local feeling, accented by the polish that comes from its rise to fame.
Two punk bands from Lawrence opened the show, The People's Punk Band and Gnarly Davidson. The People's Punk Band took the stage shortly after 9 p.m. in a high-energy furor that kept up for nearly 40 minutes. Lead vocalist Tim Mohn worked the small opening crowd well, throwing out CDs and T-shirts and even walking onto the floor a few times. The band's loud guitars made it difficult to hear Mohn's vocals, but its enthusiasm — particularly from Mohn, drummer Jason Meier and guitarist Ean Kessler — made The People's Punk Band's set worthwhile.
While equally long, Gnarly Davidson's performance wasn't as entertaining. As the band worked out technical difficulties before its set, Gunnerson and drummer Franklin Fantini told some promising jokes to the crowd. The band lost all promise once it started playing, though, due to distasteful screams from lead vocalist/bassist Sam Gunnerson and lead vocalist/guitarist Mitch Jones. Like The People's Punk Band, Gnarly Davidson's loud guitars also made Gunnerson and Jones' vocals indiscernible, but Gnarly Davidson didn't quite have the contagious energy that The People's Punk Band did — even though Gnarly Davidson had the more devoted group of followers.
After Gnarly Davidson's set, I was more than ready to see Radkey, and so was the nearly packed Bottleneck. I had high hopes for the trio, especially after listening to the thoroughly impressive "Dark Black Makeup." So, when Dee, Isaiah and Solomon began their set around 11:15 p.m., I was filled with anticipation.
Radkey's first two songs, the upbeat "Out Here In My Head" and easy-to-sing-to "Le Song," set the brothers up for a lot of success. Those two songs alone brought the energy level higher than it ever was with The People's Punk Band and Gnarly Davidson. Radkey rode that intensity, coupled with the crowd's excitement, throughout the rest of the night for an extremely fun and quality headlining performance.
"Evil Doer" was the band's first true standout of the night. It gave Dee a chance to show off his amazing baritone vocals, one of Radkey's greatest assets. It also let Isaiah use his humor and charm to interact with the crowd, dedicating the song to a super villain from "Dragon Ball Z." And, it helped that it's one of the band's more artful tracks.
Dee's guitar playing really shined on "Love Spills," the band's current single. Isaiah, in turn, got his time in the spotlight during "Red Letter" (my favorite Radkey song), which he said starts with bass "as God intended." Solomon's high-caliber drumming kept up throughout the set, and was especially good during, of course, "Song of Solomon," which he even wrote. Aside from those, all three also had their share of well-executed solos throughout the night.
As a whole, the setlist was well crafted, including material off Radkey's two extended plays and one full-length. The band's cover of Depeche Mode's "Personal Jesus" seemed somewhat out of place, but was quickly redeemed by an outstanding performance of "Innocence Tonight," a song not included on any of Radkey's aforementioned releases.
"Dark Black Makeup" capped the main set nicely, and Radkey came back on stage not even 30 seconds later to begin an encore. The encore didn't feel separate from the main set, as most do, but instead like a continuation of what had been going on for the past 45 minutes. Both songs, "Not OK" and "Romance Dawn," were exceptional, and I could really tell that Dee, Isaiah and Solomon put their all into finishing their performance strong. Less than an hour after beginning, Radkey ended the show in true punk rock manner — with Isaiah jumping into the audience to crowd surf.
The size of The Bottleneck made the night extra loud, and I left the show with my ears ringing terribly. It was well worth it, though, and served as further evidence that Radkey completely rocked the venue. If the band's entire headlining tour goes this well, I can't wait to see Radkey again — hopefully in a larger venue (with sound that isn't deafening), in front of a larger crowd, playing the same high-quality punk rock.
Senior Justin Curto is an avid music lover whose tastes range from alternative rock to dance pop. He enjoys supporting the Kansas City music scene by listening longer to 96.5 The Buzz, rocking out to local music and seeing artists live at his favorite venues in the area.
(Visited 48 times, 1 visits today)
About the Contributor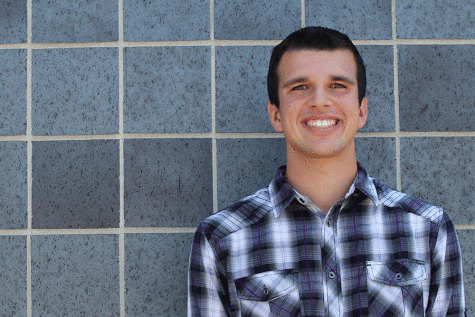 Justin Curto, Mill Valley News editor-in-chief
This is senior Justin Curto's third year working on the JagWire and Mill Valley News, this year as one of the editors-in-chief of Mill Valley News. Outside of journalism, Curto is the president of Club 121 and co-vice president of NHS, and also plans to be in the spring play for the second year. Curto enjoys going to alternative rock concerts, spending time with friends, eating pizza, reading contemporary young adult fiction, watching coming-of-age...