Fellowship for Christian Athletes brings students together through shared faith
Biweekly Friday meetings at 7:15 a.m. offer students an opportunity to combine their faith and athletics
The Fellowship for Christian Athletes, or FCA, was founded by sponsor Matt Best this year for student-athletes to participate in student-led prayer groups. Friday meetings held biweekly at 7:15 a.m. feature an ice breaker and a group prayer. According to junior Morgan Koca, the club brings student-athletes together through their shared faith.
"The FCA is basically a club [where] we all come together to intertwine the sports through Christ. We have a guest speaker come in and give a message," Koca said. "We can all relate to each other through God and sports in the school."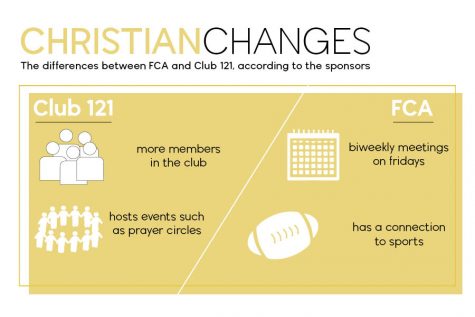 The club started out small closer to the beginning of the year. However, dedicated students within the club helped get it off the ground. According to Best, the first meeting had five students. At the latest meeting, the number of participants jumped to 28. Best credits students within the club for its initial success.
"The club's inaugural year has gone well …" Best said. "[Senior] Derek Wiedner and [sophomore] Noah Collins have helped start the club by leading devotionals as well as inviting other people to attend the meetings."
Collins was recruited to help lead the club by Wiedner. He jumped at the opportunity to help prepare devotionals and activities for each club meeting. Collins explained what the goal of the club is to him.
"Our goal is to provide a place for God within school, and to reach anyone willing to come to him," Collins said.
The FCA was put into place at the request of parents who had once participated in the club themselves during high school. These parents felt that students would benefit from the FCA experience, so they helped begin the process of building it into a student-led club.
"[Parents] saw a need for it and remembered having it in their high school," Koca said. "They talked to the students about starting it and they got it rolling, and then students started to take over once they got more comfortable."
According to Koca, she benefits from her participation in the FCA by its positive effects on her everyday life and the opportunity to talk to a variety of people.  
"[The FCA] definitely helps me stay calm throughout the day and it gives me a good start," Koca said. "And I get to see my friends and meet new people."
Koca's envisions the FCA expanding into a large, inclusive club that shares its message with many students. This would especially include those who do not share the traditional Christian views.
"My hope is that the club can get more kids to know and love Jesus," Koca said. "I hope that we can expand and get more people involved whether they're Christian or not."
(Visited 201 times, 1 visits today)