The emotions behind finally achieving my goal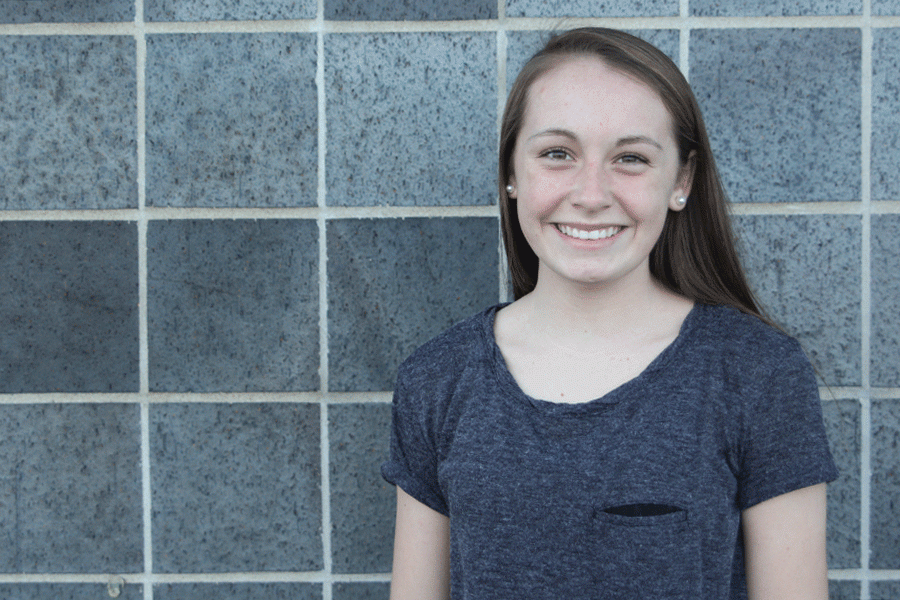 After I crossed the finish line, I looked back at the last straightaway to see if it was real. I looked back to see if what just happened was actually mine. A lot of people from Mill Valley at the track knew what that race meant to me, so someone was always telling me my time as I ran. When I stepped over the finish line, I heard someone tell me my final time. That was the best thing I heard the whole race.  
I had made some small goals for myself before my first track meet, but I have never really been a goal person. I have always been afraid of letting someone or myself down, so goals are scary for me. But, if you don't have goals for yourself, it's hard to ever accomplish anything.
At our meet in Ottawa, Track coach Chris McAfee told me that I could run the 3200m in 12 minutes flat. I thought he was crazy because I had never even run a time close to that. I didn't tell him that, but he could tell while I was racing that I didn't believe him, and I did not race the way we coached me. I ran a 12:01, and I could have run one second faster, and he definitely thought so too.  
The whole next week I got to think about how I let him and myself down, but I had a goal now. The wait for the next meet gave me plenty of time to decide if I was still in the whole track thing or not, because I have really been missing soccer recently. I also did not know if I would get another chance to race in the two-mile again until the day before our next meet.   
On a different note, in years previous, I have had much experience in missing times and records by a few seconds or inches, so what happened in Ottawa was not foreign to me. Though this time, a personal record would get me the school record, and it would also show how great my coaches are.  
At our next meet, and unlike a perfect running movie, the gun went off to start the 3200m run and only a few strides in, a second shot went off. My dad told me that he said "who would false start on a two mile?" When it happened, little did he know, it was me. The race official had drawn chalk marks for us to start at in our lanes. Then when he said to get set, we were to step up to the blue starting line before the gun. I pretty much did the opposite, took two steps back from the chalk line and started off the chalk.  Another race official came up to me and told me how to start, and probably wondered why someone as dumb as me was a third place projection.  
I wish I could type out the acronym, laugh out loud, because I am currently laughing at myself. I guess I was just too focused on how I was going to run the next eight laps.  
I ran the first lap faster than I do during 400m repeat days at practice. That scared a lot of my coaches, but the next three laps like set me up well for a good race. A phenomenal runner from St. Paul took the lead from me in the third lap, so I paced off her for the next two. I lost her in the fifth lap, and you can tell from my split times. That also scared my coaches because my first mile was a fast as my mile race the week before, and I was on record pace. I got through the sixth and seventh laps slowly speeding up my time.  After what felt like an eternity, the final lap gunshot went off.  That is the best sound in the world.  
The final lap was filled with feelings I had never had in my life. I lengthened my stride out on the second to last straightaway and that was where pretty much my whole team was. Their encouragement got me going on the last 200m. I kicked it in as hard as I could. I pictured a soccer ball at the finish line that I had to get to before my opponent, so I could cross it into the box for a shot.  
I finished in second place, but with a record breaking time of 11:51.76. McAfee was the first person I saw, and he picked me up and hugged me, and that was when I knew I hadn't let anyone down this time.
One of the hardest things I have ever had to teach myself was to be my biggest cheerleader.  While running a race or workout I have learned to believe in myself and not give up because it was too hard. After all, the workout will end, the race will end, and the pain will end, eventually.    
After I crossed the finish line, I looked back at the last straightaway to see if it was real. I looked back to see if what just happened was actually mine.    
(Visited 23 times, 1 visits today)
About the Writer
Delaney Kemp, MVTV sports producer
This is Delaney Kemp's second year on Broadcast and she is this year's sports producer. She participates in Cross Country and Track and will run collegiately next year. In her free time, Delaney loves to bike, do yoga, paint and travel. She is a National Honor Society officer, Student Ambassadors officer and is in National English Honor Society. Delaney also leads a bible study at her church, volunteers with the Mill Creek Middle School cross...