'The Bridge' program offers graduated students further development of skills
Graduated USD232 special education students have the opportunity to learn life skills at The Bridge
Making their first homemade coaster sale to a member of the community, a group of graduated special service students practice their marketing and sale techniques. These students are given this workforce opportunity among many others in the district's unique program called "The Bridge."
The Bridge is a transitional program for students aged 18 to 21 that have graduated from a USD 232 high school and still require special education services. Their goal is to prepare students to function effectively and independently at the next stage of their life. To work towards this goal, they work on skills that are transferable to their future life by utilizing in-house opportunities and going to off-campus work sites. A typical day at the Bridge involves a group meeting, either going to work or doing laundry for the district, lunch prep, working on IEP goals, building chores and watching CNN 10.
Tina Talavera
The program, which was originally housed inside of Mill Valley, moved to its current location on 83rd Street in De Soto 10 years ago. According to Bridge facilitator Melynda Kaifes, the building had to undergo many changes in order to serve its purpose.
"They were using [the building] at the time as the technology center and they graciously moved to the district service center," Kaifes said. "They did a lot of revamping of the facility and made it more of an apartment-like setting, so students have more availability to learn some life skills. The program really emphasizes life skills, so these changes were important."
Although the program is for postgraduates, according to special education teacher T.J. Finan the process begins well before then.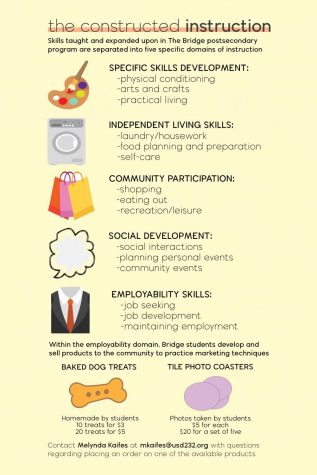 "We begin by visiting the Bridge and touring the facilities and meeting the staff. Then we look for opportunities to bring the seniors back to the bridge [to familiarize them with the place,]" Finan said. "The impact the Bridge has is preparing our students to succeed."
While a part of the program, Bridge students work on skills that pertain to their life at home like learning to care for an "apartment" or grocery shopping on a budget. However, they also have the opportunity to go into the community and participate in activities that will benefit their social life, according to Kaifes.
"They work on three things: employability, social skills and life skills," Kaifes said. "Our goal is that they'll generalize what they learn at the bridge into their post-school environment, whether it be in a job, a day services program or out volunteering."
As part of this initiative, Bridge students take non-accredited classes through Johnson County Community College's College Learning Experiences Activities and Resources, or CLEAR, program. These classes are aimed at helping students achieve goals they weren't able to complete in high school. However, Kaifes believes it offers the students more benefits.
"These classes are an opportunity for our students to be around their typically-functioning peers. When they were in high school they were around all of their peers, but here at the Bridge they're only around students similar to them," Kaifes said. "We still want to give them the opportunity to be around other [people in their age range] and that opportunity is on a college campus."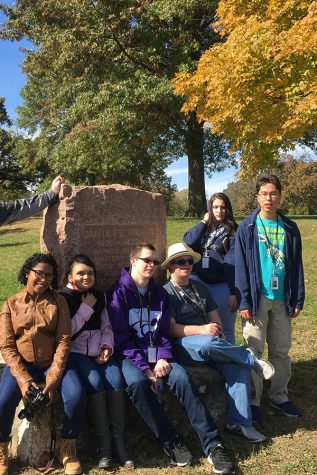 Also to help Bridge students, specifically under the category of employability, are the numerous job opportunities available to them. Most recently, through a community-based interaction, or CBI, students were able to create their own coasters to sell. Bridge student Tyesha Allen's favorite part of the program said this trip has been one of her favorites so far, but she enjoys all CBIs.
"We went downtown and we took pictures of places like Union Station and Liberty Memorial and we're going to have a catalog that sells coasters with the pictures on it," Allen said. "I like exploring what's in the community and what's out there. I really like interacting with people."
Other job opportunities come from Bridge community partners, which range from local businesses to the USD 232 food service. At these partner locations, Bridge students are able to work one to two hour shifts each day. Allen works at two locations, Country Club Cafe in Shawnee and JT's Bar and Grill in De Soto.
"I like working at [both of] my jobs and interacting with people," Allen said. "I don't like when it gets very busy though."
Although the facility receives a majority of its funding through the district, Mill Valley's Catty Shack also donates all of the profits it receives each school year to the Bridge. Catty Shack Vice President Ally Klaudt believes donating towards a district program as opposed to a state or national charity helps personalize the cause.
"We visited the Bridge and it helps us visualize what our money is going towards, and keeps us aware that what we do does have an impact," Klaudt said. "I learned how humbling it can be to work for the school store and how much of an impact this money makes towards other people and their lives."
For Kaifes, the Bridge has been her favorite portion of her education career.
"This is my 28th year in education and I've done special education through all of that. I've been lucky enough now for the last two years to be the Bridge facilitator," Kaifes said. "These students give you so much more laughter and enjoyment than teaching in a regular high school setting."
(Visited 114 times, 1 visits today)