Samantha Volkamer, JAG copy editor and organizations editor

October 13, 2018

Filed under BOYS SOCCER, SPORTS, Top stories
Boys soccer beat the Blue Valley North Mustangs 2-0 on Thursday, Oct. 11. The group of 8 seniors experienced a win on senior night, the last home game of the regular season. In the first half, senior Jake Ashford scored a memorable goal to make the score 1-0. "I couldn't have asked fo...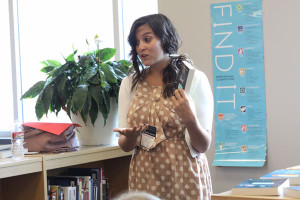 Regan Jones, feature editor

October 17, 2012

Filed under NEWS
Johnson County Library Informational Specialist Jennifer Mendez visited the school to tell students about the Teen Galley Project on Tuesday, Oct. 16. As part of the Read and Review program, students signed up to come down during seminar to pick up a galley book, which is an advance release of a book,...