District offers superintendent position to Frank Harwood
Board votes unanimously to offer current Bellevue superintendent De Soto superintendent position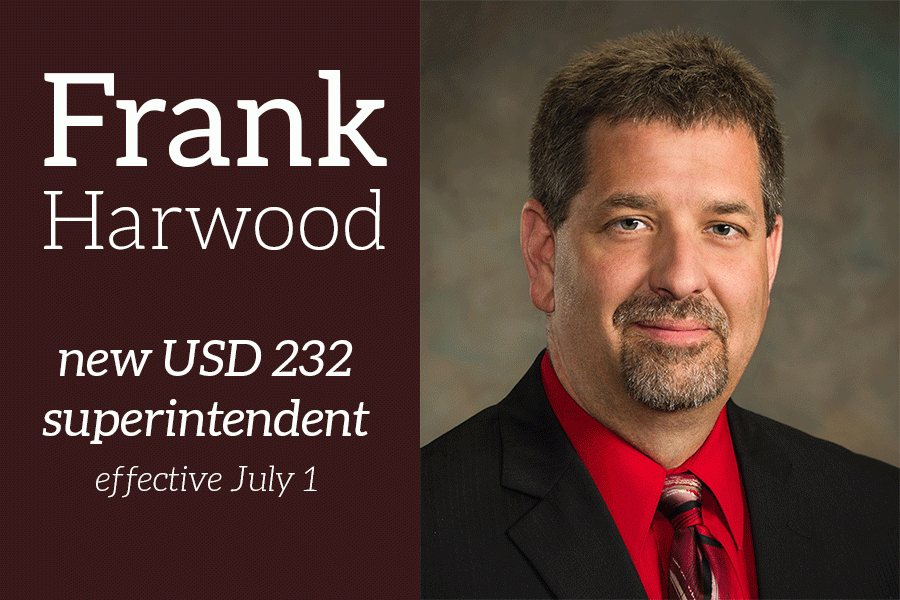 The Board of Education extended an offer of appointment for superintendent to Frank Harwood, current Bellevue, Nebraska, Public Schools superintendent, at the board meeting on Monday, March 7, 13 months after former superintendent Dr. Doug Sumner announced his resignation. The vote was unanimous among the seven Board members.
The new superintendent will not become official until Harwood is released from his current contract at the end of the school year. Harwood would begin his new job July 1. Assistant superintendent of administrative and educational services Alvie Cater said Harwood was one of 31 applicants and after narrowing it down to eight, he "rose to the top."
Harwood has been superintendent of Bellevue Public Schools for five years — the district consists of 20 schools and over 10,000 students, compared to De Soto's 12-school district with around 7,000 students.
With the exception of the five years he has served as a superintendent in Nebraska, Harwood has lived in Northeast Kansas his whole life. A district with high achievement and in Northeast Kansas were important factors for Harwood in his search.
"When I decided to look for a new position, I concentrated on Northeast Kansas," Harwood said via email.  "I was excited when I saw that [De Soto] had an open position because I am familiar with the district. [De Soto] has a great reputation for providing a high quality education for students and that is very important to me."
In his 23 years of public education, Harwood has been a high school science teacher, coach, assistant high school principal, junior high principal, director of technology, chief operations officer and superintendent. Current interim superintendent Dr. Ron Wimmer said the Board looked for a candidate with more than just with experience and credentials, but that is personable and determined.
"The Board was looking for someone with … personality skills to work with staff, parents, students, and the community, leadership skills to work with others, ability to set a vision for the school district, and build on the success already present in the school district," Wimmer said.
After the application and interview process, the decision to offer Harwood the position as superintendent was a clear choice for the seven Board members, including Board member Danielle Heikes.
"The process included an agreed-upon list of behavioral, situational and leadership questions asked of all eight candidates, in addition to experience-specific questions unique to each candidate," Heikes said. "Harwood was the final candidate interviewed and quickly became the desired individual to fill the role of superintendent for USD 232 of all seven Board members."
Being a top candidate came as a sudden yet exciting opportunity for Harwood.
"I was pleasantly surprised to get an interview but I am even happier to have the opportunity to be part of such a great district," Harwood said.
With this opportunity for Harwood, Wimmer's time as interim will soon be coming to an end, yet he still has high hopes for the future of the district.
"I hope the relationships between the Board of Education, community, staff, students and parents can continue to focus on the needs of our students and enhance educational opportunities for students," Wimmer said. "I hope the district can identify and realize a vision for education that is creative, different than today and yesterday, and reflects the future of a changing world. I hope that all involved with the school district exemplify the characteristics which I have attempted to demonstrate of how much can be accomplished when we work together as a team."
(Visited 45 times, 1 visits today)