Students spend time outside of school producing original music
Students share their songs via various online platforms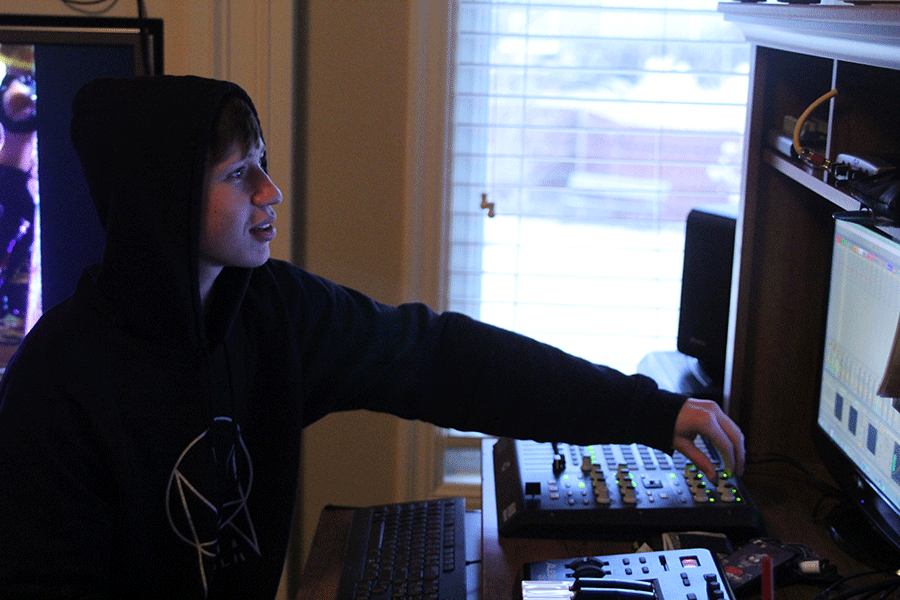 Braden Shaw, Adri Talavera, JagWire reporter, JagWire features/A&E editor
March 11, 2015
With a medley of  songs playing in the background, senior Aaron Hieb sits at a desk in his fully-equipped bedroom studio. He concentrates on the monitor of his computer, pressing keys and twisting knobs in order to adjust the melody, pitch and bass of a song and transform it into a work of his own.
Years of playing musical instruments and listening to artists such as Skrillex motivated Hieb to teach himself how to produce his own original electronic music.
"I was listening to a lot of Skrillex like four years ago," Hieb said. "My dad bought me this little recording studio kit to put on my laptop … so I was like, 'Huh, I wonder how I could make [music] with this,' and ended up figuring out how to make electronic music. It was really bad, but it got better eventually."
Since beginning to produce music, Hieb has devoted time to his songs on a daily basis in hopes to improve.
"[I work on my music] pretty much every night for a couple hours," Hieb said. "I feel like I have to come in [my studio] and do this because it's fun and I just want to try and get better at it every day."
According to Hieb, inspiration for a song can be hard to come by, making starting a song exceptionally difficult.
"Honestly, getting the motivation to get in [my studio] and try to make a song [is challenging]," Hieb said. "It's so hard to get an idea; it just comes out of nowhere."
Similarly to Hieb, sophomore Tyson Baker also devotes his time and money into perfecting his music. Spending thousands of dollars on equipment, Baker said he is very dedicated to putting out the highest quality of electronic music that he can.
"You can't stop halfway in the middle of a song and just release it," Baker said. "You have to finish the whole thing. You have to structure it all and it takes a lot of time … Feeling accomplished comes from completing a project or an album and it meets your expectations of what you think is good."
Aspiring rapper sophomore Marcel Meljanac, also known as Lil' Marcelo on YouTube and SoundCloud, has invested approximately $500 in equipment to supplement his music production — a hobby which began after drawing inspiration from Lil' Wayne and his father.
"When I listened to music, I wanted something new, so I was like, 'Why not produce some myself?'" Meljanac said. "I got into [music producing] by the attractiveness of speaking your mind and changing fans and having support in something that you love."
Meljanac said his music serves as a means of expressing himself as well as his many aspirations for gaining popularity as an artist.
"I would describe it as a collection of dreams I am trying to pursue," Meljanac said. "So, I talk about the things I want if I get big off the game [of rapping]."
Since beginning to share his music online, Meljanac thinks his music has earned the adoration of his listeners.
"[My music is] pretty popular," Meljanac said. "If I had a show I think half the school would go."
Baker said he aspires to pursue a music career. He hopes to sign to a record label, as long as the label respects him as an artist and he is more well established with a fan base."
"I really have no expectations regarding record labels," Baker said. "If they are good and accept my music for what it is, I will sign with them. I also just want to have my name out there a bit more."
With plans to release an extended play in the near future, whether or not he successfully finds a label to sign with, Baker will still continue to follow his dreams and share his music with the world.
"With music, you are never really accomplished," Baker said. "You've got to keep putting [music] out. You've got to just follow your heart with things sometimes."
(Visited 19 times, 1 visits today)