Students sing at Make-A-Wish's open mic night
Students show off their talents at the club's first open mic night
Make-A-Wish put on its first open mic night on Monday, Feb. 1, at Country Club Cafe. Donations from a silent auction that occurred beforehand, as well as tips and 50 percent of the profit from the night, went toward the Make-A-Wish foundation.
With a goal of raising $800 during Make-A-Wish's Wish Week, the club has already raised over $500 as of Tuesday from the silent auction, tips and t-shirt sales. This excludes the 50 percent profit.
According to junior club president Sue Kim, it was important to find an activity and location that would be fun for the school.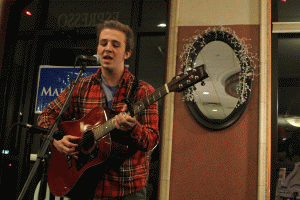 "First, we were getting in contact with local restaurants to see what kind of events we'd be able to hold in the area to bring the community in for this cause," Kim said. "The Country Club Cafe is right there and we knew about their open mic nights, so we thought that would be a great way to get people together to have fun and raise money."
Students lined the cafe to play and sing their favorite songs. For junior Joel Soderling, it was an opportunity to try something new. He performed "Hearts on Fire" by Passenger, as well as an original song called "Brown Eyes."
"It was fun to push myself and play a song that I wrote by myself and also play a song that I really liked," Soderling said. "It was kind of new experience for me. I was pretty nervous, but it was a good experience overall."
Freshman Dominic Martinez wanted to support the cause by doing something he loved. He performed "Waterfalls" by TLC and "Cough Syrup" by Young the Giant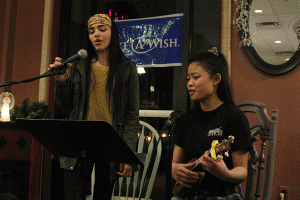 "[I decided to perform], obviously, for the reason it was being held. It was a really good cause," Martinez said. "I just really like to sing, so I decided, why not?"
Soderling also found it perfect to show off his talents.
"I just thought it was a good opportunity," Soderling said. "I hadn't really done anything like it before, but I do enjoy playing guitar and singing and I thought it was a good opportunity to get out there and try to perform."
And Soderling looks forward to doing it again future.
"There's things that I noticed that I could do better for next time, as far as pitches and tempos and stuff like that," Soderling said. "So, I want to do it again, and I want to do it better next time."
(Visited 105 times, 1 visits today)