Students react to calculus teacher Brian Rodkey leaving teaching
Despite student concerns, Rodkey has great trust that the math department will be in good hands
Emma Clement, JagWire editor-in-chief, Mill Valley News editor-in-chief
April 8, 2023
In the past few months, the math department has been working toward determining who will teach calculus classes next year, since current calculus teacher Brian Rodkey announced he had accepted a different job. Students and staff share their reactions to the newly announced plan that math teacher Alex Houlton will take over teaching both AP Calculus AB and AP Calculus BC in addition to teaching AP Statistics and Precalculus.
Houlton previously taught Integrated Math III in addition to AP Statistics and Precalculus. He explains that teaching calculus will not be entirely different for him, but it will require new class preparation.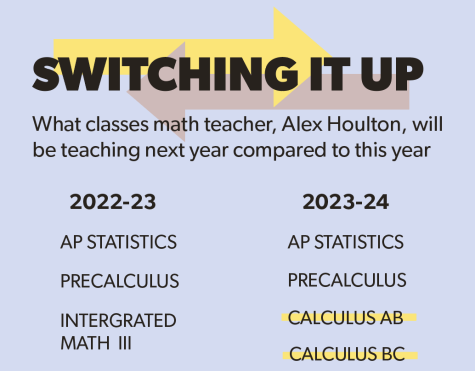 "New preps are always a new challenge because you really don't know how students will respond to different topics until you actually teach a lesson," Houlton said. "New classes take more time to prep just because you have not done them before. After the first time you are just making adjustments to improve what went good and fix what went bad. However, my experience makes me well equipped for the challenge because new preps are nothing new to me."
Sophomore Laura Hickman is planning to take AP Calculus AB next year and has Houlton as her Precalculus teacher this year. She is not worried at all about the switch from Rodkey to Houlton.
"I don't think they would have given the role to hold on if he wasn't qualified for it," Hickman said. "I'm confident in his abilities to teach it even though Rodkey was obviously very experienced."
Junior Ben Hansen offers a different point of view, though. Hansen is currently in AP Calculus AB with Rodkey and was concerned about the future of the school's calculus classes when he heard it would not be taught by Rodkey anymore.
"I was a little disappointed, to be honest," Hansen said. "It definitely worried me a little bit. I wasn't sure what they would do to teach Calc II. There was a proposed plan that they might send us to JCCC which would probably eliminate one of my class blocks at school, which wasn't something that I was really looking forward to."
Hansen explains what he liked about taking math class with Rodkey.
"I really liked Mr. Rodkey's teaching style; I felt like he gave me both the resources and the adequate pressure that I needed to actually succeed," Hansen said. "He definitely teaches with a larger emphasis on the more practical applications, mostly the ones you might use for engineering. I found that the tests being difficult, really encouraged me to actually study and actually get practice in which wasn't something that I did with previous math classes."
"
I have high confidence in Mr. Houlton taking over Calc … I think the math department will be in good hands.
— Brian Rodkey
Rodkey explains his emphasis on the real world applications that Hansen referenced and why he likes teaching the class.
"Calculus is one of those first math classes where the math you're doing is really powerful enough that people still use it in the workplace to do things," Rodkey said. "It is also one of those that's complicated enough that you can still have some of those "aha" moments with students where they can really see applications of math and how it really applies to the real world."
For junior Sarah Anderson, this teaching style is largely what helped her succeed in calculus. She explains how she felt when she initially learned he would not be teaching next year.
"I was so sad [when I learned Rodkey wouldn't be teaching next year,]" Anderson said. "He's one of my favorite teachers this year. I really feel like he understands the concepts and understands how to teach the kids Calc."
Because Anderson benefitted so much from Rodkey's teaching style, she was nervous to take calculus next year without a teacher she knew well. She eventually decided to just take AP Statistics next year instead of calculus because she was not sure what the class structure would look like.
"I think the only reason I've been able to be successful in Calc this year is because Rodkey has helped me so much and because he has such a good understanding of the topic," Anderson said. "Then not having him teach me, that kind of freaked me out."
Despite concerns from students like Hansen and Anderson, Rodkey has great trust in the math department and Houlton.
"I believe the math department is going to be great," Rodkey said. "I have high confidence in Mr. Houlton taking over Calc. He's a smart teacher, a dedicated teacher, and is concerned about student success. I'm going to pass on all the materials I've developed and I'm sure he'll take those and improve them even more. I think the math department will be in good hands."
(Visited 236 times, 1 visits today)