Students organize new club for political discussions
Political Debate is formed to promote analysis of current events
Sam Lopez, JagWire news editor
October 9, 2015
In order to create political discussions based on current events, students have created a club called Political Debate.
The club is sponsored by social studies teacher Chris Dunback and led by senior president Brenden Shutt and senior vice president Zac Kornis.
"Individuals can come and dissect political topics," Shutt said. "It's an environment where we toss ideas back and forth."
Kornis also said the club is a place to widen students' political ideologies.
"The club is just an open for everyone to debate and expand their political views. We're just trying to be more out there in the world of politics," Kornis said.
In order to have some form of organization within the club, Shutt and Kornis created a constitution that the club members have to follow.
"Drafting the constitution was pretty strenuous. Kornis and I both sat down and went through what aspects we wanted in the club," Shutt said. "We put in the constitution the different ways that we wanted to give students the opportunity to express their ideas."
Even though Dunback sponsors the club, he said he acts only as a mediator for the group.
"They wrote the constitution themselves. They decided that they wanted to do this. They asked if I would open up the room for them; I said yes," Dunback said. "I just sit back, and every now and then I'll throw things out there if we need another interesting angle."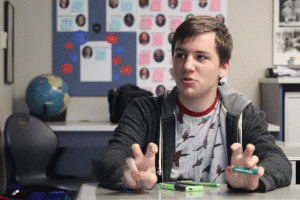 Shutt said Dunback's objectivity helps maintain fair discussions.
"Dunback has made it very clear that he does not want to play a major role in this club. He wants to stay completely neutral," Shutt said. "He's there as a fact checker and as a food-for-thought type of guy."
Even though the club is about debating, Kornis said the fact that everyone is coming together to make discussion is his favorite part.
"I love how everyone works together. Everyone is able to talk about their views," Kornis said. "It's important to have a club like this, because we're a part of the world too."
(Visited 91 times, 1 visits today)