Students help community with 'Trick-or-Treat So Others Can Eat' event
StuCo and NHS members collect food for local people in need
StuCo and NHS came together on Monday, Oct. 30 to collect food donations for the DeSoto Multicultural Center in the annual 'Trick-or-Treat So Others Can Eat' event.  Students first passed out flyers to the community on Thursday, Oct. 26 to raise awareness for the drive. Following the food bag collection, students then sorted and boxed the food for the center.
According to senior Britton Nelson, the event's purpose was to aid families in the community who are in need.
"The purpose of this event was to collect canned and non-perishable goods," Nelson said. "This helps people in the area get necessities that they may not be able to afford themselves."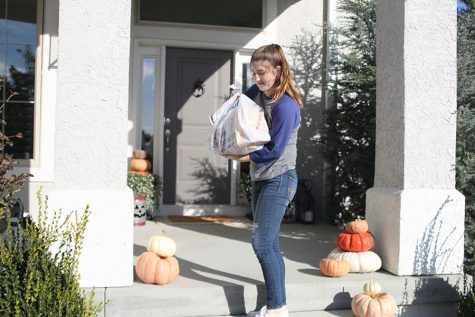 For senior Aly Tennis, the success of the event exceeded her expectations.
"It was extremely successful," Tennis said. "My car alone had a box full of non-perishables and we only [went to] one part of Grey Oaks."
Nelson thinks the event is rewarding because it makes a big issue become locally relevant to students.
"This event is important for our community because the goods are being given back to local people," Nelson said. "You could be helping a friend or peer by donating thes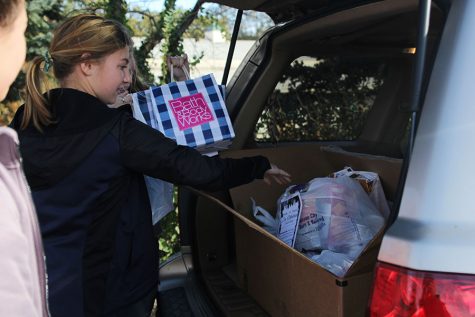 e goods and you would never know."
Being Nelson's third time participating in the event, she sees the benefits it produces.
"I have done this twice before and thought it was a good idea to benefit those in need by asking your community for help," Nelson said. "We were able to collect a lot of goods in a short amount of time."
The event left Tennis feeling fortunate for the blessings she has.
"As a whole, the community came together beautifully to help people who are struggling," Tennis said. "It humbles you and makes you appreciate what you have instead of getting so caught up in the material side of Halloween."
(Visited 97 times, 1 visits today)