Students compare trending bag styles
Students evaluate and compare the advantages between KAVU bags and '90s style fanny packs
As a student walks into a coffee shop  — drink order in mind — she rifles through her KAVU bag to find her wallet. The bag, made of sturdy material and one thick strap, is part of a growing trend of bags that combines style with functionality and comfort. Two types of bags dominate this trend: KAVU bags and '90s style fanny packs.
The two bags have caused debate among some who believe that one bag is superior to the other.
According to senior Kendall Gaignat, her KAVU bag is a necessity to her everyday lifestyle.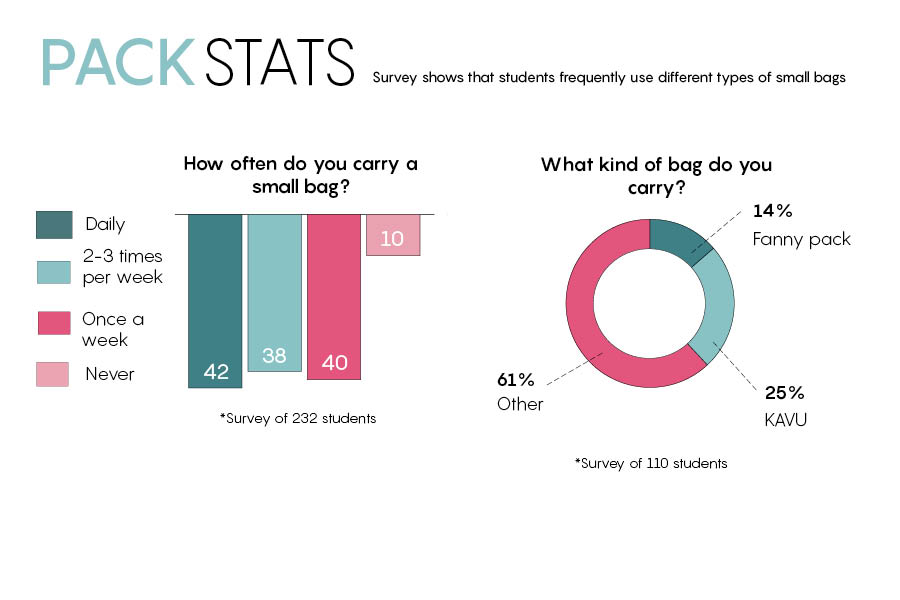 "I needed a good bag to carry my stuff around [that I could fit] a big wallet and a bag with emergency stuff I need and stuff like that," Gaignat said. "I just needed a bag that was big enough that wasn't too bulky."
Consequently, Gaignat equates her Kavu to the new purse.
"This bag is the perfect size, it has a bunch of zippers and pockets and stuff," Gaignat said. "The Kavu is like my purse. The bag is closer to my back and you can adjust the strap to make it tighter or you can make it really saggy."
Senior Brady Watkins, however, prefers to use a fanny pack because of its size and portability.
"They are definitely a lot smaller and more versatile," Watkins said. "You can take them a lot more places. [Fanny packs are] usually always on you so you're never going to lose it. It's great for walking around places and carrying stuff."
Despite the KAVU bags larger size senior Cameron Loew believes it is more versatile than the fanny pack.
"[The KAVU] is better; I have worn my fanny pack once and I use my KAVU bag almost every day," Loew said.  "I can fit more in my KAVU bag and it looks better since it's on my back instead of my hip."
Some students however, prefer not to carry a bag at all. Sophomore Bri Laluk finds it useful to use his pockets instead of a bag.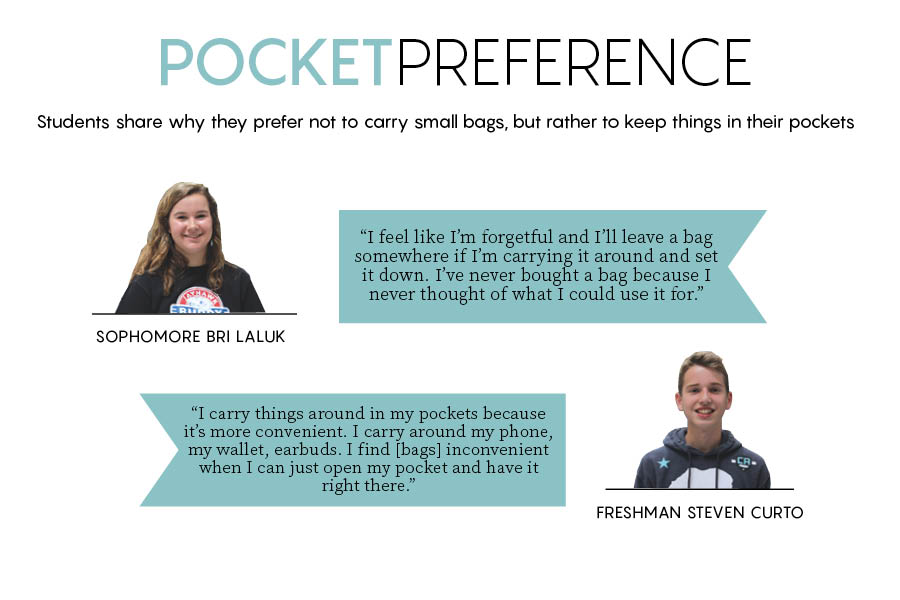 "I feel like I'm forgetful and I'll leave a bag somewhere if I'm carrying it around and set it down," Laluk said. "I've never bought a bag because I never thought of what I could use it for."
Regardless, Watkins believes the two bags add to a person's sense of style as an accessory.
"Accessories are a big part of somebody's fashion sense or their style, and with a fanny pack or KAVU bag you can really style as you like," Watkins said.
(Visited 358 times, 1 visits today)