A recent change in the school's dress code has renewed the debate about what is acceptable attire for school. In grade level meetings at the beginning of the year, principal Dr. Gail Holder announced that the dress code would no longer be enforced by teachers, just administration. 

We want it to be a place where students feel safe [and] teachers feel safe.

— Principal Dr. Gail Holder

In previous years, teachers could ask students to go to the office or put on a jacket when they were in violation of the dress code, now administration is the only group who can address the dress code with students. Explaining the changes made, Holder emphasized that she wanted to prioritize a safe, professional school environment.

"One of the main things I said in our class meetings is we want to create as much of a professional atmosphere as we can here," Holder said. "We want it to be a place where students feel safe [and] teachers feel safe in a lot of different ways."

However, this safety is not always straightforward. Sophomore Annie Newell, who has been "dress coded" for wearing a tank top, describes how she felt when she was asked to cover up.

"It was embarrassing," Newell said. "It was an inconvenience to my dad because he had to bring me a sweatshirt."

Sophomore Gus Goetsch has had similar experiences with the dress code in previous years. He explains how uncomfortable he felt about the way he was called out for his Playboy sweatshirt.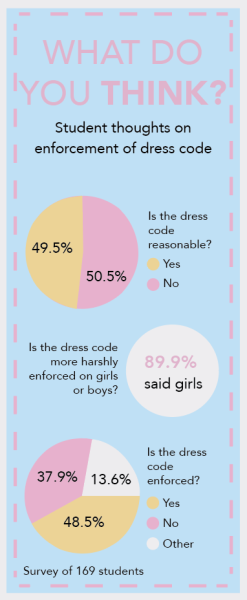 "I feel like the way that I was called out, [the teacher was trying] to embarrass me, which is also really weird, like he was laughing about it with his teacher friends," Goetsch said. "I feel like it's better that a teacher can't call you out on it,"
Students were not the only ones who preferred a dress code that was not enforced by teachers. Art teacher Bryan Lloyd Rosell explains that an administration-enforced dress code can help avoid awkward in-class confrontations, like what Goetsch experienced.
"I think that dress code enforcement falling on admin instead of teachers can eliminate conflict between the student and the teacher. If the teacher can let the administrator or counselor know to reach out to a student instead of confronting the student in the middle of when they're supposed to be learning," Lloyd Rosell said.
A separate enforcement issue students found with the previous dress code was that it was not applied unilaterally. Newell faced an issue with this last year when she was asked to change clothes when another student was wearing the same item of clothing as her but was not asked to change.
"We were both wearing the same things and it was just an eye opener to see that sometimes if you look different than other people, you can't wear the same things," Newell said.
Goetsch echoed Newell's thought, saying that in his experience, the dress code seemed "very nitpicky."
Both Newell and Goetsch's observations about the dress code seem to represent a broader opinion of the student body in that the dress code should be more equally enforced. In a JagWire survey of 169 students, students were almost exactly split on whether or not the content of the dress code was reasonable, but only 4.1% said it was equally enforced.
Math teacher Amy Welzenbach represents another side to this issue, saying that the enforcement or content of the dress code is not what needs to change, but rather the fashion trends that girls commonly wear to school.
"I have more trouble with girls coming in dressed slightly inappropriate, more so than boys," Welzenbach said. "I don't think that we're specifically looking for it. I just think that that's how it is. I think that there's more opportunities for girls to push the limit on how they dress."
While this problem might not be entirely solved by this year's changes, it does eliminate some potential discrepancies. Aside from enforcement, the students feel the dress code can limit creativity when it comes to fashion. However, Welzenbach thinks one of the strengths of the school's current dress code is that it does not limit personality.
"I don't think [the dress code is] too strict," Welzenbach said. "I mean, kids can show a lot of their personality in the way they dress and they can do that within the dress code."
Newell agreed with Welzenbach that the dress code itself does not restrict many specific types of clothing, advising students to be confident in their style choices.
"I think just wear what you want always because I just don't think that Mill Valley has a strict enough dress code to restrict yourself from wearing things that you want to wear," Newell said.   
Ultimately, Holder thinks students should be empowered to dress freely on the weekends, but should remember the rules during school hours.
"I know that kids have to have a life and they should have the opportunity [to wear what they want] on the weekends," Holder said. "I want them to have that same kind of freedom, but [during] our 7:50 to 2:55 school day, I want it to remain academic and professional. So that when students get a job, they know "OK, when I'm at work, this is what I dress like."

(Visited 158 times, 1 visits today)