Opinion: Spotify is a better music platform over Apple Music
Spotify is a better streaming service than Apple Music, and there are a lot of differences and similarities between the two competing music platforms
Spotify is a better music platform than Apple Music. Conducted in a JagWire survey, out of 92 student responses, 77% of students prefer Spotify over Apple Music. Comparing student preferences, price, features, and platform use, it is evident that Spotify is the preferred music platform over Apple Music.
Considering the price, Spotify and Apple Music compare quite nicely. Spotify comes in at $9.99/month for a single account and $14.99/month for a family plan, both allowing unlimited access to music, creation of playlists and podcasts. In comparison, Apple
Music has a required $9.99/month fee for a single subscription or $14.99/ month for a family subscription of unlimited music and access to playlists.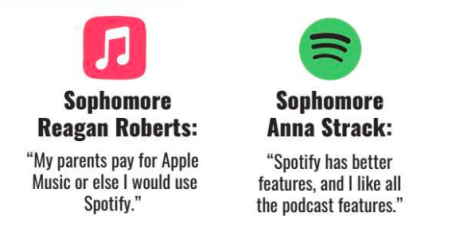 Although Spotify premium is a good option, with no advertisements while listening, and listening to any songs whenever you want, Spotify offers a completely free alternative to using the app. Having a free Spotify account still allows for the creation
of playlists, listening to podcasts and songs, following friends' accounts, access to public playlists created by others, and much more. Unlike Spotify, Apple Music does not offer a free alternative. Users are able to download songs for a small cost, but in comparison to Spotify, Apple Music stands out negatively in this way.
A feature that stands out to many Spotify users is the variety of podcasts available, ranging from true crime to your daily horoscope. Apple Music, on the other hand, lacks the podcast feature. In order to listen to a range of podcasts, Apple Music users would have to go into a separate app called "Podcasts". Spotify stands out in this way; not only can those who use the app listen to music, but they can also listen to a wide variety of podcasts on that same app. In a survey conducted, Spotify was ahead of Apple music with 155 million users in Dec. 2019, while Apple Music only had 60 million subscribers as of June 2019. Apple Music subscribers miss out on opportunities to discover new people, interests, and podcasts that Spotify users have access to.
There are many differences between these two music platforms that show Spotify is the preferable plat-
form. Spotify is specialized to specific music tastes and interests. Making playlists based on music most listened to, and podcasts that correlate to all different interests are prime examples. While Apple Music costs the same amount, the music platform lacks certain characteristics that put Spotify in the lead. When making decisions on which platform to use, Spotify is the better option than Apple Music.
(Visited 3,673 times, 1 visits today)