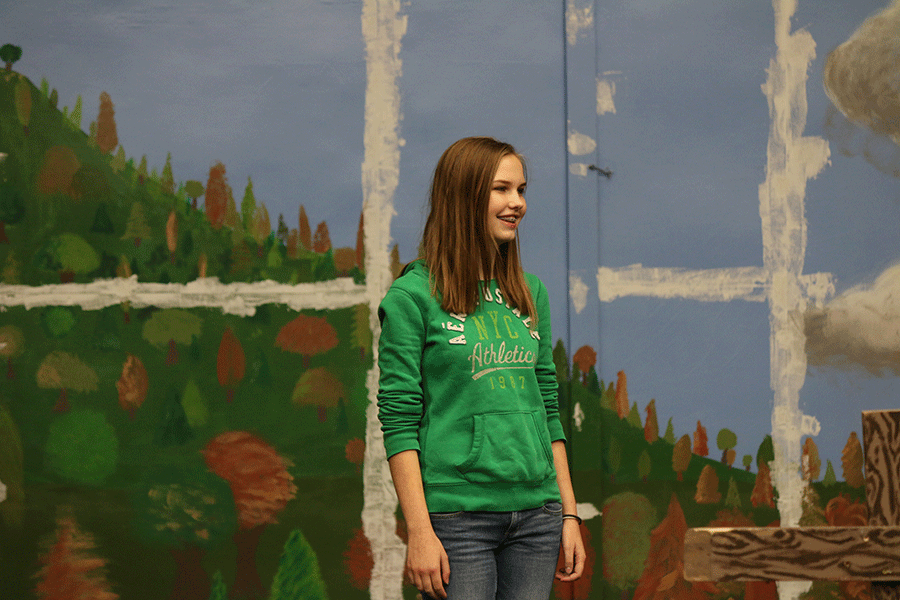 Sophomore Marissa Olin participates in musical despite speaking challenges
Olin has had to deal with a lateral lisp her whole life which forces her to pay special attention to her annunciation when communicating
In preparation for a musical rehearsal, sophomore Marissa Olin takes a deep breath and briefly closes her eyes in concentration before performing her set of vocal exercises.
Ever since she learned to speak, Marissa has had to deal with a lateral lisp, which is a speech impediment that causes air to flow out of the sides of her mouth instead of straight through the front. The lisp makes it particularly difficult for Marissa to pronounce S's and Z's and creates problems when communicating with others.
"A lot of my friends were [auditioning] and I thought it would be a good opportunity to spend time with them while doing something fun," Marissa said.
"
Don't let any difficulties you may have hold you back from putting yourself out there."
— sophomore Marissa Olin
According to Marissa, one of the most important aspects of being in the musical is the fact that all the words must be pronounced very clearly so the audience can understand what is happening. In order to make herself as clear as possible, Marissa has to perform unique exercises prior to rehearsals.
"Before rehearsals I work on my annunciation by doing things like making 'ts' sounds and working on the flow of my air," Marissa said.
In addition to doing vocal exercises on her own, Marissa turned to outside help in order to try and improve her lisp.
"I went through speech therapy from kindergarten until second grade and again from seventh grade until ninth grade," Marissa said.
Marissa's 11-year-old brother, Sean Olin, also has a lateral lisp like Marissa's and knows what it is like to have to live with this impediment.
"Sometimes you have to do vocal exercises in the morning and you have to repeat certain words over and over again," Sean said. "Usually, you need to get a tutor for help."
Sophomore Katie McNaughton is also a part of the ensemble with Marissa and is a very close friend. McNaughton understands that performing in the musical is not as easy for Marissa as it is for her and that Marissa is stepping out from her comfort zone by participating.
"She works hard to get each word right because her words sometimes do not flow as easily," McNaughton said. "[Marissa] is putting herself out there and doing what she loves despite her differences."
Having a lisp has not only forced Marissa to work on her communication skills, but it has also given her a new outlook on life.
"Don't let any difficulties you may have hold you back from putting yourself out there," Marissa said. "Always be the person you want to be."
(Visited 29 times, 1 visits today)