Silver Stars perform in spring show
The event took place on Friday, March 24 and featured performances from throughout the season
The Silver Stars dance team performed in its annual spring show on Friday, March 24. The show featured team, solo and ensemble dances from throughout the season, as well as performances from the Silver Studs, Silver Star moms and the Shining Stars dance clinic.
As it is the last time the team will dance together for the season, the spring show is often emotional for both seniors and underclassmen alike. Still, senior Julia Kemp believes the content of her dances made the event a positive experience.
"I had my solo, the jazz routine and then senior dance," Kemp said, "so I think those three combined are such a good combination of all the things I was feeling. I could just dance it out."
For junior Emma Barge, the seniors will leave a big impact on the team as a whole.
"[I'll miss] them being there all the time," Barge said. "They're such positive people and bring such a good energy to the group. It's going to be so weird without them next year."
The event was emceed by Silver Stud seniors Brady Rolig and Ross Acree, who led games and competitions in between performances. One competition, however, went awry when Silver Stud senior Brady Garrison ripped his shorts in a toe-touch event. A pair of basketball shorts were quickly secured.
Additionally, videos made by Barge were also played in between dances. These videos featured a different team member each time who gave insight to the team's dynamic and important events throughout the season.
Barge explains the process for the videos.
"First, the seniors came up with the topics, and then we all got to pick which ones we wanted," Barge said. "I asked when they could come in, either during my Broadcast hour, after school or before school, and I filmed them."
The annual Shining Stars dance clinic, led by the dance team, is an opportunity for girls in kindergarten through 8th grade to learn dance techniques and perform alongside the Silver Stars at the spring show.
"I had second and third graders," Kemp said, "so we did a double turn, a leap, a kick, and then as you get older, [it gets more difficult]. We definitely try to prepare the 8th graders for what we would do if they were trying out, so they do a variation of jazz, pom and hip hop."
Barge's favorite moment of the night was performing her solo, "Banana Pancakes," which she says was an emotional experience for her.
"It was for my dad, and I kind of surprised everyone with it," Barge said. "I think it was a really special moment."
Above all, Kemp says her last performance makes her proud of the time she's spent dancing in a Mill Valley uniform.
"Dance team is my identity," Kemp said. "Walking around this school and not being a Silver Star, I don't really know what I'm going to do. I feel like an imposter, wearing Silver Stars stuff, because I'm not one anymore. It was who I was in high school, and I feel like I'll always be a Silver Star, no matter what."
(Visited 92 times, 1 visits today)
About the Writer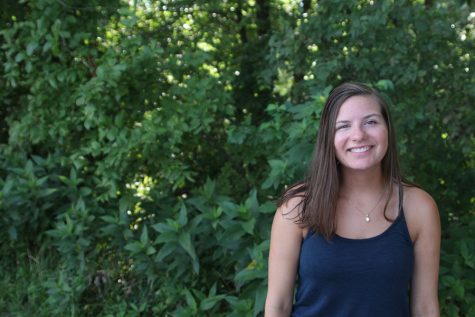 Nora Lucas, JagWire editor-in-chief
Senior Nora Lucas has been on the JagWire staff for three years, this year acting as editor-in-chief. She is also an NHS officer and a flute section leader in the Jaguar marching band. In her free time, Nora enjoys long walks with her corgi, Winnie, and reading political commentary on Twitter, particularly Al Gore. To contact Nora, email her at [email protected] or direct message her on Twitter @noraclucas.