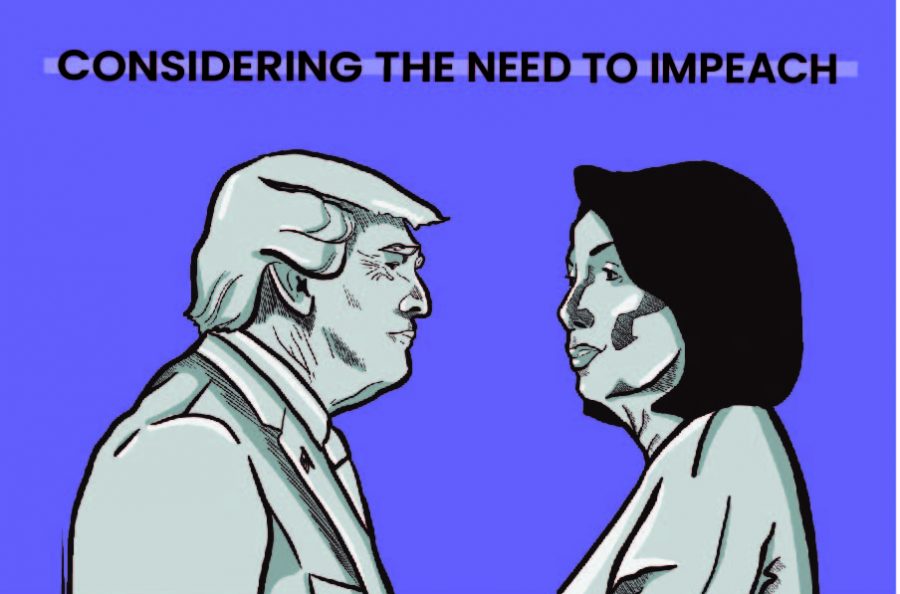 Should Donald Trump be impeached?
JagWire staffers Tanner Smith and Evan Sherman debate the merits of the impeachment probe
November 23, 2019
(Visited 262 times, 1 visits today)
There is not enough evidence to impeach president Trump
An excellent example of this is Trump's deal with Ukraine. Trump threatened to stop aid and end the sale of Javelin anti-tank missiles to Ukraine unless they launched an investigation into Hunter Biden's business dealings. Trump originally lied and stated that it never happened, even though there was definitive evidence that it did, and he eventually owned up to it. Even if it was explicitly illegal, the majority of the Senate is Republican, so impeachment would not go through.
Other acquisitions of impeachable offenses committed by the president have no evidence to support them or are not impeachable. For example, Trump was under the legal purview with his decisions to fire both Special Counsel Robert Mueller and FBI Director James Comey. The president has every power dictated to them to do so. 
Another claim is sexual assault. Any accusations of sexual assault are just that – accusations, none of which have reached a legal verdict. Therefore, they cannot be used as a legitimate justification for impeachment.
The most popular accusation is that Trump obstructed justice. Special Counsel Robert Mueller, who investigated possible obstruction, found no conclusive evidence as to whether obstruction happened.
None of this is to say that Donald Trump has been a great president, and the fact that so many are calling for his impeachment is a surefire sign that his rhetoric has not been great. Even if the impeachment process makes it through the House, it would still need to make it through the Republican-majority senate. Instead of trying to bring Trump down after losing the election, it would be best if the Democratic Party focused on electing an honest and reliable presidential candidate. 
(Visited 126 times, 1 visits today)
Leave a Comment
Trump has committed a myriad of impeachable offenses
For almost three years President Donald Trump has committed one impeachable offense after another. From the things that have already been proven such as his quid pro quo with Ukraine and his attempt to obstruct justice by firing Special Counsel Robert Mueller, to the accusations of sexual assault from people such as Summer Zervos and conspiring with the Russian government, the time for impeachment is now.
While there are a number of impeachable offenses Trump has committed, such as firing the active FBI director James Comey to stop an investigation into his campaign and coercing witnesses such as Michael Cohen to not testify, Trump's most blatant offense is using the powers of the presidency to pressure a foreign government to find dirt on his political rivals.
Recently, in a call with the president of Ukraine Volodymyr Zelensky, Trump threatened to take away military aid from Ukraine unless they investigated Joe Biden. According to the official White House transcript, Trump told Zelensky that if he wanted more military aid he "would like [him] to do us a favor." In addition, according to Vox, Trump and his personal attorney Rudy Guiliani had previously told Ukraine to investigate Joe Biden and the democratic party to get an edge up in 2020. 
Now many of you may be asking why this matters. Who cares if Trump tried to get dirt on Biden? It matters because it erodes the principles of democracy the US was built on. Trump's actions send signals to the rest of the world that they can interfere in our elections. 
For an offense to be impeachable it needs to be treason, bribery, or other high crimes and misdemeanors. If bribing a foreign government and committing a treasonous act of election interference is not an impeachable offense then I don't know what is.
This simply can not stand. Now is the time to impeach and remove Trump from office. Even if he only has a year left as president, impeachment is important to show the world that the office of the president is a position held by someone who will do what is best for the country, not what is best for himself.
(Visited 39 times, 1 visits today)
Leave a Comment