Seniors plan to get involved in college through different extracurriculars
From Greek life to intramural sports, there is a variety of opportunities to diversify the college experience
College is a time where students can diversify their college experience through the extracurriculars they partake in. Whether it's an intramural sport, Greek life or other activities, there are a variety of opportunities to get involved in to enhance the college experience.One decision that many college-bound students make is whether or not they want to join Greek life.
Based off her friend's experiences with joining Greek life, senior Ashlyn Windmiller is inspired to be a part of a sorority because of the new people she could meet.
"I have a couple friends that are in college…[that] have become a lot more outgoing and extroverted than they were in high school," Windmiller said. "That's what made Greek life appealing to me, the fact that I can go in and make a ton of new friends."
For senior Max Immenschuh, becoming a part of Greek life was not on his radar until he understood the environment of a fraternity.
"I originally wasn't planning on joining any fraternity," Immenschuh said. "After talking to a specific fraternity, I realized that there is an academic side [to fraternities] and there are specialized connections where you could get jobs and other benefits from being in the fraternity."
As for class of 2016 graduate Tori Aerni, she decided to join Greek life in order to meet new friends.
"I wasn't looking for anything super glamorous [in a sorority], but rather girls I would be able to be myself around and grow alongside me throughout college," Aerni said.
Through Aerni's past two years at the University of Missouri, she figured out what activities she wanted to commit her time to. According to Aerni, instead of continuing her involvement with Greek life, she decided to continue her participation with the International Justice Mission and the American Advertising Federation. Outside of college, Aerni is a part of her community's church organization called The Crossing.
"I really found my people and where I wanted to pour my time into," Aerni said. "It's where what I was good at and what I was passionate about met and made me want to fully focus on those commitments."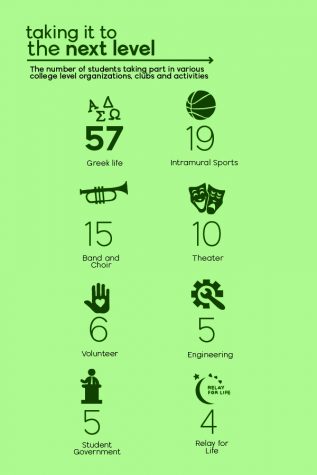 Along with her plan for joining a sorority, Windmiller also has an interest in continuing her passion for acting in college as a hobby, even though she is not majoring in theater.
"I ended up talking to a couple admissions counselors [about joining theater] and they told me that a ton of people who are in theater are not theater majors…," Windmiller said. "When I went to the thespian convention, [the KU counselors] told me I should just go for [theater], and just have fun."
On top of her interests for joining a sorority and being a member of the theater department, Windmiller is also looking into the light-hearted fun of playing an intramural sport in college.
"I've never necessarily enjoyed the competition side of things so I think intramural sports is a good way to be active [because] you're not playing a sport for the school," Windmiller said. "[Intramural sports are] more your freedom of choice because you get to go and [play sports] purely for fun."
As for senior Eric Niewohner, a prospective trumpeter, being a part of Kansas State University's marching band will allow him to engage with students at his college.
"By being in the marching band, I will be a big part of [my college's] football and basketball games]," Niewohner said. "I feel like if I wasn't in band or any other activities, I would just be someone at that college, not part of the college [community]."
With it being her third year in college, Aerni believes that participating in extracurriculars has made her college atmosphere more comfortable.
"My community has become people who are involved in the [activities] I am [a part of]. I have learned from these people and grown because of them and can lean on them in stressful times," Aerni said. "Being involved in activities [outside of college] have made Columbia, Missouri feel like a home rather than just a college town."
Immenschuh believes that being a part of a fraternity will provide an opportunity for him to socially engage with a variety of people.
"Instead of just being confined to your one roommate or your one group of people, you get to branch out and you are constantly doing different activities and meeting multitudes of people," Immenschuh said.
Although Windmiller sees the weight that extracurriculars could add to her workload, she believes that the benefits outweigh the costs.
"Being involved in college can be stressful at times because it will take some time and energy outside of your school work," Windmiller said. "[Extracurriculars] are definitely worth the risk because you are going to meet so many people and get a ton of different experiences that you can't get in a classroom."
As a result of her involvement in different organizations in her college, Aerni believes that college is a time to find the things that you are interested in continuing later on in the future.
"I think it's super easy to get caught up with grades but there is so much importance in self growth," Aerni said. "[Through extracurriculars], I have learned that it is important to pursue what you're passionate about. College is the time to explore what [your passion] is and to get real world experience doing [extracurriculars]."
(Visited 107 times, 1 visits today)
About the Contributors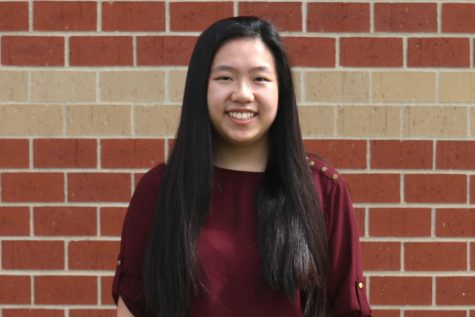 Hannah Chern, JagWire editor-in-chief
This year is senior Hannah Chern's third year as part of the JagWire newspaper staff and second year as one of the editors-in-chief. In addition to leading and working on the JagWire, Hannah serves as an NHS officer and participates in Science Olympiad where she expresses her love for science. Outside of school, Hannah finds herself spending her free time endeavoring the world of crochet, watching YouTube tutorial videos, reading books and discovering...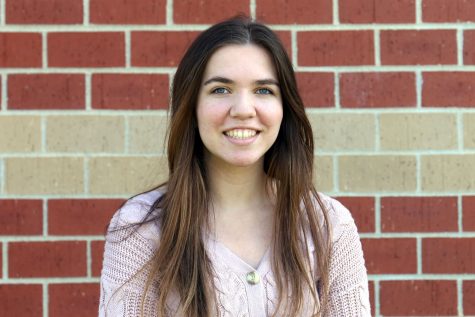 Tatum Elliott, JagWire editor-in-chief
This is senior Tatum Elliott's third year on the JagWire staff. She is excited to take on the position of JagWire editor-in-chief for a second year. Outside of journalism, she is proud to be president of the National Art Honor Society and serves as an active member of NHS and a few other clubs. She also enjoys fangirling over Robert Pattinson and bragging about how amazing her dog is.