Senior softball player switches sports due to COVID-19 uncertainty
With COVID-19 uncertainty, senior Belle Bonn decided it was in her best interest to join the bowling team
After playing a sport for the school since freshman year, deciding to switch sports during senior year can be a daunting decision for many. This was not the case for senior Belle Bonn, who amid uncertainty about the softball season this year decided that it was in her best interest to switch sports to one that was able to provide more consistency—bowling.
The school bowling team was approved in 2011 and has been continually improving the program as the years have progressed. Furthering already impressive records set by the program, this year the boys and girls teams placed 7th and 5th in regionals. 
After continually hearing positive things about the bowling team during her tenure as a student, Bonn decide that instead of being filled with uncertainty about whether the softball team would play this season, she decided to focus her attention to a new sport, which she decided would be joining the bowling team.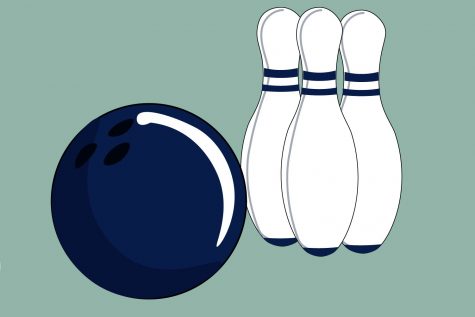 "My parents encouraged me to do it for fun this year," Bonn said. "I've known a few girls on the team and they always mention how fun it is." 
Although she made the team, Bonn originally decided to join for fun and had no prior bowling experience. She just wanted to make the most of the remainder of her senior year by doing something fun and continuing to make memories with friends who are also on the team.
Over the course of her bowling career, having fun and enjoying the sport, socializing with her friends and teammates and trying her best through giving it her all are some of the most important aspects of bowling to Bonn. 
"If you're having an off game we just kind of laugh at off and try again next game," Bonn said. 
With the welcoming and lighthearted atmosphere that being on the bowling team brought, Bonn started really enjoying bowling and the through bowling she has been able to become friends with a variety of students. 
Sharing Bonn's sentiments, junior Jada Eggleston is also on the bowling team and adores the community and connections she has been able to make with her teammates and now friends. 
"I like the friendships we make within the team," Eggleston said. "We get to know each other very well because of practice almost everyday and from cheering each other on during meets."
When deciding to venture out of your comfort zone and try something new, Bonn says that you have to keep a positive attitude and an open mind to make the experience enjoyable for yourself, which she has found has helped her become content with the uncertainty brought on by COVID-19. 
"…just try it, go in open minded and do your best, and listen to feedback from coaches and teammates." Bonn said. 
(Visited 212 times, 1 visits today)