Senior Nolan LaBarge creates brand of t-shirts and stickers
Senior Nolan LaBarge creates Kansas City themed brand of t-shirts and stickers
Katya Gillig, Mill Valley News editor-in-chief
November 24, 2017
A new brand of t-shirts and stickers can be seen around the halls of Mill Valley. Kansagonia is a Kansas City twist on a popular brand, created by senior Nolan LaBarge.
LaBarge created the brand based off a logo he designed, which features the Kansas City skyline over a variation of the Patagonia logo.
"I was sketching out logos and it just clicked with me," LaBarge said. "I thought this might actually be good enough for a t-shirt and people might like it enough."
LaBarge then took about a month and a half to develop the brand, which included making the design in Photoshop, creating a website through the online shopping platform Shopify, finding a company to print the shirts and taking pictures to promote the brand. Labarge initially invested $1,000 in the business and has since made $744 since the website launched.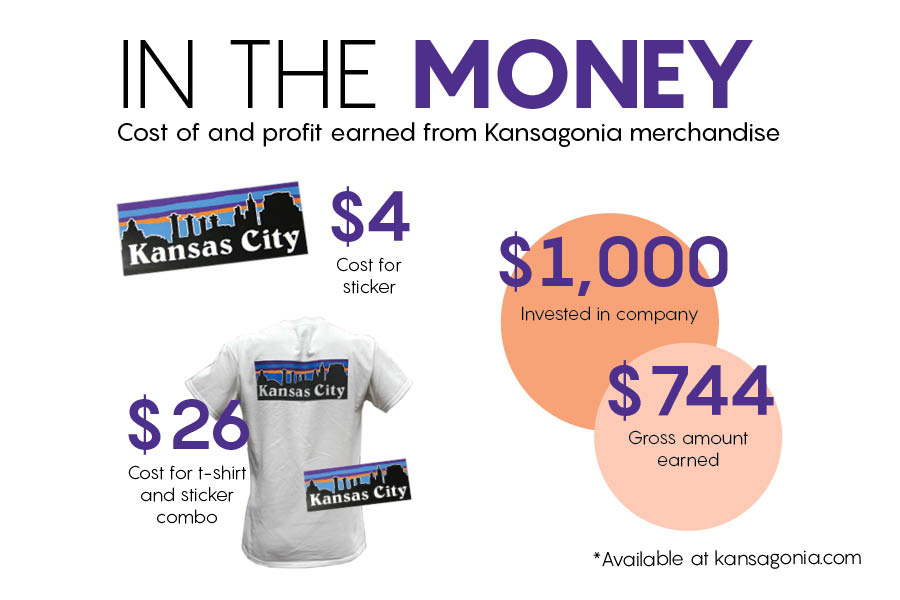 The website was launched on Friday, Sept. 15. From there, LaBarge tweeted out the link to the website which, according to LaBarge, is where most of his business comes from.
"A bunch of people thought I just threw it on a t-shirt and put it out there," Labarge said "But I …  spent a few weeks on [it]."
Senior Lucy Holland, who is featured on the website, likes the uniqueness of the brand.
"I think it's really cool that [LaBarge] made it originally himself kind of based off of something, but it was an original idea to go off Kansas City themed things," Holland said. "I think the design is really cool."
In the future LaBarge hopes to take the products to First Fridays or art fairs as a way to expand business.
LaBarge has had a positive response since he launched the brand.
"Everyone thinks they're cool," LaBarge said. "I did have a few issues with [over]pricing … [but] I don't think it's too much."
Holland believes the products are worth the price.
"I think… it's a really nice t-shirt and they're pretty expensive," Holland said. "He paid good money for them so it's good quality."
(Visited 154 times, 1 visits today)