Senior Christian Ammann builds a car from scratch
Ammann got the idea to build the car from his father, Paul Ammann
Senior Christian Ammann has taken the challenge of building a car from scratch with the inspiration from his dad, Paul Ammann. 
The project began to take off last year but had been mentioned to Christian by his dad when he was 13.
"I suggested he think about rebuilding a car when he was 13 and he started researching older cars and different models. We started looking for an economical old car to fix up," Paul said.
Christian's car is a 1984 Trans Am that has involved 15 hours of work each week to lead to completion.
"I had nothing but the shell of the car when I got it, so it was a full restoration," Christian said. "I started learning the car's mechanics as I was building the car. I worked on my car in the shed for the first two years and then was able to move it into the garage when I installed the motor and transmission."
In the course of completing this project, Christian has been spending an abundance of time and money on purchasing various materials. 
"I have spent around $9,000 on this car. Much of this money I worked for. My dad has helped me along the way with funding my project, but I have taken the time to get jobs and work for the money I need," Christian said. "The materials I needed were a motor and transmission and everything else you can think of on a car: brakes, suspension, axles, steering, interior. I did all of the body work myself by teaching myself how to weld."
There are several procedures that have to be gone through when ensuring the car is built properly.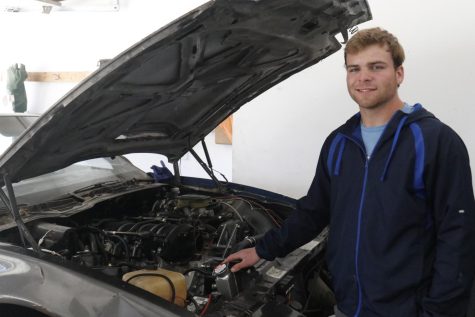 "I started with removing all the parts off the car and replacing the suspension and brakes and rotors. I then started the body work: fixing holes and sheet metal work. After that I moved to painting and getting everything ready for the engine. After the engine and transmission wereinstalled I am now completing my project with exhaust and interior work," Christian said.
The car is not yet complete, it is drivable. Taking it on the road provided a rewarding feeling for Christian. 
"The first time I drove it down the road I was amazed that I got it to that point. It was so crazy," Christian said. 
Paul has had some experience with working on cars and provides coaching and support when needed. 
"I have coached him, discussed different options, and encouraged him to research his own designs. He has done all of the actual work on the car on his own" said Paul.
Paul has seen the hard work Christian has put into this difficult, yet achievable, project.
"We are very proud of his focus, determination, stubbornness at times, and independence" Paul said.
(Visited 145 times, 1 visits today)