Senior Aly Tennis gives back to NICU nurses
In honor of her father, Dan Tennis, Aly delivers care packages to Shawnee Mission Medical Center on Friday, Sept. 15
Anika Roy, JagWire editor-in-chief
September 26, 2017
As she delivered care packages to Shawnee Mission Medical Center's Neonatal Intensive Care Unit nurses on Sep. 15 — National NICU Nurse Day — senior Aly Tennis completed the last aspect of a service project required for a summer program through the FBI Academy she recently attended.
In June, Aly attended the eight-day, prestigious FBI Academy Youth Leadership Program in Quantico, Virginia. Only one high school student interested in the American system of criminal justice, leadership and personal development from each state is selected to attend, with only one from both Kansas and Missouri. Aly was selected as the representative in March.
The application for the program is a resume as well as a written essay about what leadership means to the applicant. If he or she passses that preliminary stage, they undergo an interview with four members of the chapter of their home state. Lastly, the prerequisite is a service project, big or small, related to showing respect or appreciation for the applicants hero.
For her project, Aly chose to raise money for a couple months this summer selling t-shirts reading "NICU nurses hold the future in the palm of their hands," to show appreciation to NICU nurses.
"I was trying to think of my hero and an obvious person in my life is my dad because of all that he does," Aly said. "I remembered how he was born three months premature and I started thinking about how nurses … allow the future to live and be able to do what they do later on."
After hear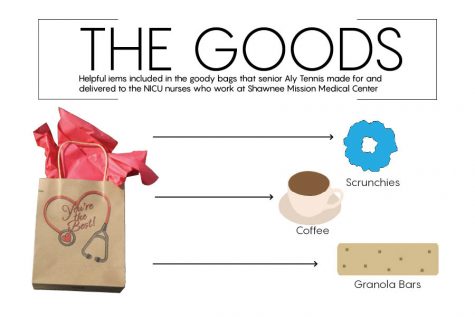 ing the project plan, Aly's father Dan Tennis was very impressed.
"I thought it was really interesting how she put [the project] together," Dan said. "When she got home, she talked about other kids' project and they were very predictable. But I thought her plan was really advanced."
Aly used the donated $275 to create care packages with essential items for a NICU nurse's long shift. Along with gum, scrunchies, syringe pens and other items, multiple packages contained personalized thank you letters. Senior Landon Butler decided to write one of said letters because of his experiences in the NICU.
"As a child, I spent a couple weeks in the NICU hospital, so it definitely has a personal impact on me," Butler said. "I'm also a friend of Aly's and wanted to do something to support her movement."
Aly is pleased with her newfound relationship with the nurses and inspired overall by their motives.
"The whole thing has really gotten me connected to the NICU nurse world, just seeing how much they do and how much they affect people," Tennis said. "It's weird to think that they're not doing it for the attention, just from the pure kindness in their hearts."
(Visited 31 times, 1 visits today)
About the Contributors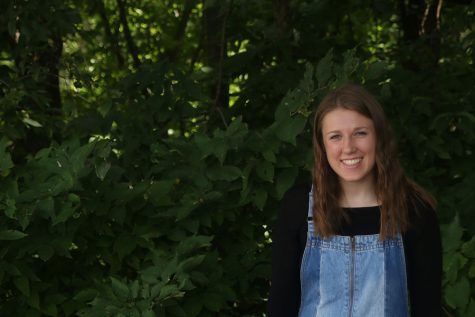 Anika Roy, JagWire editor-in-chief
This is Anika Roy's third and final year on staff, and she's incredibly excited for her position as editor-in-chief. While you can find her in the journalism room almost all the time, she also spends free time on the tennis courts, the piano, the swimming pool, or her church. Additionally, she's an officer of NHS, an executive leadership team member of Relay for Life, and a member of Spanish Honor Society, MV Outfitters, and Student Ambassadors....
Claire Boone, JagWire managing editor
This is senior Claire Boone's third and final year on the JagWire staff. This year she became the JagWire's managing editor. Outside of journalism, Claire is part of the track and field team, and will be starting her final season this year. When it comes to activities outside of school, she spends lots of her time at church or at work as a waitress, where she loves to see the bright faces of her customers early in the morning. She also is extremely...