Science Olympiad places fourth at their first tournament of the year
The team placed first in the Astronomy, Dynamic Planet and Water Quality events Saturday, Nov. 16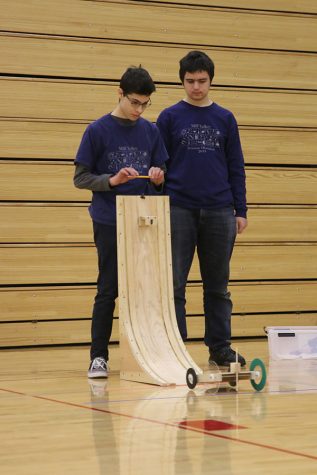 The Science Olympiad team competed in their first tournament of the year at the O-Town Throwdown, hosted by Olathe North Saturday, Nov. 16. The team placed fourth overall and had six first place finishes; senior AJ Lee and sophomore Gavin Barton placed first in Astronomy, seniors Eva Burke and Joan Downy placed first in Dynamic Planet and Water Quality.
Sophomore Benjamin Baumgart, who finished sixth in both Detector Building and Geological Mapping felt the tournament was a success for the team. 
"We did really well for our first meet," Baumgart said. "I feel like we participated well and had a lot of teamwork, which is one of the most important parts."
Senior Megan Overbaugh, who placed second in Boomilever, felt the team did their best but still has things to work on.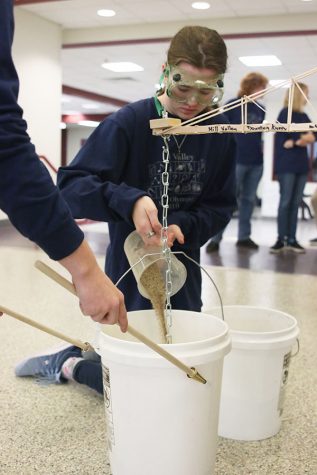 "I think we could always be a little bit more prepared," Overbaugh said. "I think we had a fun time with it and all gave it our best shot, and that's what matters."
With new events being added, Baumgart felt the tournament was good practice in the new subjects. 
"I think the tournament was learning how to dive in… [and] getting the feel for some of the events that are new this year," Baumgart said.
Overbaugh felt the team did a good job of taking charge of their events and working together.
"I think that we … wanted to be responsible for the events that we wanted to take care of," Overbaugh said. "There's a bit of overlap between what everybody does [and] everybody … play[ed] their part."
For Overbaugh, Science Olympiad has been a great experience with a lot of great people.  
"It's really fun," Overbaugh said. "I really enjoy it like and all people who are involved are really cool and they're all really dedicated to it."
(Visited 463 times, 1 visits today)