School moves from 5A to 6A classification
Many school sports moved from 5A to 6A in classification as a part of the 6A expansion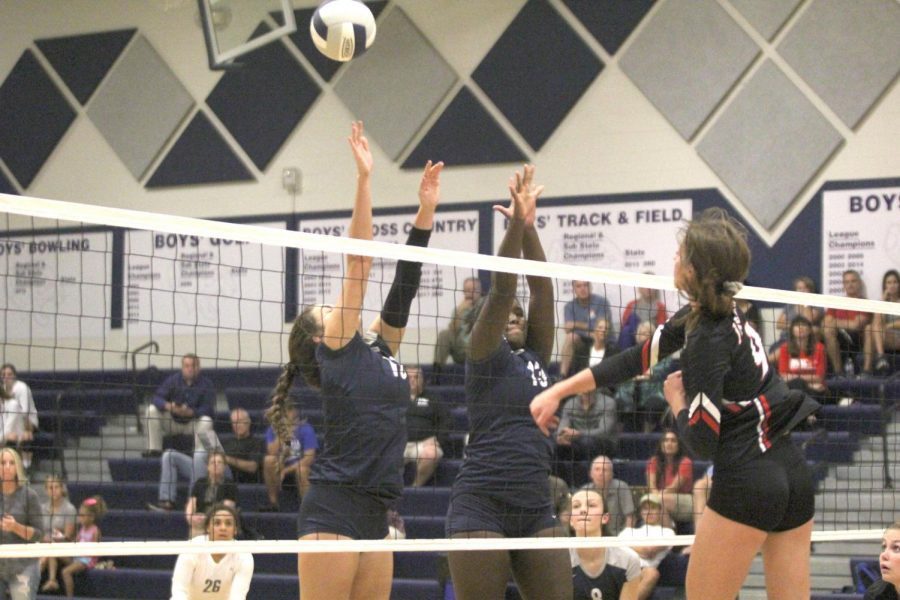 John Lehan, JagWire reporter/photographer
October 22, 2018
For the first time in its history, the school has been included in the 6A classification, which expanded from 32 schools to 36 for non-football activities and was announced by KSHSAA on Sept. 26.
5A also increased from 32 schools to 36 for non-football activities, which means classes 4A through 6A will all have the same 36 school postseason format. 
According to the KSHSAA Study Committee Summary, the postseason consistency between the classes could result in "the ranking of the teams to get the best teams matched up in the post season to get the best team to win."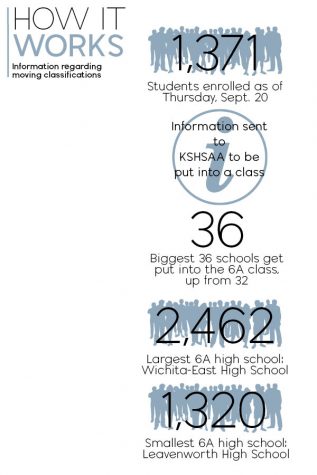 The change means Kansas-City Wyandotte, Liberal, Olathe West and Leavenworth will also move to 6A. Wichita Northwest will move down to 5A.
According to volleyball head coach Deborah Fay, the shift is important for the school to properly reflect its increasing population.
"I think the kids will like [the change to 6A]," Fay said. "Our school population is growing so [6A is] where we belong."
The regular season opponents will remain EKL teams. In the postseason, the school will now compete in 6A. 
For junior cross country runner Nathan Greenfield, the change is an opportunity to face the best from both classes, including St. Thomas Aquinas at EKL and Olathe North at 6A state. 
"Hopefully we will be able to compete [against] the top 5A teams at EKL," Greenfield said. "Then … go to regionals and state and fight for the 6A state title."
Volleyball will face Kansas-City JC Harmon, Wyandotte and Leavenworth at substate. They will also face Shawnee Mission, Blue Valley and Olathe schools. The team has lost to Blue Valley twice and anticipate challenges with Blue Valley North and Olathe Northwest. Still, the shift will be beneficial according to senior volleyball player Sydney Pullen. 
"This is our first year [in 6A] so we might have a lot of success," Pullen said. "It might be … easier than 5A because in 5A they have private schools like St. James Academy and Aquinas." 
The change has Greenfield excited to work with the coaching staff to succeed in 6A.
"From a cross country stand point, I'm excited to be able to prove that we are the best team in the state, regardless of class," Greenfield said. "We have one of the best coaching staffs in the state … to help us adapt."
For Pullen, the change will be challenging yet fresh.
"[The change] will be hard and tough," Pullen said. "It is going to be something different and new and I think it will be good."
(Visited 223 times, 1 visits today)
About the Contributors
John Lehan, JagWire reporter/photographer
This is sophomore John Lehan's first year as a reporter/photographer for the JagWire staff. When not reporting, John participates in band, debate, cross country, bowling and track. On the weekends, John can be seen reffing soccer games at Stump Park, playing cards or eating popcorn whilst watching Netflix.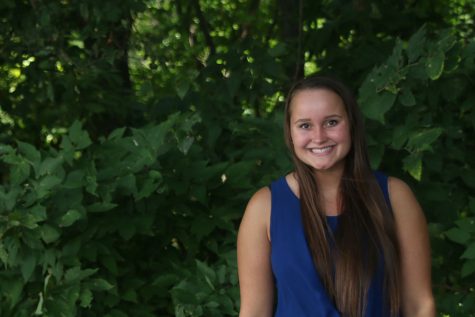 Marah Shulda, Mill Valley News editor-in-chief
This is senior Marah Shulda's third, and final, year on the JagWire staff. This year, she is a Mill Valley News Editor-in-Chief alongside Elizabeth Joseph and Katya Gillig. Outside of newspaper, Marah is involved in band as a drum major for the Mill Valley Marching Jaguars. She also participates in jazz band, SLT, Ambassadors, MV Outreach, MV Outfitters, swim team, is an NHS officer, on the Executive Leadership Team for Relay for Life and the co-president/founder...