Scholars Bowl takes third at Maranatha
The Scholars Bowl team competed at Maranatha Christian Academy on Thursday, Jan. 17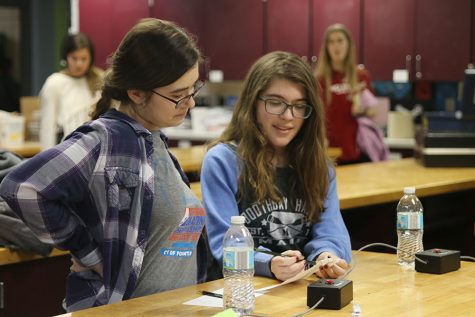 The scholars bowl team competed at a tournament held by Maranatha Christian Academy on Thursday, Jan. 17. The team received third place and finished the day 5-2 with a total score of 385 points.
Overall, junior Eva Burke felt the team performed very well.
"I think we had a good run, we were very close to getting first," Burke said. "There were only a few questions that we slipped up on."
The team faced being outnumbered and inexperienced but Senior Johannes Seberger was still happy with result
"The team did really well which is surprising because we only had four members … with some members more experienced than others," Seberger said.
Seberger believes communication was one reason the team was successful.
Even though Burke believes the team did great, she hopes the team will continue to work on it's speed.
"We need to be faster at our questions because sometimes we know the answer and we doubt ourselves and then we don't buzz in," Burke said.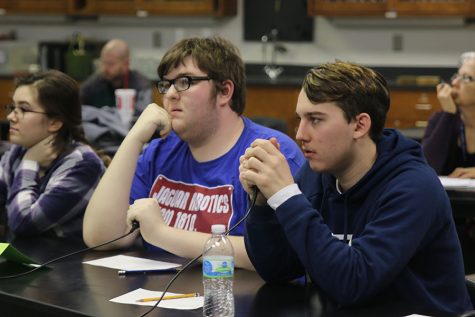 "We worked really well together," Seberger said. "We communicated a lot, we asked each other their opinions so we could get confirmation."
As the season has progressed, Seberger feels the tournaments have gotten more difficult.
"This tournament was a little bit harder, Seberger said.  We had a smaller team but it was not too bad, some of the questions we saw were harder than at other tournaments."
With regionals and state just around the corner, Seberger feels this tournament gave the team some good practice.
"I think this tournament will really prepare us for regionals and state because some of these questions are state level questions, Seberger said. "Just having extra practice with teamwork helps us as well."
The team will next compete at Baldwin High School on Wednesday, Jan. 24.
Scholars bowl lost to DeSoto in round one with a final score of 50-60

— Mill Valley News (@millvalleynews) January 17, 2019
Scholars bowl won against Heritage Christian Academy in round two with a final score of 50-30

— Mill Valley News (@millvalleynews) January 17, 2019
Scholars bowl won against Tonganoxie in round three with a final score of 60-25

— Mill Valley News (@millvalleynews) January 17, 2019
Scholars bowl won against Bonner Springs in round four with a final score of 80-60

— Mill Valley News (@millvalleynews) January 17, 2019
Scholars bowl lost to KC Christian in round five with a final score of 5-50

— Mill Valley News (@millvalleynews) January 17, 2019
Scholars bowl won against Olathe Northwest in round six with a final score of 70-35

— Mill Valley News (@millvalleynews) January 17, 2019
Scholars bowl won against Lansing in round seven with a final score of 70-30

— Mill Valley News (@millvalleynews) January 18, 2019
(Visited 198 times, 1 visits today)