Roof construction causes problems for classes and extracurriculars
Physical education classes struggle to find space after flooding from the roof damages the main gym floor and other areas of the school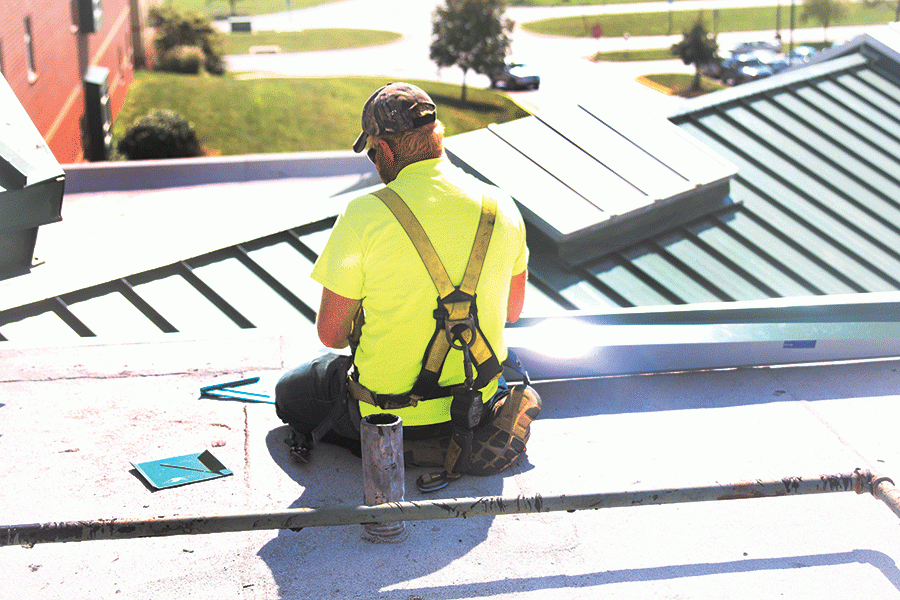 A leaky roof and water damage to interior walls and floors have led to big headaches for both teachers and students. The most visible problem is the closure of the main gym while workers replace warped floor boards and resurface the entire floor.
This summer, construction on the school roof began under direction of the company Quality Roofing. The project cost the school $1.2 million, and while it was originally set to begin on Thursday, May 23, construction did not start until early June due to rainfall.
This complication held up progress of the project and caused leakage that led to significant damage in the main gym and other areas of the school.  This project began around Sept. 20 and, according to district facilities director Steve Deghand, will hopefully be complete by the middle of November.
According toDeghand, one roadblock the construction workers faced was the heavy rainfall in Shawnee over the late summer months.
"When it's going to rain, you really have to think about when you are going to open [areas of] the roof [for construction]," Deghand said.
The leaks from the roof damaged ceiling tiles around the school, many of which had to be replaced. There were also noticeable puddles of water around the school, particularly throughout A-hallway.
With the construction taking place during school hours, many students and teachers, including social studies teacher Angie DalBello, had to deal with distracting noises and smells throughout classes.
"There was a day where the smell [of tar] was almost overwhelming," DalBello said. "It was so noxious that it seemed like some people could pass out."
Classes also had to deal with the sound of power tools.
"To hear someone stomping on the roof you can kind of make sense of," DalBello said. "But then sometimes it feels like a giant air conditioning unit was dropped from 100 feet above the building."
The construction going on with the roof also left holes in the ceiling of the main gym, allowing water to seep in.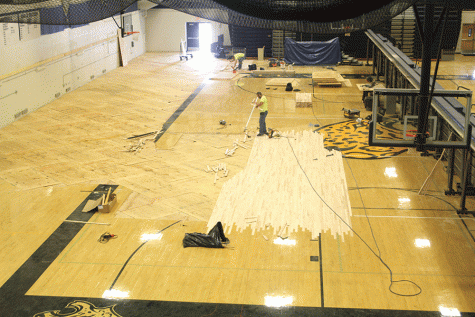 "Water ran down the wall and under the floor, [which] caused the floor to buckle," Deghand said.
The unexpected damage cost an additional $98,000, which Quality Roofing will be responsible for paying for.
This has left the Silver Stars dance team and several physical education classes, such as freshman girls PE teacher Christine Preston's class, unable to use the main gym.

As a result, freshman PE classes had to switch up the order of their class units, and if the weather permits it, the girls classes will take place outdoors. However, as colder weather approaches, the gym teachers have devised a plan to stay indoors.
"When the weather is not good, all the PE teachers will work together and have a combined class in the auxiliary gym," Preston said.
Freshman Brandon Rader's gym class has found ways to remain active despite the lack of space.
"[The lack of gym space] has made it to where we can't do warm ups; sometimes we do them on the tennis courts, [but] sometimes there isn't any space," Rader said. "Sometimes we have to run around in the locker room area."
Sophomore Silver Star Olivia Augustine claims the situation in the gym is also problematic for her and her teammates.
"We've had to use the auxiliary gym and sometimes go to Prairie Ridge [Elementary School] or Monticello Trails [Middle School] and use their gyms," Augustine said. "It's an inconvenience because it's hard to get there in the mornings and it's hard to get back to school."
Until the gym is fixed, the Silver Stars and some PE classes will have to continue using other spaces for their activities.
(Visited 61 times, 1 visits today)
About the Contributors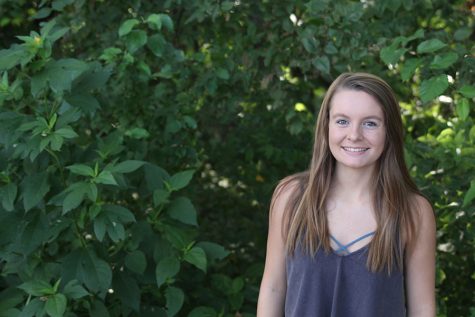 Lexi Flipse, Mill Valley News social media editor
Senior Lexi Flipse has been on the JagWire staff for two years, serving as the Mill Valley News social media editor. Lexi has been involved in student ambassadors for three years, school soccer for two years,  and Spanish National Honor society for one year. Outside of school, she enjoys being outdoors, traveling, reading and staying active.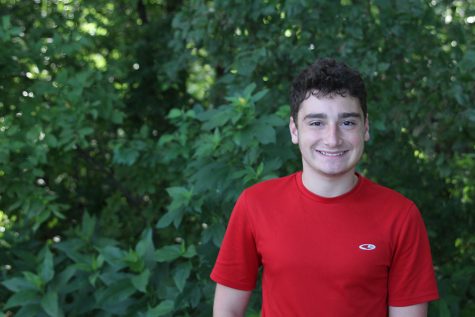 Michael Sandri, JagWire reporter
This is senior Michael Sandri's second year on staff as a reporter. Along with the JagWire, Michael is a member of the literary magazine, StuCo and debate team. Outside of school, Michael enjoys hanging out with his friends and spending time with his dog.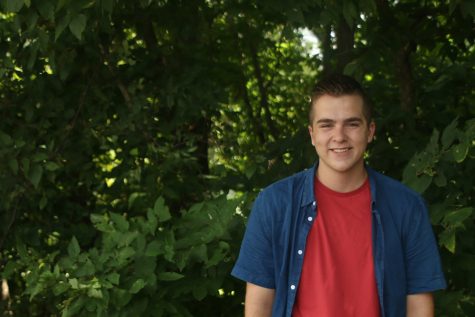 Hunter Ristau, JagWire managing editor and business manager, MVTV assistant producer
This is senior Hunter Ristau's third year on JagWire staff. This year, he is the business manager and managing editor for the JagWire, and an assistant producer for MVTV. Hunter is also a part of the Mill Valley Lacrosse club. Outside of school, Hunter likes to hang out with friends and his family.