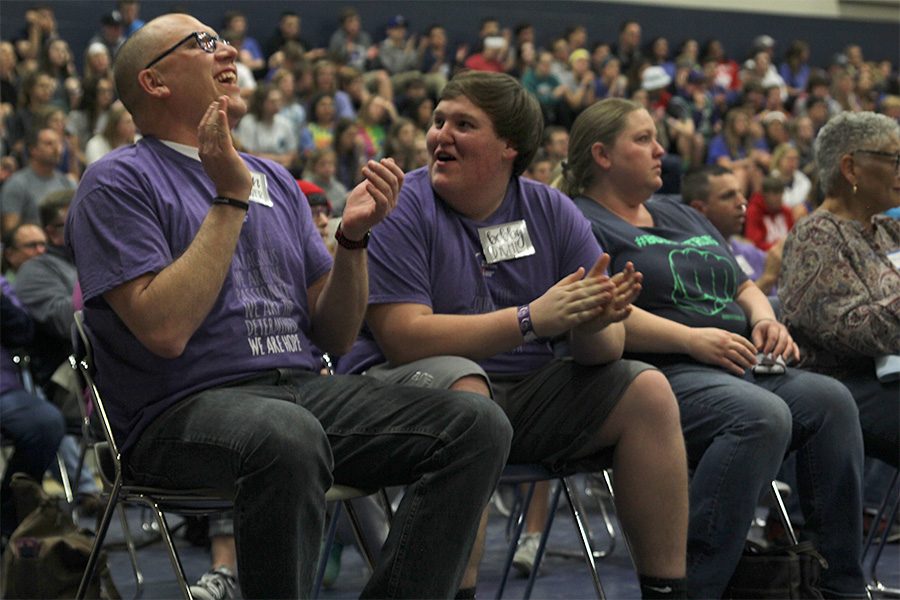 Relay for Life holds walk and dinner in support of local survivors
Cancer survivors participate in events to honor their battle
April 8, 2017
Purple tablecloths, baby's breath in mason jars and Starburst candies covered every table in the senior cafe on Friday, March 31. From grandparents to 7th graders, cancer survivors and loved ones feasted on Fazoli's pasta, salad and breadsticks while learning about each other's cancer experiences. When the survivors aren't eating, they were adding their purple handprint to the 'Survivors of Hope' mural.
Preparation for the Relay for Life survivor dinner began early December when the committee members contacted restaurants to see who could donate meals. Later, the committee raised even more money with the jean drive, in which teachers donated $5 to wear jeans to work the week before spring break.  
The number of survivors in attendance at the survivor dinner greatly increased from last year's 40 to 100 registered guests. Senior survivor dinner co-chair Sidney Lawyer expects the number to continue growing in years to come.
"Every year we keep up doing it it's going to get bigger," Lawyer said. "I love to see it grow."
Sophomore Bobby Dyche was diagnosed with Non-Hodgkin Lymphoma in January 2015, his 8th grade year. After eight rounds of chemotherapy, Dyche went into remission in July 2015. He was a guest at both last year's event and this year's.
"I felt really happy with all the support," Dyche said. "I got to meet new people and talk to them about their experiences. It just felt really good to be there."
"
We try to honor them as much as we can and the dinner is the least we can do."
— senior survivor dinner co-chair Sidney Lawyer
Former Monticello Trails Middle School science teacher Roger Bruns was diagnosed with prostate cancer in October of 2015, when a robot performed an immediate surgery to remove the cancer with money raised for the American Cancer Society. Since his two years undetected, he has attended both Relay for Life events.
"Thank goodness for all the research and money raised," Bruns said. "It's because of the research that [the surgery] worked out very well."
After watching a family struggle with cancer firsthand, Lawyer recognizes the importance of supporting survivors and those still fighting.
"We try to honor them as much as we can and the dinner is the least we can do," Lawyer said. "They honestly deserve so much."
As the survivors and loved ones walked the first lap through the Mill Valley halls to kick off Relay for Life, they were met with a roar of encouragement.
"I had to try not to cry when we started the survivor lap because a lot of people were walking through there, and I could already see them crying," Lawyer said. "I was very proud."
Sponsor Erin Hayes is certain the significance of the dinner is not in the meal itself, but rather the sense of community it builds for survivors.
"[The survivor dinner] is to show them they are loved and supported and that we will continue to help them in their fight against this disease," Hayes said via email. "A good meal and cute decorations are important, but the most valuable part of this event is in creating the sense of community and care among all of those in attendance."
Planning the survivor lap and dinner is the most rewarding part of being on the Relay for Life committee for Lawyer.
"To be able to do something specifically for survivors or for people still battling is so important and so meaningful," Lawyer said. "I think this is the best of the best right here being able to help the families personally."
To Bruns, Relay for Life is an important thing for the community and is an event the De Soto school district should be proud of.
"Mill Valley and the De Soto district are so awesome, and everybody's working together," Bruns said. "It's like with the football seasons; we've had two state championships, and Relay for Life is like our two state championships here."
(Visited 1 times, 1 visits today)