Panic! At The Disco channels inner Frank Sinatra with 'Death of a Bachelor'
Panic! At The Disco experiments with new sounds in 'Death of a Bachelor'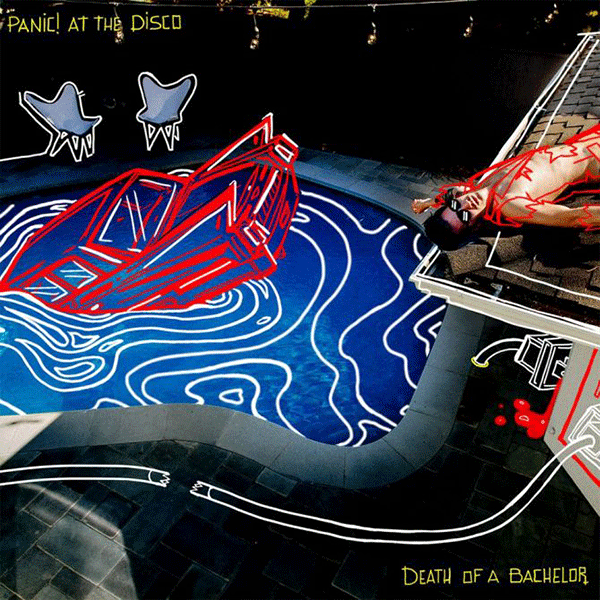 Tricia Drumm, Mill Valley News editor-in-chief
January 21, 2016
Alternative rock band Panic! At The Disco recently released its fifth album, "Death of a Bachelor." As a fan of Panic! At The Disco, I was so excited for this album and I thought the release date would never come. While I was fairly ambivalent toward a few of the songs at first, it was definitely worth the wait.
The first single off the album, "Hallelujah," was released April 19, 2015, and six out of the 11 tracks on the album have been released as singles in total. These tracks were released one by one, "Don't Threaten Me With a Good Time" being the final single on Dec. 31, 2015. The rest of the album was released Friday, Jan. 15.
In comparison to Panic! At The Disco's previous album, "Too Weird To Live, Too Rare To Die!" "Death Of A Bachelor" has a more modern rock-swing sound. Referring more to the songs "Far Too Young To Die," "Casual Affair" and "Girl That You Love" from "Too Weird To Live, Too Rare To Die!," Panic! At The Disco's prior album feels very synthetic and very lonely.
To be honest, this album is all over the place, but in a good way. Vocalist/multi-instrumentalist Brendon Urie originally intended for the album to sound like a mix of Frank Sinatra and Queen, and I can definitely tell that he pulled a lot of inspiration from Sinatra, especially for the songs "Impossible Year" and the title track with smooth vocals and a lot of piano. Queen's sound is tossed around in "LA Devotee," one of my personal favorites. Any kind of song that makes you want to get up and jump around could be inspired by Queen.
Along with the sounds of Queen and Sinatra, the song "Crazy=Genius" has a very fun '20s vibe that makes you think of flappers doing the Charleston. Urie also pulls some sound of the '70s by sampling the catchy "Rock Lobster" by the B-52's in "Don't Threaten Me With a Good Time." (I became really excited when I recognized the sample because that song brings back memories from when I was obsessed with the Just Dance video game series.)
The album artwork is interesting as well, consisting of neon colors and an intricate illustration of an outline of a car sinking in a pool. In a Q&A on Twitter on Monday, Jan. 18, Urie said the album cover is an illustration of him lying on the roof of his studio because that is where he spends most of his time writing. After the departure of bassist Dallon Weekes from the band the previous October, Urie is currently the only member of Panic! At The Disco. Long story short, a unique album cover for a unique band.
It's me laying on the roof of my studio in my backyard. That's where I spent most my time during the writing. https://t.co/kq1Vz45LFX

— Panic! At The Disco (@PanicAtTheDisco) January 18, 2016
While I enjoy most of the songs on the album, my personal favorites would be "House Of Memories," "LA Devotee," "Victorious" and "Hallelujah." All of these songs have a fun upbeat tempo, a fantastic range of vocals, and they are all just so catchy and so easy to get stuck in your head.
The only track that I am not as attached to is "Don't Threaten Me With a Good Time," because the lyrics do not appeal to me as much as they could. The lyrics appear as if they were just thrown in at random and a story about Urie recovering from a night of partying way too hard does not strike me as "a good time."
With its influence of pop music and whatever was on the radio, Panic! At The Disco's new album was definitely to my liking. It definitely has more of a modern sound compared to what I am used to hearing from Panic!, and it is good that Urie is experimenting with different sounds. I am definitely excited to hear what else Urie will produce with this band in the future.
(Visited 121 times, 1 visits today)