Open enrollment allows MVHS students to transfer to DHS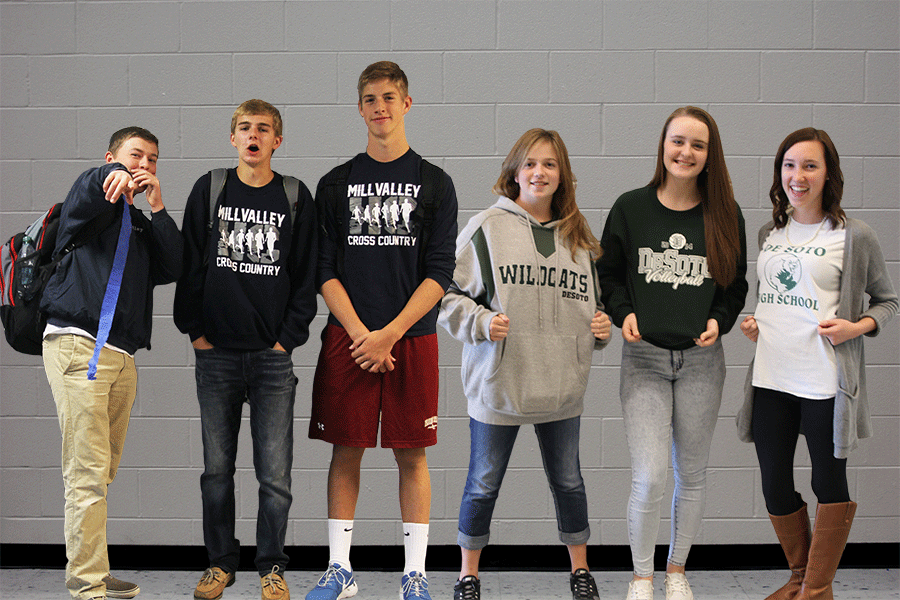 Justin Curto, Braden Shaw, JagWire managing editor, JagWire reporter
October 21, 2014
In her Biology class last year, then-freshman Sophie Reeves felt that she could never get the help she needed from her teacher on assignments. Since transferring to De Soto High School this year, Reeves has been able to get the help she needed due to smaller class sizes. Reeves was one of 75 students living within Mill Valley's boundaries who transferred to DHS after the Board of Education passed an open enrollment policy for the De Soto school district.
"I have friends at De Soto and they said class sizes were 10-15 [students] and at Mill Valley it was 20-25 in each class," Reeves said. "The teachers [at DHS] are very nice, helping and welcoming."
Last year, the Board voted not to change boundaries to help with overcrowding at Monticello Trails Middle School and MVHS and undercrowding at Lexington Trails Middle School and DHS. This came after the enrollment and boundary committee spent months meeting and making plans to solve the issue, eventually presenting their plans to the Board. In addition to their decision to not change the boundaries, the Board opened enrollment to students within MTMS and Mill Creek Middle School's boundaries to go to LTMS and students within MVHS's boundaries to go to DHS. However, students within the boundaries of DHS and LTMS can't transfer to other middle and high schools in the district.
Director of administrative services and community relations Alvie Cater believes that this change can benefit MVHS enrollment in the long run.
"This was done to help alleviate enrollment pressure at Mill Valley specifically," Cater said. "If you can get students to voluntarily transfer … then it buys Mill Valley some time in terms of enrollment capacity."
While this may not have lowered MVHS's student population by much, it did direct more students to DHS. Last year, MVHS had an attendance of 1,290 students and DHS had an attendance of 689 students. In comparison, this year 1,288 students attend MVHS and 739 students attend DHS.
World languages teacher Niti Kamath's class sizes haven't changed as a result of the open enrollment policy.
"I personally haven't noticed [smaller class sizes], but elective classes are always large," Kamath said.
DHS freshman Autumn King opted to transfer this year as well. She also thought the smaller school and classes would benefit her, along with DHS's athletic record.
"My friends at Mill Valley have complained about the size," King said via phone. "I wanted to go to [De Soto] because it was smaller and I could have more one on one time with teachers … Also, De Soto has been doing well [athletically]."
For Reeves, there were some drawbacks to transferring to DHS, such as the distance from her house to DHS.
"We're about 15 minutes from De Soto," Reeves said. "There's a bus that could pick me up, but it's a five minute ride to the bus stop and it picks me up at 7 [a.m.]."
Some students chose to stay at MVHS after being given the choice.
"I didn't have friends at Mill Valley when I was a freshman [so I thought about transferring to where my friends were]," sophomore Brady Herron said.
The open enrollment policy has been helpful so far from Cater's point of view.
"I would call this a successful first year of open transfer … I hope that trend continues," Cater said. "The new faces have brought some energy to [De Soto]. Having more Shawnee kids go to De Soto is … building district unity."
According to Board member Bill Fletcher, the Board plans on keeping the policy in effect until further notice.
"I don't know if there'd be any purpose in changing it right now," Fletcher said via phone. "I don't think it's doing either [school] any harm."
Although choosing to go to DHS benefited her overall, Reeves still sometimes misses MVHS.
"I just kind of miss being a Jaguar, like … seeing how proud everyone was of being a Jaguar," Reeves said. "Mill Valley just seems like a comfort zone for me."
Altogether, King sees many positive aspects to her switch from MVHS to DHS.
"I'm less stressed out and can get to places easier since it's a little smaller," King said. "Having less people, you can … build better relationships … I feel like I'm learning quite a lot."
(Visited 73 times, 1 visits today)